Meadows Brings Charm, Fight to White House Role Advising Trump
Bloomberg Government subscribers get the stories like this first. Act now and gain unlimited access to everything you need to know. Learn more.
Mark Meadows follows a path similar to the one trod during the nation's last severe crisis by a former top House Democrat, Rahm Emanuel, as he moves this week from Congress to the White House as President Donald Trump's chief of staff.
Emanuel, who had been chairman of the House Democratic Caucus, became White House chief of staff to President Barack Obama in 2009 just after the newly elected president had to pick up the pieces from the 2008 financial-market meltdown that had plunged the economy into the Great Recession.
The transition is even more politically difficult for Meadows, a North Carolina Republican, than Emanuel, whose party controlled Congress when Obama took office. Trump, forced to bargain with the House Democratic majority to pass legislation, seeks re-election in an uncertain political environment caused by both widespread fear of the coronavirus pandemic and the economic dislocation caused by social isolation measures imposed to stem the spread of the Covid-19 infection.
In the coming months, Meadows will face the challenge of negotiating with House Speaker Nancy Pelosi (D- Calif), who said this week she's planning another package aimed at easing the economic harm caused by the coronavirus.
The former chairman of the conservative House Freedom Caucus, Meadows has a history of brawling with the opposition as well as leaders of his own party, including Trump, over health care and other issues. At the same time, he's known for a courtly disposition and his amiable relationships with a number of Democrats.
"It's not a bad combination to have that kind of collegial charm, at the same time be ready to deck people with a good, stiff upper cut," said Ross Baker, a political scientist at Rutgers University in New Jersey.
As the top Republican on the House Oversight and Reform Committee, Meadows sparred heatedly with the late chairman Elijah Cummings during contentious hearings last year yet delivered a powerfully emotional tribute to the Maryland Democrat at a memorial ceremony in the U.S. Capitol last fall.
"For me, I was privileged enough to be able to call him a dear friend," Meadows said, describing what others called their "unexpected" friendship."Perhaps this place and this country would be better served with a few more unexpected friendships. I know I've been blessed by one."
"He gets along with everybody," so "the Democrats won't immediately slam the door on him,'' said former Rep. Charles Boustany(R-La.), whose six House terms overlapped with Meadows's first three. At the same time he said Democrats "are not going to give him any quarter."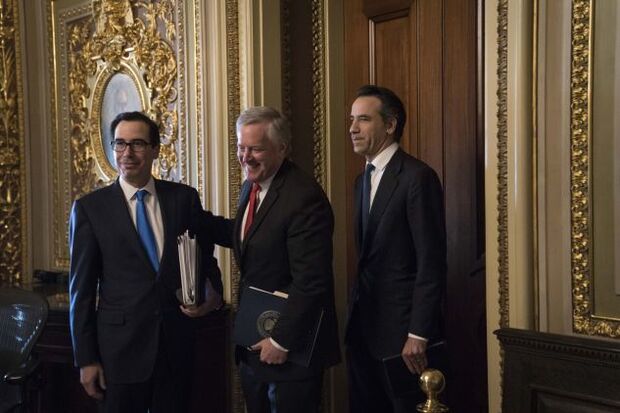 Meadows , who sent a letter of resignation to Pelosi on Monday evening, replaces acting White House Chief of Staff Mick Mulvaney, a former South Carolina congressman who left the House to become budget director in 2017. Meadows announced in December he wouldn't seek a fifth term in his eastern North Carolina district.
Raising Eyebrows
Even before he stepped down, Meadows had taken on the unofficial role of liaison between the administration and Capitol Hill. Last week, he raised questions — and some eyebrows — by attending a negotiating session between the Senate's top Democrat Chuck Schumer (N.Y.) and administration officials on the $2.2 trillion economic stimulus measure.
The Constitution forbids a member of Congress as serving simultaneously as an official in another branch of government.
In response, Meadows' congressional chief of staff, Ben Williamson, tweeted March 24 that "Mark Meadows is not serving in two jobs. He is still a member of Congress'' and "will resign from Congress toward the end of the month and move to the White House full-time."
Nevertheless, that episode could complicate Meadows' future dealings with Congress, said Boustany, who is now a partner at Capitol Counsel. "You have to make a clean transition, you can't walk in both camps,'' he said. "I don't think that serves the president well nor does it serve his congressional district or the Congress."
A former top Pelosi aide suggested Meadows' history may make it harder for him to be as effective as Emanuel was in pushing through Obama's agenda.
Meadows "played sort of the bad-boy role in the House'' when his party was in the majority, said John Lawrence, who was chief of staff to Pelosi during her first stint as speaker from 2007 to 2011. Unlike Emanuel's House role, Meadows was "viewed as something of an outsider" when Republicans held the House majority, he said.
Now that Democrats are in control, "I doubt he is going to have a lot of influence" with the House majority, he said. "I don't know that Meadows is going to be a particularly effective messenger to the House majority."
Charm may only go so far in an era of extreme partisan gridlock, says John Pitney, a former House Republican staffer who teaches at Claremont McKenna College in California. "A nice personality is a lubricant," he said. "But a lubricant can help only so much when the machine goes haywire."
Corralling Conservatives
Emanuel, who liked to say then to "never allow a good crisis to go to waste," rode herd on House Democrats from his new perch at the White House. Obama rammed through Congress a massive stimulus bill soon after taking office. A year later, Congress passed the Affordable Care Act, which extended health insurance to millions of previously uninsured Americans.
Meadows may be more successful at corralling House conservatives, who have a history of opposing their own party's leadership.
Meadows' congeniality enabled him to transcend Trump's anger at the Freedom Caucus for derailing his effort to repeal Obamacare because the initial bill didn't go far enough toward dismantling the law. Meadows negotiated a compromise, and the House ultimately backed the president, though the repeal effort died in the Senate. He has been one of Trump's most ardent defenders during the House impeachment inquiry.
"There is a level of trust that has been there," but "that will be tested" if the Freedom Caucus "is at odds with what the administration is doing," said Boustany.
Meadows' former Republican colleagues will quickly realize their former political confidante "is dancing to a different fiddler," Lawrence said. As a result "he may not be as reliable pipeline of inside information" from the House as the president may hope.
To contact the reporter on this story: James Rowley in Washington at jrowley@bgov.com
To contact the editors responsible for this story: Bennett Roth at broth@bgov.com; Kyle Trygstad at ktrygstad@bgov.com
Stay informed with more news like this – from the largest team of reporters on Capitol Hill – subscribe to Bloomberg Government today. Learn more.