McGrath Turns Focus Back to McConnell After Bruising Primary
Amy McGrath kicked off her general election media campaign in Kentucky on Friday with a TV ad criticizing where Mitch McConnell's priorities are in responding to the economic downturn.
It's the former Marine fighter pilot's first big swing at moving on from a surprisingly close June 23 Democratic primary win and turning her attention back to finding the kind of message it will take to unseat the Senate majority leader in a state President Donald Trump carried by 30 points four years ago.
Her primary performance didn't make the task any easier. Several gaffes were used by opponents on both sides to paint her as inauthentic, including a notable debate with state Rep. Charles Booker in which McGrath fumbled for an answer about why she hadn't joined Black Lives Matter protesters.
"She looked like an equivocating, uncertain, sail-trimming politician," said Al Cross, director of the Institute for Rural Journalism at the University of Kentucky. "Now she has to redefine herself not only for the more progressive and liberal people in the party, which aren't that many in the state, but also for people who put a premium on strength and certainty and solidity."
McGrath has aired ads against McConnell for months. Her Federal Election Commission report due Wednesday showed she spent $31 million by the end of June.
Her challenge now is to reach the 43% of primary voters who were drawn to Booker's energy while also appealing to Republicans who may be fed up with McConnell.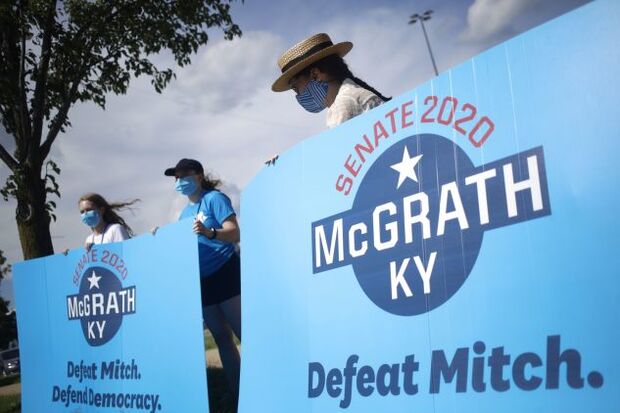 Rallying both groups is a long shot, said Jimmy Cauley, a Kentucky Democratic strategist. But it's doable if McGrath can make the race a referendum on McConnell.
"If she makes it about the voters of Kentucky and what he has done and not done for them, I think she's got a real shot," he said.
Primary Dynamics
Billy Piper, a former chief of staff for McConnell, said McGrath's inability to deliver a consistent message has hurt her. That was the focus of a McConnell ad earlier this month, which cited a Booker interview in which he said McGrath changes her positions on issues and that "Kentuckians can smell BS from miles away."
That issue has plagued McGrath since the first days of her campaign. She criticized McConnell for not doing enough to further parts of Trump's agenda, but she'd previously compared the day Trump was elected to 9/11. She also flip-flopped on whether she would have supported Supreme Court Justice Brett Kavanaugh's nomination.
"She seems like a candidate who has too many consultants in her ear saying, 'The Kentucky electorate won't support you unless you say A or B,' as opposed to someone who has core convictions," Piper said. "That is the very reason why you saw Booker do so well in the primary."
Booker, who is Black, drew national attention a month out from the primary with electric speeches at protests. While McGrath tried to appeal to the middle, Booker cast himself as a progressive, calling himself "a real Democrat" in his ads and picking up several major endorsements, including McConnell's 2014 opponent, former Kentucky Secretary of State Alison Lundergan Grimes.
McGrath focused her campaign on McConnell and sought to appeal to Trump voters. Booker revealed an appetite in Kentucky for a progressive candidate, said Cassia Herron, chairperson for Kentuckians for the Commonwealth, which backed Booker.
In another ad, Booker juxtaposed him marching with protesters with McGrath saying during a debate she hadn't visited protesters due to "family things."
After the debate, McGrath began to focus more on the movement, including attending a vigil for Breonna Taylor – a Black emergency medical technician killed by Louisville police officers in March – and calling for Juneteenth to be a national holiday and the removal of a Jefferson Davis statue outside the Kentucky Capitol.
"I hear you, people are angry right now, and they want change and I want change too," McGrath told a local news station in Western Kentucky after her primary win.
Mitch Match?
McGrath's outreach to progressive voters, while important, can't interfere with her appeal to the slice of Republican voters who are no longer fans of McConnell, said Steve Voss, a political science professor at the University of Kentucky.
"Even if she gets an enthusiastic turnout in Louisville, she still needs the swing voters in smaller cities and towns around Kentucky," he said. "She's can't write them off."
That's especially true in a presidential election year. The GOP presidential nominee's vote share increased in both 2012 and 2016, when Trump received more than 62% of the vote, and Republicans cut their historical voter registration disadvantage down from 15 percentage points in 2014 to 5, according to state data.
"She has to tap into resentment of elites," Cross said. "There's this narrow slice of voters who are anti-elite, which means they're pro-Trump and anti-McConnell."
McGrath's stunning fundraising prowess is forcing national Republican groups to spend money in Kentucky, with seats far more vulnerable on the map and the Senate majority on the line.
The Senate Leadership Fund pledged $10.8 million for McConnell, with another $4.3 million coming from the super PAC's nonprofit arm, One Nation.
McConnell has never faced a challenger that could keep pace with him in fundraising. McGrath outraised McConnell by $10 million, but both had about $16 million on hand as of June 30. That, Voss said, allows McGrath to define herself to voters while countering McConnell's attacks, something Grimes was unable to do in 2014.
"We're aware of quite a few people outside of Kentucky want to see his tenure end," said McConnell campaign spokeswoman Kate Cooksey. "We're ready to compete with that."
To contact the reporter on this story: Emily Wilkins in Washington at ewilkins@bgov.com
To contact the editors responsible for this story: Kyle Trygstad at ktrygstad@bgov.com; Bennett Roth at broth@bgov.com