McConnell Moves to Election-Year Priorities Before July 4 Recess
Senate Republicans have kicked off a four-week push to pass a handful of priorities designed to resonate with voters — an agenda Democrats argue ignores the more-urgent issues of policing and the coronavirus pandemic.
Majority Leader Mitch McConnell's (R-Ky.) effort to highlight the work of GOP senators facing competitive re-elections starts with a popular bipartisan plan to boost resources for heavily visited national parks. It'll be followed by a batch of President Donald Trump's judicial picks and the annual spending plan for the Pentagon, which will be set for a final vote shortly before lawmakers depart for their annual July 4 recess.
The sprint comes with the election less than five months away, McConnell's grip on the majority increasingly at risk, and senators' political futures tied largely to the re-election of Trump, who currently trails former Vice President Joe Biden by 8 percentage points in the RealClearPolitics national polling average. McConnell went to the White House on Wednesday to confer with Trump about the Senate races.
"They're all going to rise and fall with President Trump," said Mark Rom of the McCourt School of Public Policy at Georgetown University.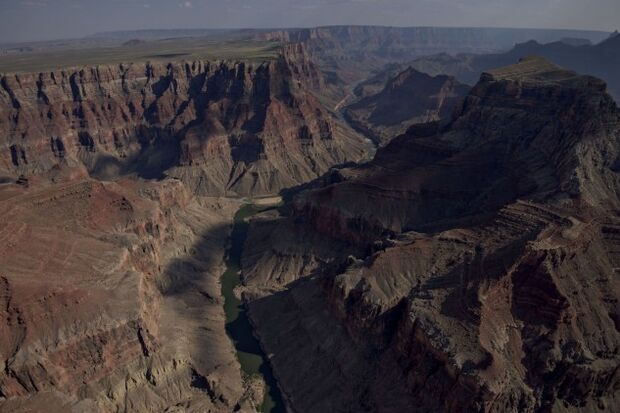 The Great American Outdoors Act (H.R. 1957) will help Sens. Cory Gardner (R-Colo.) and Steve Daines (R-Mont.), as well as other Republicans running for re-election, talk up plans to take care of the national parks voters will visit this summer. But the measure also has many Democratic co-sponsors, including Minority Leader Chuck Schumer (D-N.Y.), and is on track to be passed by next week.
McConnell described it as a typical election-year jobs bill promising lawmakers projects to keep up trails, roads, dams, wastewater systems and more throughout the country, including Kentucky. "This is where the rubber meets the road," he said.
The bill also would also provide funding for the Green River Wildlife Refuge in Kentucky, which was established last year and is a priority of McConnell, who is up for re-election this year.
The Senate voted, 79-18, Wednesday to advance the bill. Earlier this month, a dozen House members introduced a companion version of the lands bill though there's no assurance the Democrat-controlled chamber will take it up.
Ignoring Virus
But Schumer said McConnell's June plans ignore the ongoing economic fallout from the Covid-19 crisis and the need for law enforcement changes in the aftermath of George Floyd's death and the ensuing nationwide protests. Schumer said Democrats are pushing for action before the July recess on police overhaul legislation he recently unveiled with House Speaker Nancy Pelosi (D-Calif.).
"Democrats are going to fight like hell to make this proposal a reality," Schumer said.
McConnell tasked Sen. Tim Scott (S.C.), the only Republican senator who is black, with coming up with recommendations for new regulations on policing. However, he's declined to discuss timing, suggesting that legislation is still far off. The Senate is expected to pass the National Defense Authorization Act rewrite by July 2 and then depart until July 20.
In Thursday morning floor remarks, McConnell said the Senate is continuing its work in helping the country recover from the pandemic and that Republicans are preparing a "serious proposal" on a policing overhaul. But, he said, "there's also a long list of legislative priorities, which the Senate was going to tackle before these new issues materialized."
That includes the parks bill, which Daines said he, Gardner and McConnell convinced Trump to publicly bless at a White House meeting in February.
The bill has been controversial with fiscal conservatives because it would provide $900 million in permanent annual funds for the Land and Water Conservation Fund outside of the regular appropriations process. Trump signed on amid GOP concerns about Gardner's re-election. He and Daines could both face former presidential candidates, in former Colorado Gov. John Hickenlooper and Montana Gov. Steve Bullock. The Cook Political Report rates Gardner's race a toss-up and Daines' race leans Republican.
Gardner said outdoor recreational activities contribute $778 billion to the economy annually and support more than five million jobs, and that the bill "will be a vital component of our overall economic recovery as Americans get back to work and back to playing after they've worked so hard."
Waiting in the Wings
Waiting in the wings is the NDAA bill, which the Armed Services Committee is now marking up and could be ready for the floor as soon as the week of June 22. With a budget framework providing $740 billion for defense, the debate will give vulnerable members many more chances to hdighlight their priorities.
Among them is Sen. Thom Tillis (R-N.C.), another first-term Armed Services member in a toss-up race. Tillis pushes military personnel fixes but also wants to punish China for lying about the virus and attempts to steal intellectual property related to COVID-19. Meanwhile, Sen. Martha McSally (R-Ariz.) is looking to the NDAA to fight sexual violence in the military and promote home state projects.
(Michael Bloomberg, the majority owner of Bloomberg Government's parent company, sought the Democratic presidential nomination. He endorsed Joe Biden on March 4.)
To contact the reporter on this story: Nancy Ognanovich in Washington at nognanov@bgov.com
To contact the editors responsible for this story: Kyle Trygstad at ktrygstad@bgov.com; Bennett Roth at broth@bgov.com