McConnell Allies Boost Katie Britt in Alabama Senate Runoff
Britt faces Rep. Mo Brooks on June 21 for open seat
Brooks has been critical of Senate Republican leader
Political action committees aligned with Senate Minority Leader Mitch McConnell are spending millions to ensure Katie Britt defeats Rep. Mo Brooks in Alabama's Republican Senate runoff.
Brooks, a Freedom Caucus founding member, has received far less outside spending support since the May 24 primary when he finished second to Britt, setting up the June 21 runoff.
The runoff winner is all but certain to replace retiring Sen. Richard Shelby (R) in this deep-red state, so it won't affect the battle for party control of the Senate. But a Britt victory would bolster McConnell, who's been fiercely criticized by Brooks and former President Donald Trump.
It's clear McConnell "would rather have 'anybody but Mo' serving in the Republican caucus," said David Mowery, an Alabama consultant who's worked for candidates in both parties. "A Britt victory would certainly be a vindicating victory — a career capper, possibly — for Senator Shelby."
Britt is a former president and CEO of the Business Council of Alabama and previously served as chief of staff to Shelby, the 36-year Senate veteran who indicated support for Britt after announcing his retirement last year.
The race has spurred unprecedented outside spending for an Alabama Senate GOP primary, totaling more than $27 million through early June, according to independent expenditure reports filed with the Federal Election Commission. That includes nearly $2.9 million worth of super PAC-sponsored ads since the May 24 primary.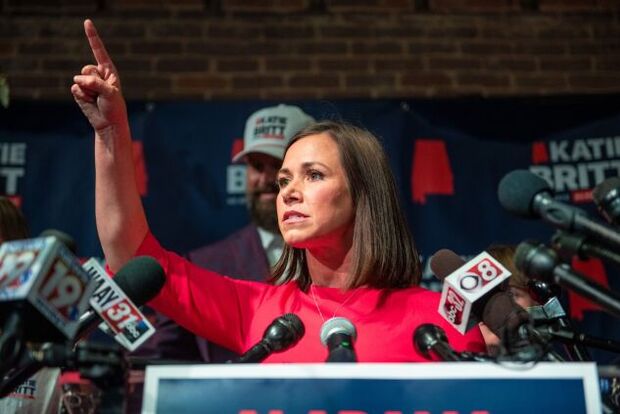 Outside Spending
Outside groups have spent nearly $20 million to help Britt, with more than $7.5 million of the total from the groups linked to McConnell and Shelby, according to the FEC. The money came from Senate Leadership Fund, a super PAC aligned with McConnell and Defend America, a leadership PAC headed by Shelby, which made its most recent donation of $3 million two days after the primary on May 26.
The conservative Club for Growth's super PAC reported spending $4.4 million backing Brooks before the primary, but it's reported no spending in the race in recent weeks. Conservative Outsider, a super PAC linked to the Club, reported a $400,000 TV ads buy in early June.
Britt's campaign committee also has run far ahead of Brooks in fundraising, reporting $7.5 million raised since the beginning of 2021, compared to $3.1 million raised by Brooks.
Alabama Senate GOP Primary Draws Unprecedented Outside Spending
The outside group spending has been on display with TV ads airing this month from Alabama Rino PAC criticizing Brooks as a longtime politician who's voted for tax increases.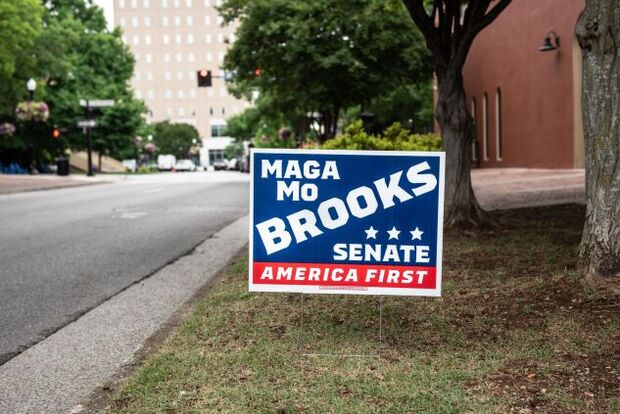 Brooks has made opposition to McConnell, a central theme of his Senate candidacy, echoing complaints by Trump that McConnell is weak and not conservative enough. Brooks' campaign spokesman Will Hampson said Britt was getting "plenty of special interest money" linked to McConnell's support.
"It's pretty safe to say we're going to be outspent," Hampson said in an interview.
Jack Pandol, the spokesman for the McConnell-allied super PAC Senate Leadership Fund, didn't respond to questions about Brooks' criticism of McConnell. Steven Law, the president of the super PAC, said in May that it was spending in the Alabama race because Brooks was "a very weak candidate" who criticized Trump in the past.
Trump Fallout
Brooks, meanwhile, has struggled to gain traction as his relationship with Trump has faltered. He was endorsed by Trump last year, but the former president withdrew his endorsement in March after Brooks said it was time to get over claims of fraud in the 2020 presidential election
Angi Horn, a Republican consultant in Alabama who's been advising pro-Britt super PACs, said even though Trump won the state twice and remains popular in Alabama, Brooks' dependence on the former president has hurt him.
"When Trump dumped Mo Brooks, he didn't have a campaign message left," Horn said. Britt is ahead in the runoff race now, Horn said, because she "is talking about policy."
To contact the reporter on this story: Kenneth P. Doyle in Washington at kdoyle@bgov.com
To contact the editors responsible for this story: Bennett Roth at broth@bgov.com; Kyle Trygstad at ktrygstad@bloombergindustry.com