Mayorkas to Balance Calls to Abolish ICE With Securing Borders
Law enforcement groups tout DHS pick for outreach under Obama
Immigrant rights advocates want to rein in deportations
Bloomberg Government subscribers get the stories like this first. Act now and gain unlimited access to everything you need to know. Learn more.
President-elect Joe Biden's pick to lead the Homeland Security Department faces a delicate balancing act between immigration advocates calling for an overhaul of deportation policy and law enforcement groups that favor strong borders.
Biden's nominee, Alejandro Mayorkas, is a former prosecutor backed by the country's largest police union. As deputy DHS secretary under President Barack Obama, he helped conceive and carry out the Deferred Action for Childhood Arrivals program, which offers legal status to young undocumented immigrants who'd been brought to the U.S. as children. The DHS largely limited deportations to noncitizens with criminal records while Mayorkas was in that role.
Even so, critics accused Obama of being the "deporter-in-chief."
There was "so much criminalization in the narrative and the approach" on deportations during the Obama-era, said Silky Shah, executive director of the Detention Watch Network. "That's what we'd like to see a shift from Mayorkas on."
Biden's DHS will face calls from pro-immigration groups and lawmakers to undo President Donald Trump's policies. Some progressives want Biden to abolish Immigration and Customs Enforcement, which oversees deportation. Biden and Mayorkas, if confirmed by the Senate, will have to address demands to revamp immigration policy drastically without drawing too much criticism about being weak on border security, especially as midterm elections approach.
"They're going to have to balance repairing as much of the damage that has been caused to the system as possible over the last four years, while also working to achieve progress on the other side," Jorge Loweree, policy director at the American Immigration Council, said in an interview. "We saw how difficult it was to achieve progress under the Obama administration and we certainly anticipate that fights will continue."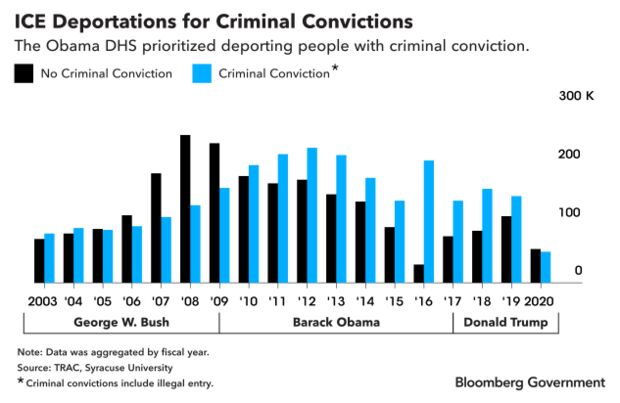 Work With Law Enforcement
Mayorkas has won the backing of law enforcement officials. The Fraternal Order of Police, which endorsed Trump over Biden in 2020, called Mayorkas "an outstanding choice."
Mayorkas is "uniquely qualified" to lead DHS: he can draw on personal experience as an immigrant who came to the U.S. as a Cuban refugee as a child, as well as his experience as a former U.S. attorney, Ali Noorani, president and CEO of the National Immigration Forum, said in an interview.
Noorani works with the Law Enforcement Immigration Task Force, a group of state and local officials who advocate for immigration overhaul and focusing enforcement actions on the most serious criminals or greatest security threats. Mayorkas earned law enforcement leaders' support for his outreach in that community during his time as deputy secretary, Noorani said.
Fresno County Sheriff Margaret Mims met with Mayorkas twice while he was at DHS previously. She credited him for both coming to her region in California's agricultural San Joaquin Valley and hosting law enforcement officials in Washington, she said in an interview.
Mayorkas' outreach was about how the Obama administration's actions against criminal immigrants under the Priority Enforcement Program would affect local law departments. PEP, established in 2014 to replace the broader Secure Communities program, allowed ICE to take custody from local officials of individuals determined to be a public safety threat before they would be released into the community.
"The PEP program is one of the programs that I think both community, local law enforcement and federal enforcement look back on as, 'Okay, that was something that was really beginning to kind of click into place and do the right thing,'" Noorani said.
If confirmed, Mayorkas should act quickly to send a message that any border and immigration policy changes the administration plans won't happen immediately, Mims said.
"The last thing we want are huge caravans. That would create a problem for the agency — that would overwhelm our services and our resources," she said.
Her priorities for her community remain the same: secure the border to prevent entry by terrorists, human traffickers, and drug smugglers.
"I believe he's very aware of the danger that can be posed with open borders," she said.
Deportation Changes
Under Trump, the DHS restored the Secure Communities program and took a less targeted approach to deportation, which pro-immigration advocates hope Mayorkas will change. Biden has already committed to pausing deportations once he takes office.
The Obama administration made it a priority to deport people with criminal convictions over those convicted of previously trying to enter the country illegally. Only about 5% of people deported in fiscal 2016, Obama's last full year in office, had an illegal entry conviction. Illegal entry took over a larger share of deportation convictions during the Trump administration.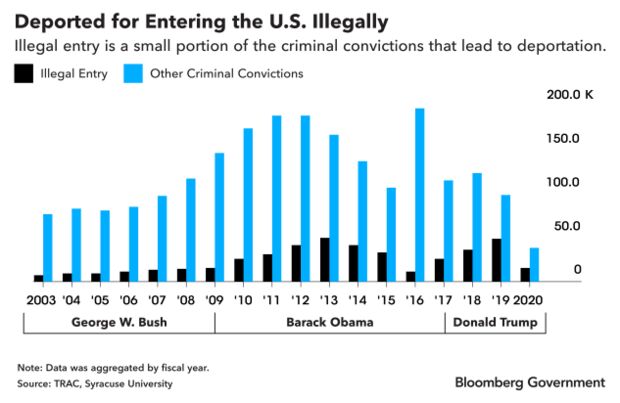 "We are expecting a greater level of cooperation and meaningful discussion to be able to create the accountability necessary to hopefully make the system function," Loweree, the policy director at the American Immigration Council, said about the incoming Biden administration.
Though Mayorkas faced criticisms while he was at DHS under Obama, many immigration groups recognize that they are operating in a different world, he said.
"The ground has in many ways shifted beneath us," Loweree said.
Biden has promised to end immigration agencies' use of private prisons and to stop detaining of children in cages — moves that would immediately improve the lives of people living in the U.S. without legal status, Shah said. She also wants the new administration to change the terms and tone of the immigration debate.
"They just shouldn't fall into this narrative of national security, public safety to show that they're going to be tough on this issue," Shah said "There's so much support for immigrants, and there's so much need to move away from this model of an overly-punitive immigration system."
To contact the reporter on this story: Shaun Courtney in Washington at scourtney@bgov.com
To contact the editors responsible for this story: Sarah Babbage at sbabbage@bgov.com; Robin Meszoly at rmeszoly@bgov.com
Stay informed with more news like this – from the largest team of reporters on Capitol Hill – subscribe to Bloomberg Government today. Learn more.