Male, White Transportation Staff Complicate Biden Equity Pledge
Buttigieg hopes to diversify workforce, but challenges remain
74% of current staff is male, ratio largely static since 2000
Bloomberg Government subscribers get the stories like this first. Act now and gain unlimited access to everything you need to know. Learn more.
Transportation Secretary Pete Buttigieg has become the Biden administration's go-to spokesman for emphasizing "equity" in policy.
He has pledged to consider the needs of minority communities when evaluating old projects or considering new ones. But he makes these commitments while leading a midsize department of disproportionately White and male employees—a potential barrier to achieving truly equitable outcomes, some observers warn.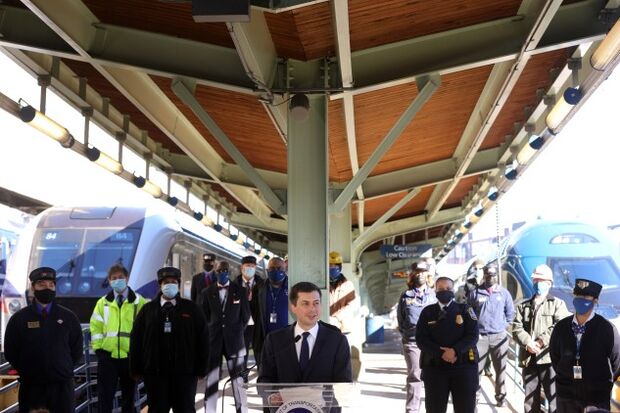 Buttigieg has acknowledged the general issue of staff diversity during events, saying he hopes to change his department to better reflect the makeup of the country. But with tens of thousands of career employees, and gender and race disparities decades in the making, he faces challenges.
"We've obviously got a long way to go," Buttigieg said last month about the number of women, and women of color on his staff.
Of the department's nearly 55,000 employees, 74% are male and 70% are White, according to data as of March. Those majorities have remained largely unchanged since at least 2000—the earliest publicly available data—spanning five presidencies and seven confirmed secretaries.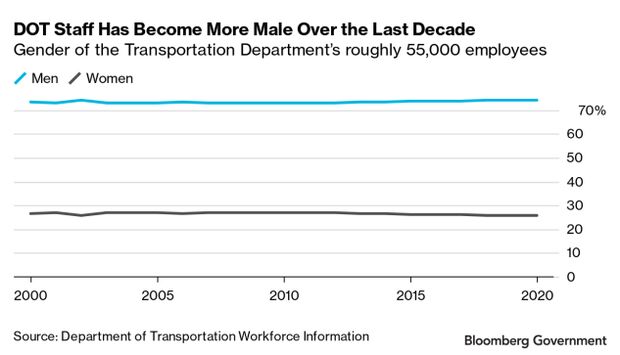 Industrywide Issue
The proportion of male employees at the Department of Transportation has nudged up each year over the last decade.
During that stretch, and in the decades prior, the transportation industry reflected similar demographic trends. The U.S. Bureau of Labor Statistics found that women made up 24% of Transportation and Utilities employment in 2020, which covers industries including rail, aviation, and trucking.
Buttigieg Pushes for Staff, Workers That 'Look Like America'
Women haven't seen transportation jobs as an option for them, said Jodi Godfrey, a senior research associate at the Center for Urban Transportation Research at the University of South Florida who has studied how to attract and retain women in the industry.
"Since you don't see a lot of diversity, you just assume that that's not where you should work," she said of women's thinking.
Changing these statistics could be especially challenging during the pandemic, which has already prompted an employee exodus from the workforce, especially of women, due to child care and other issues.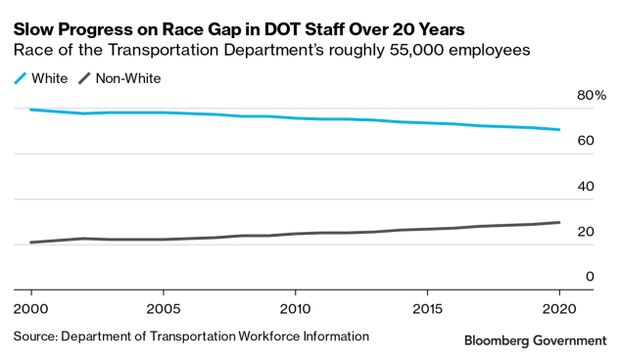 To bring innovation to the field, employers must recruit people with different experiences and backgrounds, said Kristina Ropella, dean of the Opus College of Engineering at Marquette University.
"The more diverse it is, the more ideas you will generate, the more aware you are, the more opportunity to make connections between things that seem unconnected," Ropella said.
Lack of diversity in policy development has led to notable lapses. For example,research shows that male and female bodies perform differently in car crashes. But the "vast majority of automotive safety policy and research is still designed to address the body of the so-called 50th percentile male," according to Consumer Reports.
In contrast, when women were included in the development of public transit, more attention was given to lighting and stroller access because women prioritized safety and ease of use when choosing a transportation mode, Godfrey said.
Buttigieg also often points to the interstate highway system as a policy that hurt equity by cutting through neighborhoods where communities of color and low-income people lived.
The link between transportation and low-income communities has only been "sporadically addressed" on the national level, said Evelyn Blumenberg, director of the Lewis Center for Regional Policy Studies at UCLA.
Prioritizing Equity
A spokesperson at DOT said Buttigieg is building a diverse team of political appointees, and staff is looking at how to do the same in the department's workforce. Buttigieg's deputy secretary, Polly Trottenberg, an Obama administration veteran, was recently confirmed. Leaders awaiting confirmation include Nuria Fernandez, would be the first Senate-confirmed woman of color to run the Federal Transit Administration, and Amit Bose, who is Indian-American, to lead the Federal Railroad Administration.
DOT has started adding racial equity to the criteria of major grants. Buttigieg has pledged to use federal policy to better invest and design projects for neighborhoods that have been negatively affected by the department's past decisions.
Buttigieg is not the first secretary to focus on equitable transportation policies, nor the first to realize the challenges of diversifying the department's staff. Previous secretaries have appointed more diverse people to leadership positions and created other roles to make equity a priority.
Local Hiring Gains Steam as Biden Pushes Infrastructure, Equity
Persistent Problem
The lack of diversity in the overall department's workforce has persisted, which some say is largely due to the demographics of career workers.
Buttigieg's predecessor, Transportation Secretary Elaine Chao, is Asian-American and immigrated to the U.S. from Taiwan. Chao said in a statement that she made it her "personal mission" as transportation secretary "to improve diversity and increase inclusion" at the department.
"Throughout my life, I mentored and promoted women to leadership positions," she said. "To increase the number of women in the transportation industry, more female students need to be encouraged to enter the STEM fields early in their schooling, a mission I have emphasized throughout my career."
Anthony Foxx, who served as transportation secretary during the Obama administration and is Black, said the lack of diversity persists industrywide at state boards of transportation as well as local, state, and federal transportation departments.
"That's a systemic problem that doesn't get fixed overnight; that said, from a leadership perspective, it is critical to have as many diverse voices at the table as possible," he said.
Buttigieg Definition of Equity Draws Line on Infrastructure Push
Opportunity Officer
Foxx said he created a chief opportunities officer position, whose job was to ensure that "opportunity was part of every conversation" and to work on the administration's equity initiatives. There isn't currently a chief opportunities officer listed at the department.
Stephanie Jones, who served in that role under Foxx, said the secretary tried to bring the issue to the center; for example, if a meeting wasn't about civil rights, the people from that office still needed to be at the table. Jones said her work on equity issues made her realize how difficult it would be to change the way the department operated and how decisions were made. Jones is now president of civil rights group The Call to Justice Foundation.
Diverse perspectives in the department can influence the allocation of discretionary grants and programs like those designed to spur local hiring, Foxx said.
"The hope I have is that the president and Secretary Buttigieg, and others who are I think genuinely pushing for equity to be made real, in many respects, don't get slowed down by those who would want to pump the brakes," Foxx said.
To contact the reporter on this story: Lillianna Byington in Washington at lbyington@bloombergindustry.com
To contact the editors responsible for this story: Sarah Babbage at sbabbage@bgov.com; Anna Yukhananov at ayukhananov@bloombergindustry.com
Stay informed with more news like this – from the largest team of reporters on Capitol Hill – subscribe to Bloomberg Government today. Learn more.