Majorities at Stake as Primary Season Kicks Off in Ohio, Indiana
Trump backs "Hillbilly Elegy" author Vance in Ohio Senate race
Indiana also holding congressional primary elections this week
Primaries in Ohio and Indiana on Tuesday inaugurate a busy stretch of elections, with nominating contests on all but one Tuesday in May and June.
The outcomes will set up the general election matchups that will determine whether Republicans can take the House and Senate majorities from Democrats.
The first competitive Senate election of 2022 is Tuesday in Ohio, where a fractious and big-spending Republican primary offers an early window into Donald Trump's sway over the GOP electorate. The former president intervened to endorse J.D. Vance, a venture capitalist and "Hillbilly Elegy" author, over other contenders in a state that will help determine control of the 50-50 Senate.
In House elections, Ohio Republicans buoyed by favorable redistricting could win as many as 13 of 15 districts in November, aiding the party's efforts to overturn Democrats' five-seat majority. The Republican-drawn map is under court review as the election proceeds.
There's also a primary in next-door Indiana, where Republicans also redrew district lines and are strongly favored in seven of nine districts — with a shot at an eighth if President Joe Biden's mediocre approval rating persists.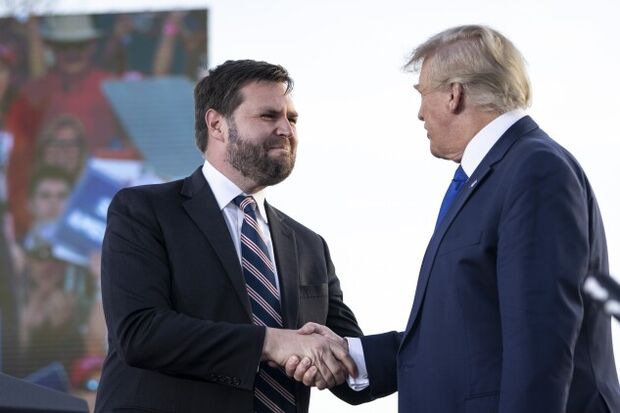 Here's a look at the contests to watch in Ohio and Indiana, which are holding the first primaries since Texas voted in March. The vote percentages for Biden and Trump in the 2020 election are noted parenthetically.
Ohio
Senate (Trump won Ohio 53%-45%): Vance, a former Trump critic seeking political office for the first time, doesn't have a big donor base but received significant outside aid from tech billionaire Peter Thiel, who donated at least $13.5 million to a supportive super PAC called Protect Ohio Values PAC.
Vance's rivals include former Ohio Treasurer Josh Mandel, who's backed by the conservative Club for Growth Action and Sen. Ted Cruz (R-Texas); investment banker Mike Gibbons; former Ohio Republican Party Chairwoman Jane Timken, who's the choice of retiring Sen. Rob Portman (R); and state Sen. Matt Dolan, who supported the 2021 infrastructure law and urged primary voters to "look forward" rather than fixate on a 2020 presidential election that Trump, Vance, Mandel, and other Republicans falsely claimed was "stolen."
Trump's "appeal is very strong and it may be enough to put J.D. over the top," said David Johnson, the Columbiana County Republican Party chair who's supporting Timken. "If it does, I'll certainly support him."
He added, though, that a "strongly pro-Trump" base of conservative voters includes many Mandel supporters, and that Trump backing Vance "led them to be even more fired up for Josh Mandel."
Johnson said he expects a low turnout because many voters are "disaffected" by the millions of dollars worth of negative advertising they watched during the primary season. Republican candidates and allied groups together spent more than $75 million before the primary.
In the lower-profile Democratic primary, Rep. Tim Ryan is favored against Morgan Harper, a lawyer and more liberal candidate who challenged Rep. Joyce Beatty (D) in a 2020 primary.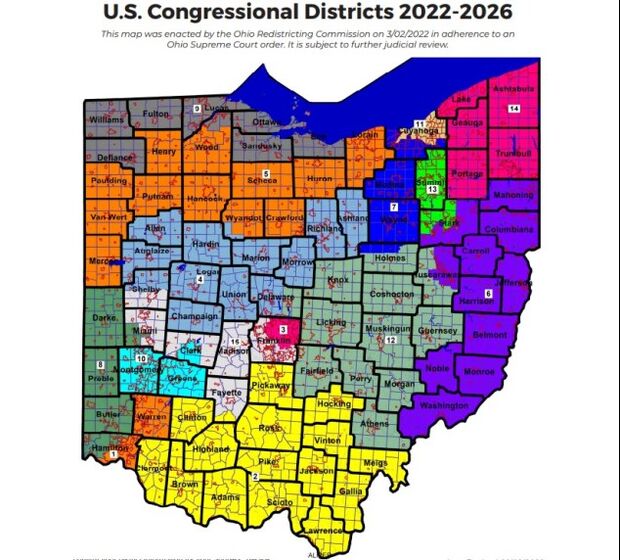 1st District (Biden 53%-45%): Rep. Steve Chabot (R), the longest-serving Republican in the Ohio delegation, received a less favorable district — from Trump +3 to Biden +8 — because Ohio's new redistricting rules required consolidating Democratic-leaning Cincinnati in one district.
Still, Chabot may be a tough out for Democrats in a Biden midterm election that's more likely than not to favor Republicans. The lone Democratic candidate is Greg Landsman, a Cincinnati councilman.
7th District (Trump 54%-45%): Former Trump aide Max Miller, who was endorsed by his ex-boss, dominated the Republican primary by raising $2 million through April 13 in a district south of Cleveland.
Miller began his campaign challenging Rep. Anthony Gonzalez (R), who voted to impeach Trump after the 2021 Capitol attack, but Gonzalez opted to retire. After the new lines were set, Miller expected to face Rep. Bob Gibbs (R), whose district was carved up. But Gibbs ended his re-election last month rather than run where he represents fewer than 10% of the constituents.
The only active Democratic candidate is Matthew Diemer, who describes himself as a small business owner and podcast host.
9th District (Trump 51%-48%): Redistricting threatens to end the career of Rep. Marcy Kaptur, a senior Appropriations Committee member and organized labor supporter whose 40-year House tenure is the longest ever by a woman.
Kaptur represents less than half of the people who live in the new 9th, which includes her strongly Democratic Lucas County (Toledo) base and Republican turf to the west and east. Kaptur continues to be an outspoken supporter of Biden even as she campaigns for re-election in a revised district the president would have lost in 2020.
The Republican primary includes state Sen. Theresa Gavarone and state Rep. Craig Riedel.
Gavarone is favored by groups promoting more Republican women in Congress and by the Defending Main Street super PAC, which promotes Republican centrism. Riedel is backed by Rep. Jim Jordan (R-Ohio) and aired an ad in which a narrator said Riedel would "stand with President Trump all, not just some, of the time."
11th District (Biden 78%-21%): Rep. Shontel Brown and former state Sen. Nina Turner are in a rematch of an August 2021 special Democratic primary that Brown won by 6 percentage points.
Brown now is running as the incumbent, while Turner again has the backing of Sen. Bernie Sanders (I-Vt.), whose 2020 presidential campaign she helped lead as a national co-chair. Brown again benefited from an independent expenditure campaign by DMFI PAC, a pro-Israel Democratic group.
Redistricting made the heavily Democratic 11th more compact, placing it wholly within Cuyahoga County in and around Cleveland.
13th District (Biden 51%-48%): Republicans sense an opportunity in an open district that includes all of Summit County in and around Akron and most of Stark County including Canton. GOP mapmakers stitched the 13th together from parts of five current districts, including Senate candidate Ryan's.
The best-funded Republican is Madison Gesiotto Gilbert, a lawyer and former Miss Ohio USA who has Trump's endorsement along with donations from Minority Leader Kevin McCarthy (Calif.) and Conference Chair Elise Stefanik (N.Y.). Gilbert's opponents include Shay Hawkins, a lawyer who worked for Sen. Tim Scott (R-S.C.).
The Republican winner will face state Rep. Emilia Sykes, a former state House minority leader who's unopposed in the Democratic primary.
Indiana
Senate (Trump won Indiana 57%-41%): In solidly Republican Indiana, Sen. Todd Young (R) is strongly favored to win a second term after a decisive, come-from-behind win in 2016 over Democrat Evan Bayh. The lone Democrat is Tom McDermott, the mayor of Hammond in northwestern Indiana.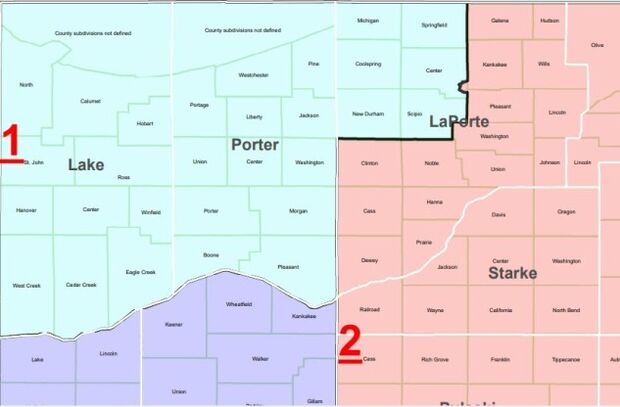 1st District (Biden 53%-45%): Rep. Frank Mrvan (D) is seeking a second term in a swath of northwestern Indiana that Republicans are targeting after decades of conceding the district. The best-funded Republicans are Jennifer-Ruth Green, a pilot and Air Force veteran, and Blair Milo, a former mayor of LaPorte who served in the Navy.
Ruth-Green, who is Black, has backing from Reps. Victoria Spartz and Jim Banks. Milo's donors include Rep. Jackie Walorski and ex-Rep. Susan Brooks.
5th District (Trump 57%-41%): Spartz, the only member of Congress born in Ukraine, won a close 2020 open-seat race but is politically secure after redistricting moved Democratic-friendly Marion County precincts out of the 5th District.
9th District (Trump 63%-35%): Nine Republicans are seeking to succeed retiring three-term Rep. Trey Hollingsworth (R) in a southeastern district where winning the GOP primary will be tantamount to victory in November.
Former state Sen. Erin Houchin, who finished second to Hollingsworth in the 2016 Republican primary, is backed by GOP women's groups. She's the beneficiary of a super PAC, American Dream Federal Action, that's funded by cryptocurrency exchange executive Ryan Salame.
Stu Barnes-Israel, an Army veteran who served in Afghanistan, campaigned against "career politicians" and benefited from more than $900,000 in spending by a super PAC called Hoosier Values that hasn't yet disclosed its donors.
Former Rep. Mike Sodrel, a trucking executive, is making another attempt at a political comeback at age 76. He was elected to the House in 2004 and unseated in 2006, and he also sought the seat in 2002, 2008 and 2010.
With assistance from Kenneth P. Doyle
To contact the reporter on this story: Greg Giroux in Washington at ggiroux@bgov.com
To contact the editors responsible for this story: Bennett Roth at broth@bgov.com; Kyle Trygstad at ktrygstad@bloombergindustry.com