Mail-in Ballot Spike Will Make Vote Counting a Delayed Affair
Some states expected to spend weeks counting absentee ballots
Experts say delay may lead to fraud concerns, disputed results
How voters will cast their ballot has consumed the political process this year, as states, parties, and voters have adjusted to the realities of holding elections in a pandemic. Waiting on the other side of Election Day: counting all those ballots efficiently.
State legislatures and election officials mobilized to expand absentee voting in dozens of states during the primaries, allowing voters to cast ballots from the safety of their homes. It wasn't perfect. A half-million absentee ballots were rejected, according to two separate analyses from NPR and the Washington Post. Some ballots arrived too late or not at all. Voters waited hours to cast their vote in areas where polling places were reduced.
The general election carries some of the same logistical problems as the primaries. But there's another issue lurking that was apparent in a few high-profile nomination contests and will star on a far bigger stage soon: Close races could lead to weeks of waiting for enough absentee ballots to be tallied to determine who won the presidency or Senate control.
Elections officials are worried a delay could lead to accusations of fraud, especially if the candidate ahead as polls close on Nov. 3 ultimately loses when all the ballots are counted.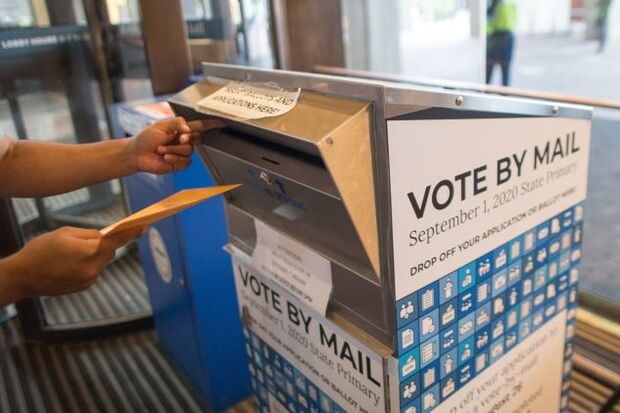 In Michigan, a presidential swing state President Donald Trump won in 2016 by about 17,000 votes, the law will prohibit an estimated 3 million absentee ballots from being counted until Election Day. Secretary of State Jocelyn Benson (D) said she hopes the state legislature will change that. If not, candidates and voters must be patient.
Any attempt to claim victory before the votes are counted, Benson said, "will be called what it is: an intentional effort to create chaos and confusion and sow seeds of doubt among our electorate about the sanctity of our elections."
Mailing It In
As of late August, 35 states had extended deadlines, expanded eligibility to cast an absentee ballot, or tweaked the process to make mail-in voting easier, according to a count by Ballotpedia. Counties that previously handled a few hundred absentee ballots by hand have now purchased equipment to help process the thousands they expect.
The surge in ballot requests prompted Congress to weigh additional funding for the U.S. Postal Service and election administrators, with the House breaking from its August recess to pass a bill with $25 billion and a ban on operational changes proponents said could affect the voting. Postmaster General Louis DeJoy said he would halt changes until after the election.
Voters are taking advantage of the increased ability to vote at home. As of Aug. 28, North Carolina had received more than 488,000 requests for absentee ballots, compared to around 25,000 at this time in 2016, said Karen Brinson Bell, executive director for the North Carolina Board of Elections. That same day, Georgia was past 680,000 requests, smashing the previous record of around 260,000 in 2018.
"It's incomparable," said Gabriel Sterling, Georgia's statewide voting implementation manager.
Yet, election directors around the country said there is more work to be done, including on voter education. There's ample opportunity for a voter to mess up, especially one who's never voted by mail.
They could wait too long to request their ballot or mail the ballot too late. They could forget to follow security measures some states require, such as signing their name on the envelope or having a witness sign. And even when states alert voters their ballot hasn't been counted, some never take the time to fix it.
In Ohio, Secretary of State Frank LaRose (R) is urging lawmakers to allow voters to request their ballots online and approve $3 million from his own budget to cover the costs of postage for ballots.
LaRose said he's begged the legislature to allow Ohioans to request an absentee ballot until three days before the election, one of a handful of states with such a short turnaround time. That, LaRose said, "effectively guarantees you'll get your ballot after the election, which is creating a false expectation."
State officials are also working to ensure in-person voting runs smoothly. In Georgia, voters waited for hours to cast ballots in the June 9 primary after fewer polling places were able to open due to coronavirus concerns, Sterling said. He's now working with counties to both get more sites and lock down poll workers for November.
"This is what voting looks like in the pandemic," he said.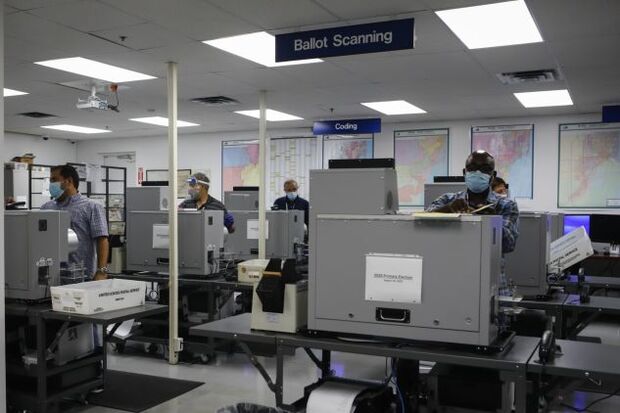 A Dangerous Delay
If the presidential and Senate races are close, Americans could wait for weeks to find out who will be president and whether the Senate will be in Republican or Democratic control.
New York took six weeks to declare the results of two close House races after its June 23 primary, in part because it takes more time to process an absentee vote than one in-person. There's no sign it will be different this time, said New York State Board of Elections spokesman John Conklin.
"It took weeks after the primary, I expect it to take weeks after the general," he said. "No additional resources have been given to us to deal with any of those things."
Along with Michigan, a handful of other states including Wisconsin and Pennsylvania don't allow workers to touch absentee ballots until Election Day. That wasn't an issue when those ballots made up a small fraction of votes, but this year they are expected to cause weeks-long delays in declaring a winner.
Americans saw this play out to an even greater extent in the 2000 presidential election that took weeks of recounts and a Supreme Court case to resolve. But the potential anxiety a delay may cause the public could be compounded by months of President Donald Trump questioning the legitimacy of the yet-to-be-held election and absentee voting. That includes using his opening remarks on the first night of the Republican National Convention to accuse Democrats of using Covid-19 to "steal an election" and "defraud the American people."
Election experts are sounding the alarm that the candidate ahead on election night could lose once absentee ballots are counted.
"It matters who is ahead on election night and the day after the election," said Michael Toner, a former chairman of the Federal Election Commission. "It matters in terms of public perceptions of the election itself."
Worst-Case Scenarios
In June, a bipartisan group of more than 100 current and former senior government officials, campaign leaders, and other experts came together with the Transition Integrity Project to game out several different election night scenarios. The group began out of concern that the Trump administration might undermine the election, although it avoids taking a position on whom Americans should vote for.
The group concluded it likely "will be marked by a chaotic legal and political landscape" with the possibility for an "unscrupulous candidate to cast doubt on the legitimacy of the process and to set up an unprecedented assault on the outcome."
A close election could lead to a tsunami of lawsuits and aggressive tactics. But that would be preferable to other reactions, said Richard Hasen, a political science professor at University of California at Irvine and the author of "Election Meltdown: Dirty Tricks, Distrust, and the Threat to American Democracy."
"There is a real risk of the population not accepting the result as legitimate," he said. "I'm much more concerned about this ending with street protests and violence."
The way to ensure Americans accept the election results is to run a fair election, Hasen added. "Many people are working hard to make that happen."
To contact the reporter on this story: Emily Wilkins in Washington at ewilkins@bgov.com
To contact the editors responsible for this story: Kyle Trygstad at ktrygstad@bgov.com; Loren Duggan at lduggan@bgov.com