Low-Key Delaware Primary Ends Voting Before General Election
The First State is the last casting primary ballots this year
Democratic incumbents favored, favorite son atop ticket
Delaware's primary Tuesday is the last one before the Nov. 3 election.
Democratic incumbents facing re-election for two of the state's congressional seats would be strongly favored to win new terms even without former Vice President Joe Biden, a former Delaware senator, leading the ticket as the Democratic presidential nominee.
The state voted for Hillary Clinton over President Donald Trump by 53%-42% in 2016.
Senate Race
Sen. Chris Coons, seeking re-election after a decade of service in the seat formerly held by Biden, said he had the skills to address new crises, including the pandemic, as well as recurring problems like opioid addiction, gun violence, and climate change.
"Hopefully, we will have a Biden presidency in January and I'll be part of the majority in the Senate," Coons told Delaware Public Media last month. "And in that case, I'd have a role where's I'd be hopefully significantly contributing to moving legislation that would address both these three current crises — racial inequality, economic recession, and the pandemic — but also going to address some of the things that were on my plate and were crises before."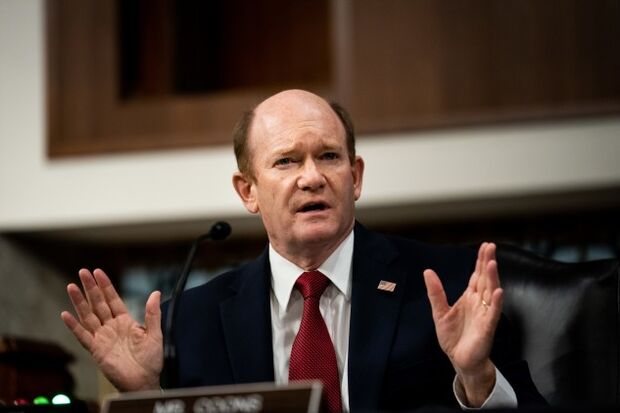 Coons is opposed in the primary by Jessica Scarane, who has a background in mentoring students and working for a nonprofit that runs after-school programs for Delaware girls.
"What is different about what I'm bringing to this position is that background of activism as well as being a working person in our state," Scarane told Delaware Public Media. "I think we need more representation in our government, from top to bottom, of people who have experienced the problems that the vast majority of people in our country are facing."
Coons had $2.7 million in cash on hand on Aug. 26 compared with $150,000 for Scarane. Most of the $324,000 Scarane raised came in small, unitemized donations.
Lauren Witzke and Jim DeMartino are seeking the Republican nomination. Witzke said she's running on an "America First" platform that includes addressing the opioid epidemic — her campaign website says she was once "hopelessly addicted" — and imposing a moratorium on immigration. DeMartino is a lawyer who lost bids to unseat Delaware's House speaker in the 2016 and 2018 elections.
House Seat
For Delaware's statewide at-large House district, Rep. Lisa Blunt Rochester (D) is unopposed in the primary and favored to win a third term. Rochester, a member of the Energy and Commerce Committee, is the first woman and person of color to represent Delaware in Congress.
The Republican candidates are Lee Murphy, a retired Amtrak conductor and actor who appeared on the "House of Cards" political thriller series, and Matthew Morris, a recovering drug addict and advocate who hasn't reported raising any money for his campaign.
To contact the reporter on this story: Greg Giroux in Washington at ggiroux@bgov.com
To contact the editors responsible for this story: Loren Duggan at lduggan@bgov.com; Kyle Trygstad at ktrygstad@bgov.com