Louisiana Republicans Wage Culture War in First Veto Session (2)
The governor is a Democrat in a deeply red state
Senate blocked override effort on gun, voting bills
(Updates with lawmakers adjourning.)
For the first time since its modern Constitution took effect in 1975, Louisiana's Republican-led Legislature briefly met for a special session to vote again on bills vetoed by the only governor who's a Democrat in the Deep South.
The majority party adjourned Wednesday without achieving its goals, which included scrapping gun training and permits for those who want to conceal what they carry; limiting transgender sports options; changing election law; and expanding immunity for businesses from lawsuits over Covid.
Lawmakers prioritized banning transgender athletes from playing on girls' or women's sports teams, but their veto override legislation fell two votes short on Wednesday. Efforts to overturn gun and voting-law vetoes were thwarted when Senate Republicans failed on Tuesday to muster the votes needed.
"It's a shot at the governor—a Democratic governor in a strongly red state—and the Legislature wants to make sure that the people of Louisiana realize they're strong," Rosalind Cook, a Louisiana politics expert at Tulane University, said in a phone interview.
Gov. John Bel Edwards won reelection in 2019 with 51% of the vote in a state where 58% of voters decided to reelect President Donald Trump in 2020.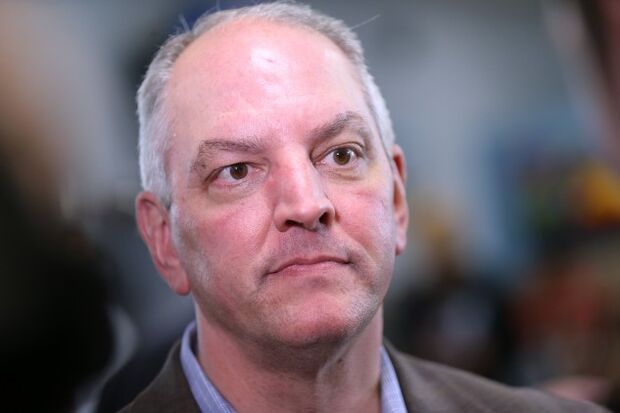 The governor has clashed repeatedly with Republican legislators over the last year, particularly over Edwards' authority during the public health emergency declared for the coronavirus pandemic.
"It's part of the process. I don't take any of this personally," Edwards said Wednesday on his monthly radio show.
"I'm going to continue to work as hard as I can with Republicans and Democrats, House and Senate, to keep recovering from Covid, advancing our economy, and moving our state forward," he said.
Financial Risks
Edwards has said the bill on transgender athletes (S.B. 156) was unnecessary and could jeopardize Louisiana's ability to host major sports championships, such as the NCAA's 2022 Men's Final Four scheduled in New Orleans next year.
The bill prompted lawmakers to break with tradition, partly because of that corporate pressure, Rep. Laurie Schlegel (R) said on the House floor in support of the veto override.
"It's unimaginable to me that we would let any outside organization hold our state hostage on a bill, especially this one," she said.
Some business and political leaders called on legislators to uphold Edwards' veto.
"New Orleans is a welcoming city, with no place for discrimination," the city's mayor, LaToya Cantrell (D), said in a July 14 statement.
As Louisiana's tourism industry tries to recover from the pandemic's economic impacts, "it would be regrettable to take actions in the override session that undermine our recovering, but fragile, economy," business and tourism leaders from New Orleans and Baton Rouge said in a letter published Tuesday evening by The Advocate newspaper.
Seventy House members needed to vote to override a veto, and 26 senators had to agree. The Senate voted 26 to 12 to override the veto on the transgender athletes bill, but the attempt failed in the House by a vote of 68 to 30.
Faltering Effort
Republican votes to override fell short on another high-profile bill (S.B. 118) that would have allowed adults to carry concealed weapons without a permit and without the training.
Bills that would ban the use of drop boxes for vote-by-mail ballots (S.B. 63), add identification requirements for absentee voters (S.B. 224), and mandate audits of elections (S.B. 220) also failed to muster enough Senate votes for an override.
Edwards vetoed a total of 28 bills from the regular legislative session that ended June 10, plus line-item vetoes in three fiscal bills.
The Louisiana Constitution includes automatic veto override sessions, but until this year lawmakers have voted to skip every opportunity to reconsider rejected bills.
The House declined to hold override votes on legislation to allow partisan poll watchers at all precincts in Louisiana and two bills related to Covid-19 vaccines that would have extended the state's coronavirus liability shields.
"We, as a diverse bipartisan legislative body, need to rally together to make an example for our future generations that this is when Louisiana turned a corner. This is when governors quit bullying legislators and started respecting the legislative process," the chairman of the Louisiana Conservative Caucus, Rep. Jack McFarland (R), said in a June 28 statement.
All legislators really would accomplish would be laying the foundation for an even more combative session next year, said Cook, who views this week's debates as the GOP showing "that Republicans, as far as the Legislature goes, dominate Louisiana politics."
To contact the reporter on this story: Jennifer Kay in Miami at jkay@bloomberglaw.com
To contact the editors responsible for this story: Katherine Rizzo at krizzo@bgov.com; Andrew Childers at achilders@bloomberglaw.com