Longer Lines at Airports Loom Without Pay Boost for TSA Officers
Security workers make 30% less than other federal personnel
Agency warns of shortages unless Congress approves raises
Bloomberg Government subscribers get the stories like this first. Act now and gain unlimited access to everything you need to know. Learn more.
Short staffing and long lines at airport security checkpoints are poised to worsen next year if Congress doesn't pass legislation to boost the meager pay of Transportation Security Administration workers, government officials and advocates warn.
The frontline security personnel at checkpoints make roughly 30% less than their counterparts in other federal agencies, a disparity that's hindered TSA recruitment and retention since the agency's inception in 2001. Officials warn of a wave of employee departures unless lawmakers advance long-sought changes to the TSA pay system before the end of the current session of Congress.
"Our workforce is watching that very carefully because I know a lot of people have decided not to retire or not to leave early because there might be a significant, equitable pay raise," Administrator David Pekoske said last week at the Homeland Security Enterprise Forum in Virginia.
The fate of the pay equity push will affect how smoothly the TSA workforce can manage next year's summer travel rush, Pekoske added.
Staffing shortages at airports already strain the industry's ability to keep pace with rebounding passenger volumes after Covid-19 disruptions. TSA checkpoint bottlenecks can compound the problems, causing travelers to miss flights, and planes to fly below optimal capacity.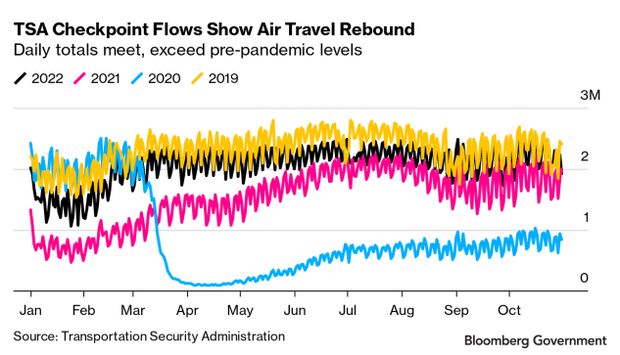 Two legislative efforts are in motion to help retain and recruit TSA workers. One would reclassify agency employees under Title 5, a section of the US code that applies to most federal workers and ensures regular pay raises and other protections. Another measure would boost the agency's budget to support pay raises and expanded worker rights.
TSA officials and the agency's frontline workforce are anxiously monitoring the legislation's progress over the next two months. Prospects for legislative action are dimmer once the next session of Congress convenes in January, as Republicans are poised to take control of at least one chamber and haven't championed TSA pay increases.
"If it doesn't pass, it's going to demoralize the workforce that's here," said Johnny Jones, secretary-treasurer of TSA Council 100, the American Federation of Government Employees union for TSA.
TSA Bottlenecks
Further strain on TSA's workforce would come as airline passenger traffic finally begins to match or exceed pre-pandemic levels. The agency screened more than 15 million people at security checkpoints last week, topping 2019 levels during a typically relaxed period for travel.
"We have concern about the TSA budget and their ability to maintain staffing and hopefully hire additional staffing to deal with those increasing passenger levels," said Joel Bacon, executive vice president for government and public affairs at the American Association of Airport Executives.
When passengers miss flights due to long waits for TSA screening, planes fly below capacity, airlines have to rebook travelers, and downstream disruptions abound, said Bloomberg Intelligence senior airline analyst George Ferguson.
"The airlines need those load factors to really be profitable," Ferguson said, adding TSA staffing shortages can constrain the industry's recovery and growth.
The TSA administrator has pressed lawmakers to view pay equity as a matter of fairness, security, and efficiency, noting a fifth of the TSA workforce turns over every year. Pekoske, a former Coast Guard vice commandant, has led TSA since 2017, first nominated by former President Donald Trump for a five-year term and renominated by President Joe Biden this year.
TSA Pay Boost Proposal Faces Resistance from Senate GOP
"Achieving and implementing pay equity for all TSA employees is my top priority and remains an essential element in the effort to recruit, train, equip and retain a highly skilled and professional workforce on the frontlines of transportation security," he said in a statement to Bloomberg Government.
Jones, from the TSA union, is a TSA agent at Dallas Fort Worth International Airport and said his starting pay was $36,000 a year. Twenty years later, he makes less than $51,000 — an effective pay cut when inflation's factored in.
"This has been an issue since TSA was stood up," said Andrew Howell, a partner at the lobbying firm Monument Advocacy. "How does the TSA workforce get paid, and what does that mean for TSA retention, TSA line management, TSA's ability to meet the needs of travelers?"
Defense Package
The yearslong effort to improve pay for TSA workers is closer to success than ever before, but significant legislative hurdles remain.
The House passed the Title 5 bill (H.R. 903) earlier this year on mostly partisan lines and later added the measure to the National Defense Authorization Act (H.R. 7900), a must-pass annual policy bill that serves as a vehicle for many other legislative priorities.
The TSA measure wasn't included in the Senate's proposal, but supporters plan to push for its inclusion when the House and Senate work out the differences in their bills in conference later this year, a labor advocate working on the matter said.
Senate Armed Services Chairman Jack Reed (D-R.I.), who cosponsored S. 1856, the Senate companion to H.R. 903, will help lead negotiations on the final defense package. Rep. Don Bacon (R-Neb.), one of a few Republicans to vote for the House bill, is also poised to sit on the conference committee as a member of the House Armed Services Committee.
Vocal skeptics of Title 5 status for TSA workers, Sens. Roger Wicker (R-Miss.) and Marsha Blackburn (R-Tenn.), will also have influence over what's in the deal. Both sit on the Senate Armed Services Committee, and both have raised concerns about whether a reclassification would hamper TSA's agility in the face of national security threats.
Trump raised similar objections during his time in office, threatening to veto an earlier version of the Title 5 bill. He cited a blue ribbon panel on TSA workforce woes that recommended improving pay within the existing system rather than moving to the "inflexible" Title 5 structure.
Jeffrey Neal, a former Department of Homeland Security chief human capital officer who was chair of the panel, last year said agencies routinely complain about the lack of labor market sensitivity built into the Title 5 pay system. Job classifications, for example, are governed by the Office of Personnel Management, which can lag in updating descriptions even as agency needs swiftly evolve.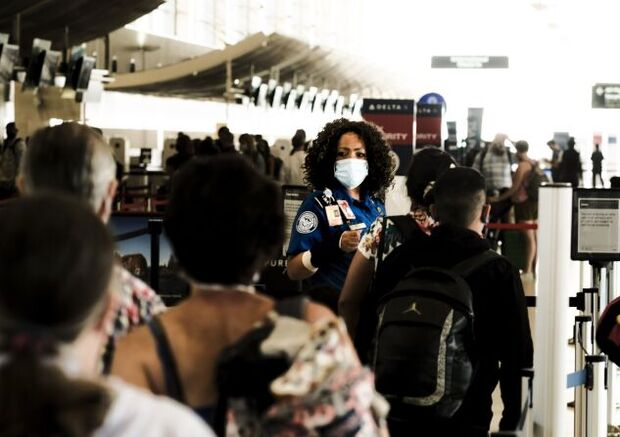 'Title 5 Lite'
While the Biden administration supports the Title 5 bill, officials also emphasize they can improve pay without changing the personnel system — as long as Congress provides funding. TSA requested an extra $871 million for fiscal 2023 to ensure employee pay aligns with that of other agencies, plus $121 million to support expanded collective bargaining rights.
House and Senate Democrats included funding to initiate the pay overhaul in DHS budget proposals, and Democrats will continue pushing for the increase, a congressional aide said. A stopgap bill funding the government expires Dec. 16.
Visas Salvaged, Immigrant Detention Cut in Democrats' Proposal
TSA worker advocates' top goal is to secure passage of the Title 5 bill and the funding required to implement it. But just getting the budget increase would be significant, TSA Council 100's Jones said. The funding would allow TSA to give workers raises, and agency officials could take administrative steps to expand worker rights as a sort of "Title 5 lite," he said.
Even securing the funding will require a fight, as many Republicans look to steer money to other priorities, including border security, one GOP aide said.
Rep. Lucille Roybal-Allard (D-Calif.), the top homeland security appropriator in the House, said in a statement she's committed to getting the TSA money included to "help address long-standing recruitment and retention challenges."
Insiders caution upcoming midterm elections will heavily sway the appropriations negotiations, making it hard to predict the fate of the TSA proposal. Big wins for House Republicans could strain prospects for an omnibus budget package and weaken Democrats' bargaining position, including on the TSA measure, a House Democratic aide said.
TSA, in the meantime, will continue shuffling staff and working with airlines and airports to anticipate passenger flows. Pekoske said he's counting on those preparations to get TSA through the December holiday season but pay equity is "critically important" for recruitment and retention as the agency looks ahead to next year's travel volumes.
Jones predicted TSA would be out of options if pay remains stagnant. "There's just not enough people," he said. "It's not just enough butter for the piece of bread that you've got in front of you."
To contact the reporter on this story: Ellen M. Gilmer in Washington at egilmer@bloombergindustry.com
To contact the editors responsible for this story: Sarah Babbage at sbabbage@bgov.com; Anna Yukhananov at ayukhananov@bloombergindustry.com
Stay informed with more news like this – from the largest team of reporters on Capitol Hill – subscribe to Bloomberg Government today. Learn more.