Local Hiring Gains Steam as Biden Pushes Infrastructure, Equity
DOT exploring hiring provisions for infrastructure
Larger push builds to scrap Reagan-era rule
Bloomberg Government subscribers get the stories like this first. Act now and gain unlimited access to everything you need to know. Learn more.
The Department of Transportationis aimingto reinstate a program the Trump administration scrapped that would allow local hiring requirements to be added to federally funded infrastructure projects.
Transition officials and congressional Democrats are pushing Transportation Secretary Pete Buttigieg to implement a local-hire program, arguing that workers—particularly those in disadvantaged demographics—should have a hand in building big-ticket infrastructure projects in their communities. Attention is growing as the Biden administration sells its infrastructure vision on Capitol Hill, and Buttigieg has publicly expressed interest in such requirements.
DOT can unilaterally restore a pilot initiative, launched by the Obama administration in 2015, that permitted state and local agencies receiving federal transit or highway funding to impose local-hiring preferences. Action by DOT on a pilot program is imminent, said a source familiar with the matter who spoke on condition of anonymity.
BGOV OnPoint: Biden Unveils $2.25T Infrastructure Plan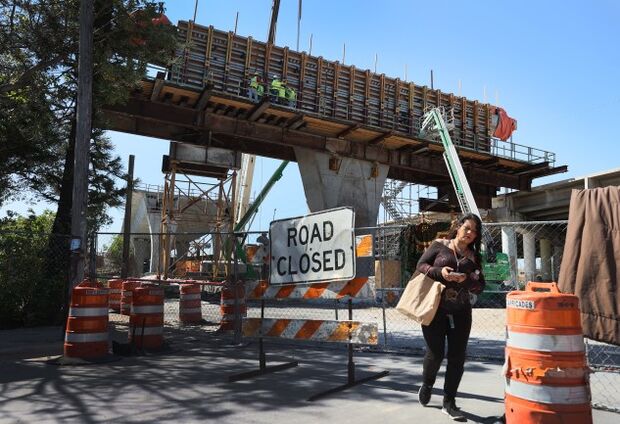 Separately, momentum is building for the White House to expand the scope of hiring mandates to ensure other federal agencies support local jobs, a more complex and time-consuming process that would complement the administration's racial equity push.
The outcome of efforts to promote local hiring will demonstrate how far President Joe Biden is willing to go to boost job opportunities and working conditions for people of color who live close to federally funded projects. While details of DOT's plans remain unclear, local-hire mandates would face pushback from contractors and business groups, and a government-wide expansion could face legal roadblocks, including a Reagan-era regulation prohibiting geographic-based requirements as anti-competitive.
Winners and Losers?
Buttigieg is "very interested" in Obama-era equity initiatives, said Stephanie Jones, who previously served as chief opportunities officer at DOT. Her work included the local hire program, developed with then-Transportation Secretary Anthony Foxx.
"It's clear he's planning to take it to another level," Jones said of Buttigieg. "A lot of that is because of his experience as a mayor. I think it's very similar to Secretary Foxx, in that they're right there on the ground, they see how these projects affect local communities."
Buttigieg is the former mayor of South Bend, Ind., and Foxx served as mayor of Charlotte, N.C.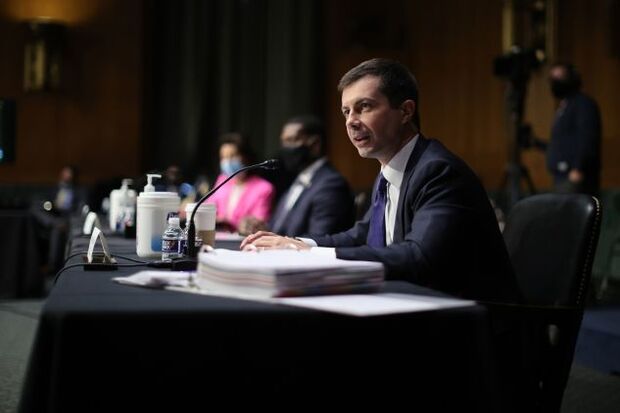 When the Trump administration withdrew the pilot, federal policy reverted to a Reagan-era Office of Management and Budget prohibition on geographic hiring preferences. That regulation restricted recipients of federal grants from including provisions that require contractors to hire workers from certain communities.
Contractors, particularly large companies, prefer to use their own crews, arguing that mandates to hire locally can create unintended consequences and deter companies from bidding.
"It can create winners and losers in a state's employment market, it can compromise safety on a job site, and it can increase costs on a project," said Alex Etchen, senior director for infrastructure investment at the Associated General Contractors of America (AGC), who worked at DOT during the Trump administration.
Biden's Vision of Well-Paid Green Jobs Is Far From Reality
The Value Question
Those business arguments are less likely to sway the Biden administration, which views equity as an integral part of infrastructure development.
A recent study from the union-backed nonprofit Jobs to Move America rebuts the business criticism, finding local-hire provisions don't "systematically impact bid prices or reduce the number of bidders on construction projects."
"The template is already there," Foxx said. "The question is just, are they going to try to get it embedded in law through the infrastructure package, or are they going to go the administrative rulemaking route, which takes some time."
Biden's $2.25 trillion infrastructure package proposes investment in local hiring, but doesn't provide specifics. The White House directed a request for comment to DOT, where a spokesperson said Buttigieg and department officials are looking into local hiring, calling it important to Biden's infrastructure plan.
Senators Seek Bipartisan Job-Training Deal as Covid Cost Jobs
Phil Washington, who led the Biden transition's review team for transportation, said when he briefed DOT's incoming leadership team, including Buttigieg, he recommended reinstating the local-hiring pilot.
Washington, who is Black, said he grew up on the south side of Chicago, where workers building infrastructure didn't look like him. Local hiring requirements can "create skin in the game for communities all over this country," which is needed in an infrastructure package, he said.
"If you say that we're going to get these dollars to these communities, but if you do not allow people that live in those communities to build it, how valuable is it for them?" said Washington, who is CEO of the Los Angeles County Metropolitan Transportation Authority.
Going Bigger
The more ambitious plan of extending requirements to additional DOT projects and to other agencies when they issue contracts would likely need to start with a new OMB regulation to rescind the 1980s interpretation.
Progressive advocates, including Jobs to Move America, are calling on Biden to replace that rule with a new procurement measure that would direct state and city agencies to award federally supported contracts to companies that commit to hiring locally and to raising workplace conditions.
Unions representing construction and transit workers are backing that call.
"It's not just about local hire, it's about targeted hire – making sure public money is reaching communities that need it" including disadvantaged groups, said Greg Regan, president of the AFL-CIO's Transportation Trades Department.
He noted that while the federal government can't mandate that state and local government only award contracts to unionized companies, local hiring requirements would benefit union organizing by rewarding employers who are more likely to be receptive to a union or whose workforces are already be unionized
Any plan that imposes mandates would be opposed by the business community, possibly in court.
"We recognize and even fully endorse the goals of these initiatives to create and support employment opportunities through federal investment," AGC's Etchen said. Those goals can best be achieved by boosting federal infrastructure spending "and then working with the industry to fashion targeted hiring initiatives on a cooperative or incentive basis," he added.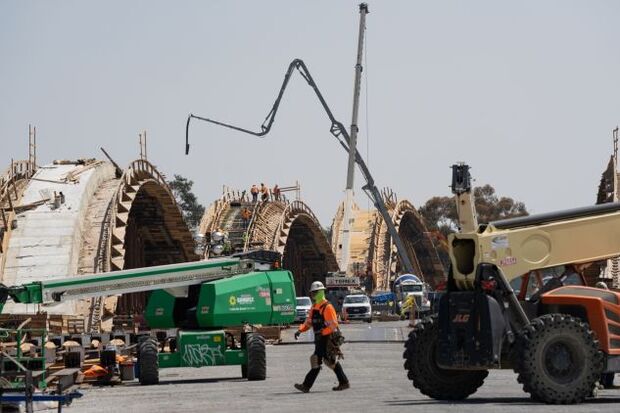 Capitol Hill Push
Democrats on Capitol Hill are pressuring DOT to make changes soon.
New York Democratic Sens. Chuck Schumer and Kirsten Gillibrandurged DOT in February to roll out a new local hiring program. The senators hadn't heard back as of earlier this month, according to a Gillibrand spokesperson. But Gillibrand said she was "encouraged" by Biden's infrastructure package.
Rep. Bonnie Watson Coleman (D-N.J.) told Buttigieg at a recent hearing that the administration must ensure an infrastructure bill creates jobs in communities where projects are built.
Buttigieg responded that the administration takes the issue "very seriously," adding that "too often" people on jobsites don't "look like the neighborhood they're serving."
Sen. Tammy Duckworth (D-Ill.) also called for the policy to change.
"The time has come to replace the outdated, burdensome and one-size-fits-all federal regulation that dictates how local decision makers invest in their communities with a more balanced approach that promotes equity and fairness without increasing costs to taxpayers," Duckworth said.
To contact the reporters on this story: Ben Penn in Washington at bpenn@bloomberglaw.com; Lillianna Byington in Washington at lbyington@bloombergindustry.com
To contact the editors responsible for this story: John Lauinger at jlauinger@bloomberglaw.com; Sarah Babbage at sbabbage@bgov.com
Stay informed with more news like this – from the largest team of reporters on Capitol Hill – subscribe to Bloomberg Government today. Learn more.