Lobbyists Ramp Up Fly-Ins Despite Capitol Covid-19 Restrictions
Chamber events, ice cream party to resume after hiatus
Access to Capitol offices still limited for many lobbyists
Bloomberg Government subscribers get the stories like this first. Act now and gain unlimited access to everything you need to know. Learn more.
The dairy industry plans to again scoop thousands of gallons of ice cream on Capitol Hill this summer, while business groups have scheduled fly-ins in the coming weeks.
Two years after the pandemic forced the closure of the U.S. Capitol, the lobbying community still faces challenges maintaining relationships and effective communications with House and Senate lawmakers and staff.
But with Covid-19 cases waning and important legislative issues on the agenda, some lobbyists and industry associations are resuming their trek to Washington and have devised work-arounds to deal with continued restrictions on entering the Capitol complex.
The lobbying rush comes as lawmakers prepare for a busy spring work period in which Democratic leaders hope to complete a $1.5 trillion, 12-bill omnibus appropriations package and negotiate a deal to enhance U.S. competitiveness and help the semiconductor industry. Also possible before lawmakers head for the campaign trail is action on elements of President Joe Biden's social policy agenda.
More than 50 different business groups plan Washington trips, with industry fly-ins beginning March 2, according to Ed Mortimer, a U.S. Chamber of Commerce vice president. He said these visits will be complemented with Zoom and Teams chats as well as traditional meetings with lawmakers when they are back in their home states.
"We'll use whatever we have at our disposal in lieu of being able to go up to the Capitol and be able to walk the halls and talk to people," Mortimer said.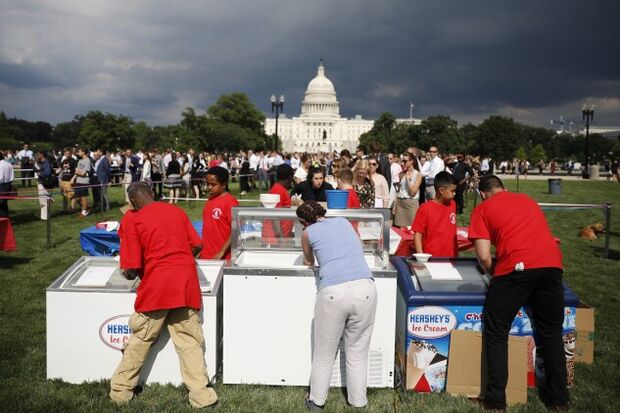 The International Dairy Foods Association hopes to bring back its annual ice cream party this summer after a two-year hiatus. The event, which has been a fixture for more than three decades, serves up free ice cream to congressional staff and others.
IDFA Senior Vice President Matt Herrick said that after a reliance on virtual meetings the association is resuming many other in-person events. But he said virtual sessions will remain in the lobbying tool kit.
"We expected hybrid is here to stay, and we will continue to look for every opportunity to get in front of stakeholders, whether that's in-person or virtually," Herrick said in an email. "But you can't enjoy ice cream virtually, so we are excited to get the Capitol Hill Ice Cream Party back on track."
Getting In
Getting into the Capitol still remains a hurdle, with lobbyists often huddling outside the complex before being cleared to visit with lawmakers or staff.
"I have to have someone come out here and get me and then escort me in the building," Eric Ueland, former President Donald Trump's legislative affairs director and a veteran Republican leadership aide, said after recently waiting in the cold for admission to the Senate office buildings.
Some fare better than others, including former members of Congress who now lobby their old colleagues. Among them is former Senate Majority Leader Trent Lott, the Mississippi Republican who's a principal at Crossroads Strategies. Lott recently took top Nissan Motor Co. officials into the Capitol and introduced them to lawmakers.
Even with greater access than most, Lott said lobbyists' relationships with members suffered amid the two years of restrictions.
"It really has made it hard to do the job," Lott said. "Much is lost without that personal contact."
Others with offices close to the Capitol said they figured out months ago how to bypass both virtual sessions and the ritual of security screenings and escorts by meeting with lawmakers off campus.
Sarah Chamberlain, president of the Republican Main Street Partnership, said the group interacts one-on-one with members at fundraisers and other events held at the group's office.
"We're located right above Bullfeathers," Chamberlain said of the Capitol Hill tavern located near the Republican National Committee. "So the members come over here."
Push to Reopen
Democratic leaders in both chambers haven't been responsive to calls to reopen the Capitol, citing ongoing security concerns in the aftermath of the Jan. 6 attack.
Sen. Bill Hagerty (R-Tenn.) and 26 other Republicans introduced a resolution (S. Res. 512) this month aimed at reopening the Capitol and Senate office buildings. Among other things, it recognizes the importance of allowing "public participation in the legislative process."
Rules Committee Chairwoman Amy Klobuchar (D-Minn.) blocked the measure on the floor recently, saying the Senate police force is not adequately staffed to handle a large influx of visitors.
"We are understaffed by over 400 policemen," Senate Majority Whip Dick Durbin (D-Ill.) said in an interview. "I want to make sure we're ready for it when the public returns."
"I have rare personal visits," Durbin added. "More Zoom than anything else."
Izzy Klein, a partner at Klein/Johnson Group and a former top aide to Majority Leader Chuck Schumer (D-N.Y.), said every congressional office takes a different approach, but he's had far more in-person meetings with Republicans than Democrats during the past year. Still, he said, virtual sessions remain the mainstay amid ongoing Covid-19 and security issues.
"We've certainly adapted, but I think folks on all sides are exhausted by Zoom and WebEx and Teams," he said.
Klein said some groups have scheduled fly-ins this spring to press for money promised in the major infrastructure law (Public Law 117-58), the $52 billion CHIPS Act included in the Senate competitiveness bill (S. 1260), and other measures.
Kathleen Coulombe, a vice president at the American Council of Life Insurers, also cited "Zoom fatigue" but said the upside of virtual meetings is that they permitted more industry people, including from outside Washington, to participate and could maximize a congressional staffer's time.
"We will always have a hybrid option," Coulombe said. "We've really been able to kind of leverage the brain power of all of our colleagues on different issues."
The number of Covid-19 case numbers and the openness of Capitol Hill will determine whether her industry organizes a fly-in to lobby lawmakers later this year, said Coulombe, who's an officer with the professional group, Women in Government Relations.
"You miss seeing your colleagues on the Hill and sitting and chatting with them in the cafeteria, passing them in the hall, just sitting in their office," she said. "I do think that folks are really craving that connection."
To contact the reporter on this story: Nancy Ognanovich in Washington at nognanov@bgov.com
To contact the editors responsible for this story: Bennett Roth at broth@bgov.com; Kyle Trygstad at ktrygstad@bloombergindustry.com
Stay informed with more news like this – from the largest team of reporters on Capitol Hill – subscribe to Bloomberg Government today. Learn more.