Lobbying Business Booms Despite Gridlock and Investigations
In first three quarters, 16 firms reported revenue growth
Trade, health care, tech battles keeping K Street humming
Lobbying revenue continued to increase throughout 2019, despite turbulence surrounding the Trump administration and partisan gridlock on Capitol Hill.
The third quarter of 2019 was lucrative for many K Street firms, with 20 reporting an uptick in revenue, compared to the same time last year, according to figures provided to Bloomberg Government. In addition, 16 of those firms also had increased lobbying fees from January through September of this year, compared to 2018. It's a continuation of a growth in lobbying fees since President Donald Trump took office.
The deadline to submit lobbying earnings for the third quarter is midnight on Oct. 21, but 23 firms sent BGOV their revenue throughout the day, including the 10 who've led K Street over the last year.
"Contrary to conventional wisdom about legislative activity in Washington, this year has been exceptionally busy for our firm and our clients," said Hunter Bates, the former chief of staff to Senate Majority Leader Mitch McConnell (R-Ky.) who co-leads Akin Gump Strauss Hauer & Feld's public law and policy practice.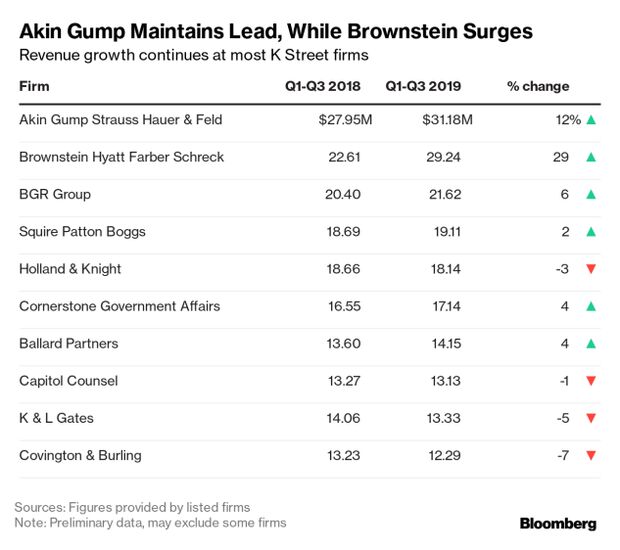 Akin Gump posted $11.31 million in the third quarter, a 27% gain and the highest single quarterly lobbying earnings in the firm's history, according to its lobby shop.
Health care — including surprise billing and drug pricing — battles in the tech sector, spending and authorization bills, the U.S. trade deal with Mexico and Canada and the Trump administration's regulatory actions are among the areas that have kept lobbyists busy.
Strategic Hires
Many firms who fared better this year have made strategic hires, bringing on former members of Congress, well-connected aides and policy gurus. Akin Gump nabbed three former House members and a ex-White House staffer.
Marc Lampkin, the managing partner of Brownstein's Washington's office, said legislative work will continue even with the House impeachment inquiry and the 2020 election.
"I'm optimistic because the impeachment inquiry will proceed, but I think there are a lot of people in both chambers and both parties who want to deal with the work of solving real problems," he said. "If you let issues like the presidential election distract you from your work, then you will face problems from the electorate."
Squire Patton Boggs, a firm that hired former Reps. Joe Crowley (D-N.Y.) and Bill Shuster (R-Pa.) earlier this year, posted its best numbers since 2015.
Trade policy has been a revenue-raiser for the firm, says Dave Schnittger, a lobbyist and spokesman for the firm's public policy practice.
It also expanded its oversight practice as congressional investigations heated up, hiring Margaret Daum, the former Democratic staff director for Senate Homeland Security Committee and, before that, the Permanent Subcommittee on Investigations.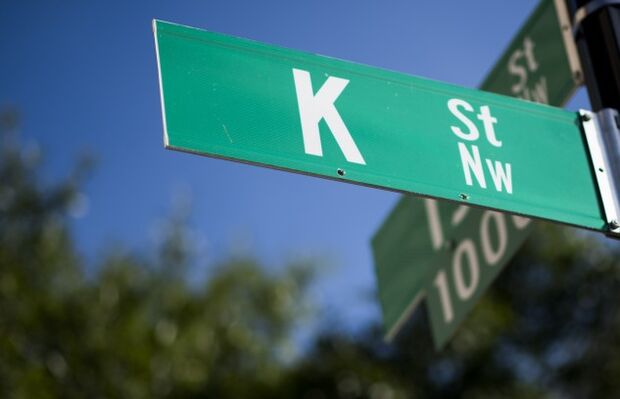 Monument Advocacy's lobbying revenue increased to $6.68 million in the first three quarters of this year, a 12% jump over the same time in 2018.
"We are continuing to see clients needing to invest on some of the hottest issues of the day — the multitude of trade battles, the backlash on the technology industry, and energy and environmental fights to name a few," said Stewart Verdery, the CEO of Monument Advocacy, adding that the firm's public affairs arm has been expanding as well.
Big Earners
Firms such as Subject Matter, Invariant and Forbes Tate Partners are among the firms that had the biggest jump of revenue on K Street so far this year.
Public affairs firm Subject Matter's lobby shop took in $9.38 million in the first three quarters of 2019, a 45% increase over the same period last year. Invariant, meanwhile, is up 22% in the first nine months of 2019, earning $11.64 million.
Forbes Tate, that handles both public affairs and lobbying for clients, earned nearly $11 million in the first three quarters — 14% more than 2018.
Zach Williams, a partner at the firm, credits the success to diversifying its "issues expertise while maintaining the campaign-like approach that is focused on driving outcomes."
"Understanding what is driving Congress and the administration's decision-making processes, and building campaigns that address it from both political and policy-based perspectives is key to getting anything done during what are nothing if not crazy times here in town," he said.
Rich Gold, the leader of Holland & Knight's public policy & regulation group, predicts that the large items "that require all the gears moving in the right direction to come together," like the U.S.-Mexico-Canada Agreement or USMCA, are going to be more difficult to achieve — but much will be happening below the surface.
Fortunes Could Turn
Aside from K&L Gates, Van Scoyoc Associates, Hogan Lovells reported a dip in its earnings this year, dropping 10% in the first nine months of this year to $9.32 million. Van Scoyoc Associates declined by 7% in the first three quarters of this year, to $12.27 million.
While multiple lobbyists express confidence that Congress will continue to hum along and work will be steady, in spite of the unpredictability of the Trump White House, they know fortunes could turn.
"I think we're walking and chewing gum. It's good for our business because people are thinking, 'Ok, things are going to move,'" said Moses Mercado of Ogilvy Government Relations, which earned $8.28 million from January through September, an 8% increase over the same period last year.
"We're in Washington, so that can change," he said. "We're one tweet away from a completely different story."
To contact the reporter on this story: Megan R. Wilson in Washington at mwilson@bgov.com
To contact the editors responsible for this story: Bennett Roth at broth@bgov.com; Adam Schank at aschank@bgov.com