Lindsey Graham Faces Unexpectedly Competitive Re-Election Race
Bloomberg Government subscribers get the stories like this first. Act now and gain unlimited access to everything you need to know. Learn more.
Sen. Lindsey Graham's close ties to President Donald Trump helped him avoid another serious Republican primary challenge. Instead, he's facing his most competitive general election.
South Carolina Democrats say they have the right candidate at the right time to end the party's two-decade losing streak in Senate races. National liberal antipathy for Trump has helped fund Jaime Harrison's bid and allowed him to compete on the airwaves like no other recent Democratic nominee could.
The party hopes Harrison, who is Black and was a featured speaker Tuesday night during the Democratic National Convention's roll call, can use the cash flow to mobilize the party base in a year when social justice issues are at the forefront, as well as pick up disaffected moderates who may not support Graham's unabashed relationship with Trump.
Voters in the Charleston area showed their distaste for Trump in 2018, making Joe Cunningham the first Democrat to represent the district in nearly four decades. Harrison's message is directed at wooing moderate voters statewide by highlighting the need for quality health care, broadband access and affordable college.
Harrison, a former state party chairman and protégé of House Majority Whip Jim Clyburn (D-S.C.), said in a statement that he's made his campaign "not left versus right, but right versus wrong."
"People here want a senator who puts them first, ahead of their own relevance and ahead of rubbing elbows with those in power," he said.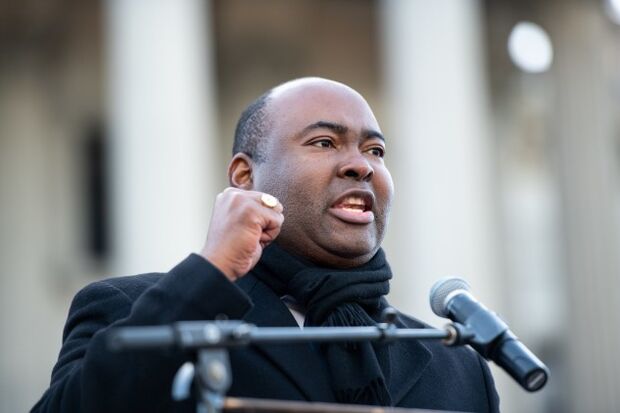 Several polls released over the past few weeks have pegged the race at between a tie and a 4-point lead for Graham. Those followed Harrison reporting a $14 million second-quarter fundraising haul and nearly matching Graham overall through June, with $29 million raised to Graham's $30.9 million. The incumbent led in cash on hand with $15 million to Harrison's $10.2 million.
The developments have altered the outlook for the race. The Cook Political Report, which rated it as Solid Republican at the outset of the cycle, moved it to Likely Republican in April and then to Lean Republican on Monday.
"Jaime Harrison is a once-in-a-generation kind of candidate here in South Carolina," said state Rep. JA Moore (D).
Harrison's fundraising prowess shocked Republicans in the state, said Walter Whetsell, a Republican consultant whose company, Starboard Communications, works with Security is Strength, a super PAC supporting Graham.
"I remember having conversations a year or two ago saying, 'Hey, this guy Jaime Harrison may be a problem, he might raise $10 million, can you imagine?'" Whetsell said "And we were all like, surely not."
Uphill Climb
It still might not be enough. South Carolina hasn't sent a Democrat to the Senate since 1998. And unlike in other Senate races featuring a vulnerable Republican incumbent, such as North Carolina, Georgia and Arizona, the presidential race in South Carolina isn't competitive. That could boost Republicans all the way down the ballot.
Former state GOP Chairman Katon Dawson said he worries about Republicans losing control of the Senate next year, but he's not losing sleep over the race in his state.
"The problem is he is not in New Jersey," Dawson said of Harrison.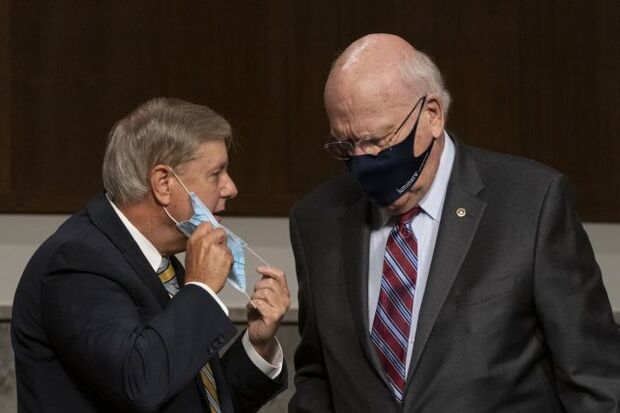 Graham Shift
Democrats in South Carolina are banking not only on Harrison's campaign skills and record-breaking fundraising, but also on the hope that Graham miscalculated when he began to align himself closer to Trump.
Harrison has released two TV ads in the past month that ask, "What happened to Lindsey Graham?"
Graham built a reputation in the Senate as a conservative willing to work across the aisle. But he went from speaking out against Trump to becoming one of his staunchest defenders in Congress. He was also criticized for what some saw as his tepid defense of his close friend, Sen. John McCain (R-Ariz.), when Trump bashed him after this death.
Richard Wilkerson, the former chairman and president of Michelin's North American operations, is a former Graham supporter who now backs Harrison, whom he worked with when Harrison was a lobbyist at the Podesta Group. In an op-ed for the Greenville News, Wilkerson said he concluded Graham "was more interested in currying favor than in honoring the memory of a true American hero whom he had described as his best friend."
Now the Senate Judiciary Committee chairman, Graham drew further attention during the Brett Kavanaugh hearings when he gave a passionate defense of the Supreme Court nominee who faced sexual assault allegations.
Graham has embraced his role as Trump's golfing buddy, arguing his relationship ultimately helps the state.
"South Carolinians appreciate whenever one of their leaders has a good working relationship with the President of the United States," Graham spokesman T.W. Arrighi said. "They are especially grateful for Senator Graham's relationship with President Trump."
Graham is making a play for the middle with ads painting Harrison as a liberal aligned with Hillary Clinton and Speaker Nancy Pelosi. But even if Graham loses some support from moderates, he has gained more backing on the right, Dawson said.
"He has added to his base vote, I can tell you that," said Dawson, referring to internal polling. "Where Lindsey was a maverick with John McCain, he is now seen as a true conservative. That was the complaint conservatives had with Lindsey in the last election cycle that is no longer there."
"Changed the State"
Whether Harrison prevails or not, Democrats in the state see the race as a building block for the future.
South Carolina Democratic Party Chairman Trav Robertson said Democrats in the state have run bad campaigns, discouraging potential donors and disheartening would-be volunteers, voters and activists. Harrison's campaign, he said, "has helped change the psychology of those donors and it has helped change the psychology of those activists in South Carolina."
Moore said Harrison's campaign is already altering how top Democrats in the state game out the next two years, including the governor's race in 2022.
But others see the potential for frustration. If a candidate with as much potential as Harrison can't win, who can?
"If he doesn't make this close, it becomes, 'OK, it was a moment,'" said Danielle Vinson, a political science professor at Furman University.
To contact the reporter on this story: Emily Wilkins in Washington at ewilkins@bgov.com
To contact the editors responsible for this story: Kyle Trygstad at ktrygstad@bgov.com; Bennett Roth at broth@bgov.com
Stay informed with more news like this – from the largest team of reporters on Capitol Hill – subscribe to Bloomberg Government today. Learn more.