LGBTQ Advocates Court GOP Senators to Overcome Rights Concerns
More than 100 entities registered to lobby on the Equality Act
Levi Strauss, Lyft, Tampa Bay Buccaneers support measure
Bloomberg Government subscribers get the stories like this first. Act now and gain unlimited access to everything you need to know. Learn more.
Kasey Suffredini is on a mission to persuade Republicans to support nondiscrimination legislation for gay and transgender people, known as the Equality Act, and is waging a multi-faceted campaign to push the 50-year-old bill across the finish line.
He leads a bipartisan group called Freedom for All Americans, which is organizing six to seven meetings a week, primarily with GOP offices. It's part of an effort to connect them not just with LGBTQ individuals, but also with business leaders and conservatives to make the case that equality is good for business and states' economies as well.
"That's a factor of math," said Suffredini, a transgender attorney and LGBTQ campaign strategist. "As in, wanting to be sure that we're able to secure a durable win that embodies the American consensus."
His effort is part of an aggressive, bipartisan and expanded lobbying fight on Capitol Hill over the long-stalled gay rights measure that proponents hope will finally reach President Joe Biden's desk this year. The political window to move it forward is narrowing.
At least 112 entities have lobbied on the Equality Act this year, compared with 68 in 2020, a Bloomberg Government analysis of lobbying disclosures shows. The measure has garnered support from corporate America, industry associations, and groups across the ideological spectrum.
Among them: Consumer product giant Unilever PLC, AT&T Inc., Marriott International Inc., Cardinal Health Inc., Amazon.com Inc. and Home Depot Inc.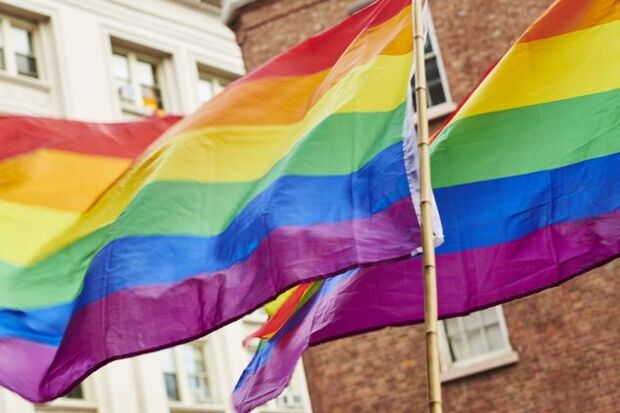 Biden supports the legislation, which has been around in some form since the 1970s. The House passed the measure ( H.R. 5) in February with three Republicans joining Democrats in support. It's fate hinges on the Senate, where Majority Leader Chuck Schumer (D-N.Y.) has promised a vote and 49 senators in the Democrats' caucus support it.
That's not enough to overcome a filibuster, so advocates need some buy-in from Republicans concerned about how it would affect religious freedom and faith-based organizations.
Suffredini said that much of the group's work involves educating lawmakers about what the bill does and doesn't do. Freedom for All Americans has added three lobbying shops to its roster in recent months, including a bipartisan team at Mehlman Castagnetti Rosen and Thomas, and Ballard Partners, a bipartisan firm with ties to the former Trump administration.
Ana Cruz, a managing partner at Ballard Partners and former Democratic Senate aide whose wife is the mayor of Tampa helped put together a letter in support of the measure featuring Levi Strauss & Co., Lyft Inc., and Tampa sports teams including the Super Bowl champion Tampa Bay Buccaneers and Stanley Cup winning Tampa Bay Lightning.
Sacred Cows
The Human Rights Campaign, the largest LGBTQ advocacy organization in the U.S., is leading a coalition of more than a dozen other groups to galvanize support for the bill and push back against its critics. The coalition has invested $4 million in polling, paid media, grassroots and direct lobbying and other advocacy — and has plans to spend more, Human Rights Campaign President Alphonso David said in a telephone interview.
Lobbyists hope that momentum is building as Senate Republicans and Democrats engage in conversations to resolve their differences over the bill.
"It's actually kind of amazing how much attention the issue's getting, given that it's not front and center," said Tyler Deaton, senior adviser at American Unity Fund, founded by GOP mega-donor and hedge fund manager Paul Singer to help Republicans talk about LGBTQ issues. The group is working with Democrats and Republicans to broker a compromise.
Both sides have to "be ready to give up a few of their sacred cows," Deaton said. "No one is getting everything, but everybody should get something."
Twenty-seven states lack nondiscrimination protections for LGBT people, which advocates say opens them up to being fired from their jobs or denied housing due to their sexual orientation or gender identities.
Advocates for federal civil rights protections say they have the public behind them. A May 2019 Gallup Poll found that 53% of Americans say new anti-discrimination laws are needed to reduce bias against LGBTQ people.
The Equality Act would amend the civil rights laws to forbid discrimination based on sexual orientation and gender identity. It would expand those protections to federally funded programs and broaden the definition of "public accommodations" to extend nondiscrimination policies to more services and businesses. Some religious groups say the expanded public accommodations definition could encroach on their ability to function.
The bill's critics range from groups seeking to tweak some of the language, such as the 1st Amendment Partnership, which wants to see stronger protections for religious organizations — to those who reject it outright, such as the conservative group Heritage Action, which has mobilized a grassroots effort to kill the legislation.
"People understand that the political moment for this might not come along again for a while, and there is at least a political deal in sight, and people ought to move for it,"said Tim Schultz, the president of the 1st Amendment Partnership.
His group would like to see changes including how the Equality Act curtails individuals' ability to use the Religious Freedom Restoration Act (Public Law 103-141) to carve out exceptions from the measure's protections; that's also a main sticking point for Republicans in Congress. The law, signed in 1993 by then-President Bill Clinton, creates a religious defense in discrimination lawsuits.
'Deeply Dangerous'
American Unity Fund supports both the Equality Act and a Republican-backed bill, the Fairness for All Act (H.R. 1440), which aims to balance LGBTQ protections with faith-based exemptions. The Human Rights Campaign and other groups have called that bill "deeply dangerous."
Separately, dozens of anti-transgender bills are being introduced at the state level that would ban gender-affirming medical care or prevent trans individuals from competing in sports aligned with their gender identity.
Lobbyists say that transgender-related issues often come up in meetings with Republicans.
Transgender issues have "grown in political saliency," Schultz said. "There's still a lot of education to do because I think so much of the rhetoric about this is really not very accurate."
Lawmakers in both parties are talking about compromise, particularly Sens. Tammy Baldwin (D-Wis.) and Susan Collins (R-Maine), advocates say.
Collins wants to see "explicit exemptions to make clear that vital programs that serve men and women separately, like domestic violence and homeless shelters, could continue to do so," said Annie Clark, the senator's spokeswoman, in a statement.
The senator also wants changes to "some of the language pertaining to religious organizations," Clark said in an email. "She thinks that faith-based community partners, like Catholic Charities and the important services they provide, should not be unfairly excluded from receiving federal funding."
The Equality Act isn't expected to move before the fall, and advocates concede that the timeline is complicated by the fact that it gets much harder to pass next year, when the approaching midterm elections sharpen political divisions.
Opponents of the Equality Act "are the same folks that have been arguing that the sky will fall if same sex couples marry, the sky will fall if LGBTQ people can serve as public school teachers or if transgender people use restrooms consistent with their gender identity," the Human Rights Campaign's David said. "None of those things have happened, but yet they still use those arguments."
He's amenable to conversations about changes, but says, "what we have to be mindful of is, we are not going to amend the law in a way that takes us backwards."
To contact the reporter on this story: Megan R. Wilson in Washington at mwilson@bgov.com
To contact the editors responsible for this story: Bennett Roth at broth@bgov.com; Robin Meszoly at rmeszoly@bgov.com
Stay informed with more news like this – from the largest team of reporters on Capitol Hill – subscribe to Bloomberg Government today. Learn more.