Legal Pot Initiatives Waiting in the Wings: Ballots & Boundaries

Voters this year could add as many as seven more states to the US legal weed map.
Cannabis proponents in Arkansas, Nebraska, North Dakota, and Oklahoma have turned in signatures for certification and are waiting to hear whether the measures will get onto Nov. 8 ballots. Missouri's counties have until the end of today to submit verified signatures to the secretary of state.
Four of the potential initiatives would let those 21 and older to smoke and ingest marijuana. In Nebraska, the focus is on legalizing cannabis for medical use only.
More than 100 statewide ballot measures have been certified in 35 states, according to Ballotpedia. That includes cannabis proposals already set to go before voters in Maryland and South Dakota. Dozens more are going through signature verification, including an abortion-rights proposal in Michigan; campaign finance restrictions in Arizona and Colorado; and a proposed $15 minimum wage in Nebraska. — Tiffany Stecker
(Was this newsletter forwarded to you? Get your own. SUBSCRIBE here .)
NEVADA: RANKED CHOICE
A measure on the Nov. 8 ballot in Nevada will ask voters to decide whether to change their general elections to ranked-choice, where they can select multiple candidates in order of preference, and to allow participation in primary elections regardless of party affiliation.
Supporters of the Better Voting Nevada Initiative, which would amend the state Constitution, met the minimum 140,777 valid signatures needed to make the ballot, according to the Secretary of State's office. Voters would need to approve the measure this year and again in 2024 for it to take effect. — Brenna Goth
CALIFORNIA: FUTURE REFERENDA
Business interests will get their chance to ask voters to roll back a law that makes it easier to sue over workplace disputes. But they'll have to wait two years to do it.
California's secretary of state certified an initiative to repeal the Private Attorneys General Act for the Nov. 5, 2024, general election ballot. Also on the 2024 ballot: an $18 minimum wage initiative. Backers wanted to put that one to a statewide vote this year, but key deadlines were missed. — Tiffany Stecker
Redistricting's Impact: Member v. Member
Michigan's 11th District: US Sen. Elizabeth Warren (D-Mass.) repaid a political debt of sorts by stumping in Pontiac for Rep. Andy Levin, who's up against Rep. Haley Stevens in the Aug. 2 Democratic primary. Levin endorsed Warren for the 2020 Democratic presidential nomination.
Stevens reported $1.5 million left to spend on July 13 compared with $726,000 for Levin, Federal Election Commission reports show. She's been the beneficiary of an outside spending campaign from a Super PAC aligned with the American Israel Public Affairs Committee. Levin's most recent donors include the progressive Working Families Party.
Candidate Embraces Her Gender as Abortion Ruling Drives Voters
New York's 12th District: "You can't send a man to do a woman's job," Rep. Carolyn Maloney says in a TV ad that highlights a public service career that includes support for abortion rights and serving as the first woman to head the House Oversight and Reform Committee. Maloney is running against two men in the Aug. 23 Democratic primary—Judiciary Committee Chair Jerry Nadler and Suraj Patel, a former Obama administration aide who ran against Maloney in 2018 and 2020. — Greg Giroux
Razor's Edge Races
Highlighting close contests worth watching after crucial redistricting changes.
Today: Virginia's 2nd District
Where Is It? Southeast. Virginia Beach, the district's population anchor, accounts for almost 60% of its residents. The district includes all of the city of Suffolk and the two counties on Virginia's Eastern Shore across Chesapeake Bay from the rest of the state.
Who Drew It? Bernard Grofman, a political scientist at the University of California at Irvine, and Sean Trende, a lawyer who's a senior elections analyst for RealClearPolitics, drew the map as "special masters" appointed by the Virginia Supreme Court after the state's redistricting commission couldn't come up with a plan.
2020 Presidential Vote: Joe Biden 50%, Donald Trump 48%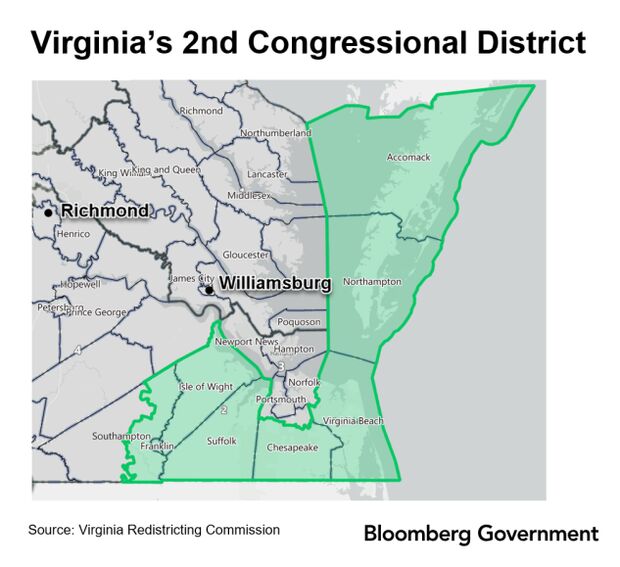 Demographics: 59% White, 22% Black, 7% Hispanic, 5% Asian
Cook Political Report Rating: Toss-up
Nominees: Rep. Elaine Luria (D), state Sen. Jen Kiggans (R)
Why You Should Watch: Like many other people in the district who live near the world's largest naval station, Naval Station Norfolk, both nominees are Navy veterans. Luria is a member of the House panel investigating the Jan. 6, 2021, insurrection at the US Capitol, and she led the questioning at its July 21 hearing along with Rep. Adam Kinzinger (R-Ill.). Kiggans, a geriatric nurse practitioner, may be a tougher opponent than former Rep. Scott Taylor, the Republican Luria unseated in 2018 and beat again in 2020. Redistricting shifted Norfolk and the college town of Williamsburg elsewhere, leaving Luria to defend turf that Biden won by 2 percentage points, down from 5 points previously. — Greg Giroux
Next edition: Illinois' 17th District
Voting Law
FLORIDA: GEORGIA'S WATCHING
A challenge to Florida's 2021 elections law could have broad implications for lawsuits pending in other states, Georgia's attorney general said in an amicus brief filed with the US Court of Appeals for the 11th Circuit. One example: A US Department of Justice lawsuit challenging GOP-backed changes to Georgia's own voting laws last year.
"In particular, Georgia, like many other states, has enacted restrictions on soliciting persons waiting in line to vote, including for the purpose of offering them things of value such as money, gifts, food, or beverages," Christopher Carr wrote in the brief. "And it has other laws and regulations governing voting by mail, drop boxes, and other aspects of elections that could be affected by this court's eventual decision in this case. Accordingly, Georgia has a keen interest in both the outcome of this case and the reasoning of this court's decision even apart from the result."
The appeals court stayed a district court's order requiring preclearance before Florida enacts new laws governing "line warming," absentee ballot drop boxes, and third-party voter registration groups. Arguments in the Florida case are scheduled for Sept. 15 in Miami. — Jennifer Kay
WISCONSIN: NURSING HOMES
The Wisconsin Elections Commission isn't enforcing court-approved "no vote" guardianship orders, according to a lawsuit filed today in Wisconsin Circuit Court.
The suit alleges that wards under no-vote guardianship orders "were registered, active voters, being sent absentee ballots, and voting."
It seeks municipal voting records, which Thomas Ciesielka, spokesman for the Thomas More Society, a conservative public-interest law firm based in Chicago, said "will lead to more civil litigation." — Stephen Joyce
PENNSYLVANIA: MAIL-IN BALLOTS
While Republican lawmakers wait for the state's highest court to decide whether to overturn a 2019 law expanding voting by mail, they've filed a separate lawsuit arguing a federal appeals court's recent decision regarding mail-in ballots for a county judicial race has invalidated the state statute.
The US Court of Appeals for the Third Circuit triggered a "non-severability" provision written into the law, invalidating the entire thing, when it ordered undated mail-in ballots from a November election in Lehigh County to be counted, the new lawsuit says. — Jennifer Kay
Resources
Add Us to Your Inbox
SIGN UP for Ballots & Boundaries, your check-in on ballot initiatives, state voting laws, and redistricting.
To contact the reporters on this story: Tiffany Stecker in Sacramento, Calif. at tstecker@bgov.com; Greg Giroux in Washington at ggiroux@bgov.com; Jennifer Kay in Miami at jkay@bloomberglaw.com; Brenna Goth in Phoenix at bgoth@bloomberglaw.com; Stephen Joyce in Chicago at sjoyce@bloomberglaw.com
To contact the editor responsible for this story: Tina May at tmay@bloomberglaw.com