Lawsuit Could Have Counterintuitive Result: Ballots & Boundaries

A lawsuit brought by Republicans just might end up helping Democrats.
That unintended consequence is a possibility if the US Supreme Court upends the balance of power between lawmakers and state courts in a case brought by the GOP-controlled North Carolina Legislature.
North Carolina wants state legislators to be the ultimate authority on elections and congressional maps. A blessing from the justices for the case's legal theory, known as the "Independent State Legislature" doctrine, would raise questions about whether legislatures could ignore, bypass, or eliminate independent redistricting commissions.
Commissions that came about through legislative initiative, such as in Colorado, could remain intact because the legislature participated in the process before voter approval, University of Florida political science Professor Michael McDonald said. The commissions at risk, he said, would be in states with voter-initiated processes such as in Michigan.
That especially would create a gerrymandering temptation in California. "For decades Democrats were screwing themselves by 'doing the right thing' when we could have scratched out a few more seats," California Democratic strategist Steven Maviglio said.
National Republican Redistricting Trust lawyer Jason Torchinsky said it's unlikely Supreme Court justices would threaten redistricting commissions, though they could limit the conditions under which state courts could invalidate politician-drawn maps. — Alex Ebert
(Was this newsletter forwarded to you? Get your own. SUBSCRIBE here .)
Ballot Measures
MICHIGAN: ABORTION AND ELECTIONS
Planned Parenthood Advocates of Michigan submitted more than 750,000 signatures to state officials for a proposed ballot measure to add a constitutional right to an abortion.
And the group that successfully brought independent redistricting to Michigan submitted nearly 670,000 signatures for a possible ballot measure to add election law provisions to the state constitution. The additions would include mandatory state-funded absentee-ballot drop boxes; permission for donors to fund election administration; mandatory state-paid postage for absentee applications and ballots; voting identification changes; and a limit on canvassing board election certification decisions.
The Michigan Secretary of State's office has until Sept. 9 to certify that 425,000 signatures on each petition are valid. — Alex Ebert
ARIZONA: ELECTIONS
"Dark money" campaign finance disclosures and election law changes have a shot at making Arizona's general election ballot. The secretary of state and county recorders will determine whether each measure collected 237,645 valid signatures and decide by Aug. 30 if voters will get to consider them.
Arizonans for Free and Fair Elections want to ask voters to allow same-day and automatic voter registration, among other election changes. The Voters' Right to Know Act would require new disclosures of the people and companies spending on campaign ads, even if the money goes through an intermediary. — Brenna Goth
Razor's Edge Races
Highlighting close contests worth watching after crucial redistricting changes.
Today: Colorado's 8th District
Where Is It?
North of Denver. Includes parts of Adams, Weld, and Larimer counties. Cities include Thornton, Greeley, Commerce City, and part of Westminster.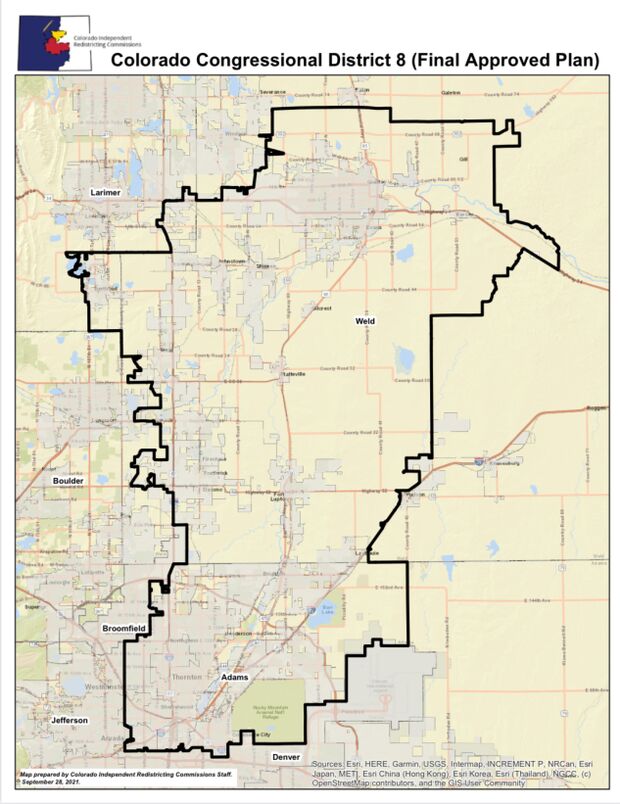 Who Drew It?
Independent commission
2020 Presidential Vote: Biden 51%, Trump 46%
Demographics: 52% White, 2% Black, 39% Hispanic, 4% Asian
Cook Political Report Rating: Toss-up
Nominees: State Rep. Yadira Caraveo (D), state Sen. Barbara Kirkmeyer (R)
Why You Should Watch:
The new district was awarded to fast-growing Colorado in reapportionment and has the largest Hispanic population of all eight congressional districts, enough to influence the election's outcome. Colorado is the seventh-most Hispanic state by population and hasn't had a Hispanic member of Congress in more than a decade. The district would have voted for Biden for president in 2020, close to matching national popular vote results.
Read more: Colorado's Most Competitive House District Could Be 'Bellwether'
Next edition: We'll spotlight Ohio's 9th District. — Greg Giroux
Caught Our Eye
Resources
Add Us to Your Inbox
SIGN UP for Ballots & Boundaries, your check-in on ballot initiatives, state voting laws, and redistricting.
To contact the reporters on this story: Alex Ebert in Madison, Wisconsin at aebert@bloomberglaw.com; Greg Giroux in Washington at ggiroux@bgov.com; Brenna Goth in Phoenix at bgoth@bloomberglaw.com
To contact the editors responsible for this story: Tina May at tmay@bloomberglaw.com; Katherine Rizzo at krizzo@bgov.com