Lawmakers' Usual July 4th Plans Thwarted as Trump Goes Bigger
President Donald Trump's plan to host a Mount Rushmore fireworks show Friday featuring a concert, a military flyover, and thousands of people is one of the exceptions among elected officials' Fourth of July schedules.
The coronavirus is claiming another vital tool in lawmakers' election-year campaigns: the traditional Independence Day blowout, where politicians of all stripes walk in parades, break bread at picnics, and talk up voters at massive gatherings.
Instead of leading bands down Main Street, many House and Senate members are planning to reach voters only virtually or at small in-person events, particularly in states that recently reported case spikes. Large fireworks displays have been canceled in many cities or turned into televised or online affairs, as states discourage large-scale congregating or adopt outright bans.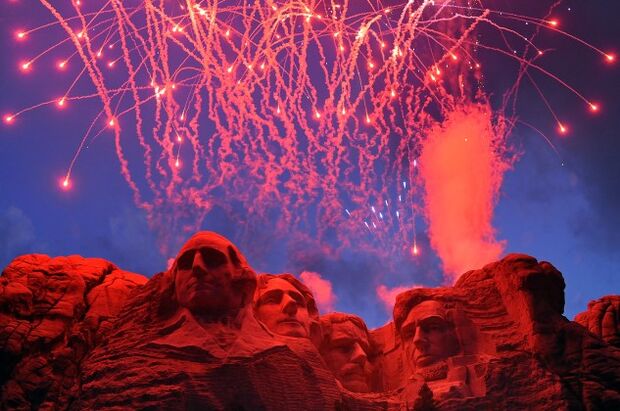 Sen. Doug Jones, the most vulnerable Democrat this fall, said his typical events in Alabama would include multiple cookouts, a big fireworks show, and maybe a Birmingham Barons baseball game. But this year, Jones said, "we'll be close to home and doing things virtually."
"I intend to practice what I preach, and that is that it's safer at home," Jones said. "So we're not getting out in large crowds. I just think it's dangerous."
500 to Zero Handshakes
Brian Walsh, a Republican consultant at FP1 Strategies, said that with traditional retail politicking upended there's now much more emphasis on using Zoom, targeted video messages, and media appearances.
"And there's a variety of community-oriented events that you could still do that could drive earned media without having big crowds attached to it," Walsh said.
That's the approach being taken by Sen. Joni Ernst (R-Iowa), who recently resumed her 99-county tour with an in-person visit to a vendor contributing fruit to a food box program. While small, the event attracted media coverage for Ernst, who is in a competitive race with Democrat Theresa Greenfield. Ernst now plans similar events as the holiday starts. Greenfield has postponed in-person events, her campaign said.
Former Republican Rep. Jack Kingston said the national holiday has become a three-day "marathon" in some rural districts like the southeastern Georgia area he long represented. He said there are still lawmakers willing to risk going to numerous events, especially if they are in tight races, and he encouraged them to take precautions and keep some distance, for which he noted there are some upsides.
"You're going from shaking potentially 500 hands in one full day down to zero, but at least you would be seen," Kingston said. "And in some sense you wouldn't get stuck with people. You know, there's always somebody who wants to tell you how to solve nuclear war."
Rep. Debbie Wasserman Schultz (D-Fla.), who is spending the holiday with her family, urged others to stay home and said Florida Gov. Ron DeSantis (R) should make masks mandatory.
"Residents roaming around at public Fourth of July events without masks will certainly result in an even greater, major medical crisis in Florida," she said.
Sen. Rick Scott (R-Fla.) has no public plans, his office said, and Rep. Mario Diaz-Balart (R-Fla.), the first House member to test positive for the virus, is eschewing public events as the number of cases continues to rise sharply in his south Florida area.
The virus has cramped the style of Diaz-Balart, who's had to hold back on his typical greetings.
"It's a cultural thing among Hispanics — we hug and kiss everybody," Diaz-Balart said. "This is not people you know — it's a salutation. The world has gotten a lot more sterile."
Party on the Porch
San Diego's "Big Bay Boom" fireworks show is off after California's stay-at-home order took effect. Philadelphia's week-long event that's attracted as many as 500,000 people and Cleveland's "Red, White, and Boom" that's drawn 400,000 people are also canceled.
Back home in Florida, in West Palm Beach near Trump's Mar-a-Lago residence, waterfront activities are canceled, fireworks will be set off from the north and south ends of town, and residents are encouraged to "party on the porch."
Trump will be joined at Mount Rushmore by Senate Majority Whip John Thune (R-S.D.), Sen. Mike Rounds (R-S.D.) and Rep. Dusty Johnson (R-S.D.). Trump also pressed for fireworks on the National Mall on Saturday, over the objections of local officials, and plans a White House gathering to view them.
"When you're holding public events and not showing you care about what the CDC guidance is, that's not playing well with suburban mothers who are staying home with their kids and are very anxious about the future," Walsh said of Trump's plans. "He's hurting himself by doing that. The hard-core base may love it, but that's not who you need to win this election."
To contact the reporter on this story: Nancy Ognanovich in Washington at nognanov@bgov.com
To contact the editors responsible for this story: Kyle Trygstad at ktrygstad@bgov.com; Jodie Morris at jmorris@bgov.com