Lawmakers Pile Priorities Onto Must-Pass Defense, Spending Bills
Senate plans to address supply chain crisis in Pentagon bill
Climate, veterans provisions may hitch ride on larger measures
Bloomberg Government subscribers get the stories like this first. Act now and gain unlimited access to everything you need to know. Learn more.
A cloture vote Wednesday to expedite debate on the annual National Defense Authorization Act will kick into gear senators' push to tack their priorities onto must-pass spending bills before the end of the year.
NDAA and a likely forthcoming omnibus carrying 12 annual appropriations bills are primary targets for vehicles to complete other items, with lawmakers scheduled to head home for the holidays in less than a month.
Senate Majority Leader Chuck Schumer (D-N.Y.) blazed the trail by telling lawmakers that with the tight schedule a $250 billion bill to spur U.S. competitiveness with China, help the semiconductor industry, and provide relief for the supply chain will be attached to NDAA.
Schumer said adding the competitiveness bill to the must-pass $740 billion NDAA bill (H.R. 4350) is necessary to address the crisis.
"Nothing will do more over the next few years to reduce supply chain problems than this bill, and especially in the semiconductor industry," Schumer said Tuesday on the Senate floor. "The chip shortage isn't some abstract issue."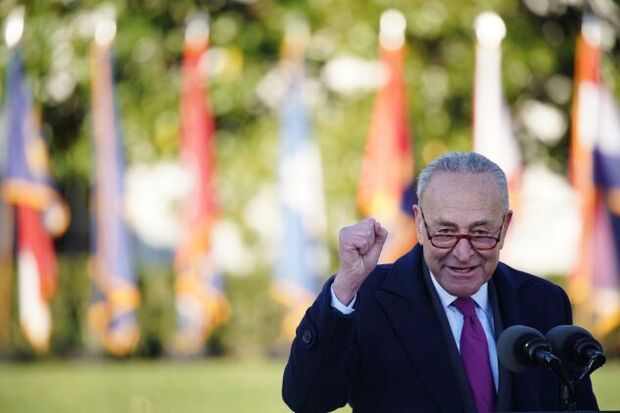 Members of both parties are on board with the strategy as the clock ticks. Sen. John Cornyn (R-Texas) said he's "agnostic" on the vehicle for the competitiveness bill, as "it needs to get done because every day we waste is another day or more of disruption to the supply chain."
There's added urgency to get things done by the holidays given the uncertainty of how much can pass next year as the 2022 midterm elections heat up. With President Joe Biden's popularity sagging, Democrats may opt to push a less aggressive agenda if they're able to get through Biden's social spending plan, the NDAA, and the appropriations package.
Senate Majority Whip Dick Durbin (D-Ill.), a senior member of the Appropriations Committee, said he's working with Republicans to also get other bills finished in the final days of the year, including the rewrite of the Violence Against Women Act, a law Biden helped author to help abused women. The House passed a VAWA rewrite (H.R. 1620) this year, but it hasn't budged in the Senate.
"I would put it on any train that's moving," Durbin said in an interview. "I want to get it reauthorized this year. We're eight and a half years late on this."
The budget bill also could be targeted to carry more new initiatives. Among others, House Majority Leader Steny Hoyer (D-Md.) unveiled legislation (H.R. 5830) to support U.S. pledges at the COP26 meeting to commit $9 billion to fight against deforestation and reduce greenhouse gas emissions.
"The Congress of the United States is ready to back up President Biden's commitments with concrete action," Hoyer said.
Defense Bill Must-Pass
The bipartisan bills proliferating as the session winds down include one that Durbin, Sen. Chuck Grassley (R-Iowa), and other Senate Judiciary Committee members recently introduced to expand provisions in a 2018 sentencing overhaul law (Public Law 115-391) to those sentenced earlier for drug offenses. Another bill they recently unveiled would require online publication of financial disclosure reports for federal judges and mandate judges submit periodic transaction reports for securities transactions (S. 3059). Companion legislation (H.R. 5720) is being sponsored by members of the House Judiciary Committee.
Durbin and Grassley recently teamed up with Sen. Amy Klobuchar (D-Minn.) and others in what could be an eleventh hour push on a new bipartisan bill (S. 2992) establishing rules for dominant digital platforms amid concerns about anticompetitive behavior. Senate Minority Whip John Thune (R-S.D.) said he's also pushing to pass bills to help increase online transparency and accountability, including the Platform Accountability and Consumer Transparency (PACT) Act (S. 797).
The Senate last spring passed the United States Innovation and Competition Act (S. 1260), which Schumer plans to attach to the Senate's NDAA bill. The House has not yet finished its own competitiveness bill and didn't include it in the version of the defense authorization measure the chamber has passed. Whether the competitiveness measure remains in the final defense legislation will be determined in negotiations between the chambers.
The NDAA also could include legislation (S. 3003) the Veterans Affairs Committee reported last summer to allow veterans with illnesses tied to exposure to overseas burn pits to gain access to VA health care.
Sen. Kirsten Gillibrand (D-N.Y.) enlisted Jon Stewart, the comedian and veterans advocate, to argue for the measure's enactment at a recent Capitol Hill news conference. Stewart previously successfully lobbied Congress to make the 9/11 Victim Compensation Fund permanent. Gillibrand filed the bill as an amendment to the defense authorization measure.
Sen. Tammy Duckworth (D-Ill.) said an omnibus remains an option for that bill should NDAA amendments be limited.
"I don't know how much time we have for a stand-alone," Duckworth said in an interview. "It's gonna be faster to attach it to something."
Omnibus Last Train Leaving
Many lawmakers are targeting the omnibus spending package as the best vehicle for riders, but so far appropriators haven't announced any framework of a deal that could permit the legislation to be assembled. Senate Appropriations ranking member Richard Shelby (R-Ala.) said lawmakers may buy time by pushing a new spending stopgap to Dec. 17. A current stopgap funding the government expires Dec. 3.
The omnibus would typically be used to extend expiring programs and taxes and carry many other items. Grassley and other farm-state senators in both parties recently said they're pushing new legislation to address longstanding issues of price discovery and transparency in the beef industry. Both sides also announced bills to help teenagers in foster care and to repeal Medicare's lifetime limits for inpatient psychiatric care.
Members of the Louisiana delegation said they want the omnibus to include another slug of aid to help their state recover from Hurricane Ida and other storms.
"It's possible that there will be something that would be not just for us but the Northeast," Sen. Bill Cassidy (R-La.) said in an interview. "We're anticipating that the needs are far greater than that which has already been appropriated."
To contact the reporter on this story: Nancy Ognanovich in Washington at nognanov@bgov.com
To contact the editors responsible for this story: Kyle Trygstad at ktrygstad@bloombergindustry.com; Bennett Roth at broth@bgov.com
Stay informed with more news like this – from the largest team of reporters on Capitol Hill – subscribe to Bloomberg Government today. Learn more.