Lawmakers Mull Pentagon Contracting 'Remedy' After JEDI Blunder
Rep. Rogers cites 'serious flaw' in acquisition process
Congress could hold hearings or even consider changing law
Key House lawmakers vowed to consider changes to the Pentagon's arcane technology buying process after senior Defense Department officials canceled its flagship cloud computing program.
"All options are on the table," House Armed Services Committee ranking member Rep. Mike Rogers (R-Ala.) told Bloomberg Government on Thursday.
On July 6, the Pentagon announced it would terminate the $10 billion Joint Enterprise Defense Infrastructure (JEDI) cloud contract awarded to Microsoft Corp. The move marks an inauspicious end to an embattled program delayed by more than two years.
The cancellation "highlights a serious flaw in the acquisition process," Rogers said in an email. "Moving DOD to enterprise cloud has already taken multiple years and now the process has been further delayed," he said. "We must move quicker than the glacial pace we are on now."
Rogers, who became the top-ranking Republican on the House Armed Services Committee in January, reserved his harshest criticism for contractors who are perceived to abuse the contracting process with "frivolous protests and litigation."
"There must be repercussions for those that protest an award and then lose their protest," he said. "I intend to remedy this problem."
Rogers declined to discuss specifics, but the committee's options include holding hearings, requesting a Government Accountability Office study, or even drafting legislation to amend federal acquisition regulations.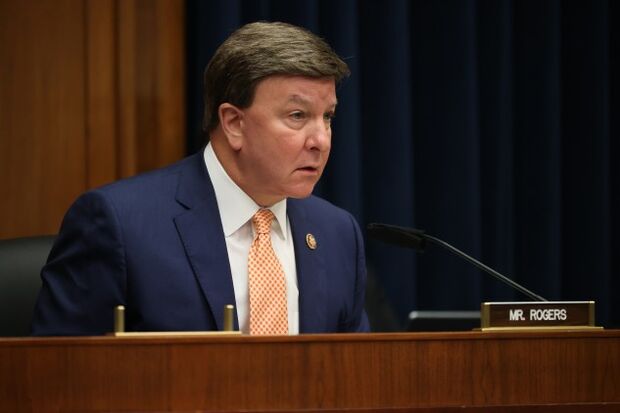 Rep. Jim Langevin (D-R.I.), who chairs the House Subcommittee on Cyber, Innovative Technologies, and Information Systems, said he had "deep reservations" about the bid protests that ground to a halt the military's ability to field its enterprise cloud.
"JEDI was mired in lawsuits from the very beginning," he said. "We need to take a long, hard look at the minimum threshold for a protest going forward."
Two Years in Legal Limbo
For the Pentagon, high-performance computing is seen as foundational for advances in artificial intelligence and key to preserving the U.S. military's technological advantage.
Even before the Pentagon awarded JEDI in October 2019, the $10 billion contract faced multiple bid protests by competitors Oracle Corp. and International Business Machines Corp. After the nonpartisan GAO dismissed its protest, Oracle filed suit in the U.S. Court of Federal Claims. The company appealed to a higher court after a federal judge ruled that the company lacked standing to contest the case. Oracle even petitioned the U.S. Supreme Court to hear its case in February. The court has not yet decided whether to take up the case.
Shortly after losing out to Microsoft in its bid for JEDI, Amazon Web Services Inc. filed suit in federal court, alleging then-President Donald Trump had intervened in the contracting process to spite Amazon chief executive Jeff Bezos. Pentagon officials denied the claims and warned Congress in late January that if Amazon's political interference case were allowed to proceed, it "might bring the future of the JEDI Cloud procurement into question." An April ruling in favor of Amazon paved the way for perhaps another year of costly and embarrassing litigation. On Tuesday, Pentagon officials denied the ongoing litigation played a role in the decision to cancel JEDI.
Amazon stands by its legal challenge, claiming the contracting process that resulted in an award to Microsoft was not a fair one. The outcome "was not based on the merits of the proposals," said spokesman Drew Herdener, but instead "the result of outside interference that has no place in government procurement."
A New Beginning?
Immediately after announcing the JEDI cloud program had been terminated, Pentagon officials pivoted to finding its replacement. The DOD will split its enterprise computing needs between Microsoft and Amazon under a new program, dubbed the Joint Warfighter Cloud Capability (JWCC), said acting DOD chief information officer John Sherman.
The Pentagon's decision to abandon JEDI's winner-take-all approach in favor of a multivendor, multicloud strategy may prove the best way to jump-start its move to the cloud. But it's not without its own risks, Langevin stressed.
"Without proper oversight and a design that prioritizes interoperability and security, we're going to be stitching together a multivendor cloud that doesn't meet the warfighters' requirements and is vulnerable to our adversaries," he said.
Having determined that Microsoft and Amazon are the only two cloud companies capable of meeting the Pentagon's cloud needs, officials will essentially hand over contracts without an upfront competition. The department aims to hold a competitive rebidding process in early 2025, Sherman said. Meanwhile, Pentagon officials will spend the next three months conducting market research to determine whether other major U.S. cloud companies — Oracle, IBM, and Google Inc. — should receive awards as well.
Despite his concerns with JEDI, Langevin said he remains confident in the Pentagon's ability to acquire the cloud capabilities it needs through competitive processes. "This is a desperately needed capability that we can't continue to delay," he said.
To contact the reporter on this story: Chris Cornillie in Washington at ccornillie@bgov.com
To contact the editors responsible for this story: Gregory Henderson at ghenderson@bloombergindustry.com; Heather Rothman at hrothman@bgov.com