Lawmakers Call for Billions to Bridge Homework Gap (Corrected)
(Corrects spelling of Rep. Nydia Velázquez.)
Bloomberg Government subscribers get the stories like this first. Act now and gain unlimited access to everything you need to know. Learn more.
At Justin Racette's West Chicago elementary school, instructors rarely assigned homework online before April.
That changed after Howe School of Excellence and other campuses across the country closed their doors in response to the coronavirus pandemic. But weeks after the school switched to online instruction, fewer than half of Racette's 50 third-grade students have even logged into video lessons in Google Classroom, in part because of technology and connectivity barriers.
"There are some students who still don't have technology. Others still don't have Wi-Fi or have to share it," said Racette, who teaches math and science, in an interview.
The rapid switch to online education for 55 million school-aged children in the U.S. highlights the digital divide on students' access to internet at home. Democratic lawmakers are pushing for billions of dollars of new funding to go in an existing Federal Communications Commission broadband program to provide wireless devices to students in the next coronavirus stimulus legislation. Meanwhile, Republican FCC Chairman Ajit Pai is pushing for Congress to fund a separate remote learning program altogether.
About 12 million children, including 7 million school-age children, lived in households without regular internet access in 2017, according to the latest data from the National Telecommunications and Information Administration.
Senate Democrats, led by Sen. Ed Markey (D-Mass.), plan to introduce legislation next week that would steer $4 billion to provide wireless devices to connect students without internet at home during the pandemic. It's similar to H.R. 6563 from Rep. Grace Meng (D-N.Y.), which would provide $2 billion for Wi-Fi devices.
"We cannot allow the homework gap to become a larger learning gap or a life-long opportunity gap," Markey said in an emailed statement.
Sen. Chris Van Hollen (D-Md.), who is co-sponsoring Markey's bill, said in an interview the money is a top priority for CARES-2, the next stimulus bill Congress is working on.
"Covid-19 has shown a very harsh light on inequities of the homework gap. Those inequities have been compounded as schools try to move the full day of learning online and it's exposed this digital divide among students," he said.
House Majority Whip James Clyburn (D-S.C.), House Energy and Commerce Chairman Frank Pallone (D-N.J.) and 11 other House Democrats announced a plan Thursday to expand affordable broadband internet, including providing funding for mobile hotspots for students and Wi-Fi-connected school buses.
Debate Over Expanding FCC Program to Homes
Markey, Van Hollen, and other Democrats argue the next stimulus package should include $4 billion toward a new Emergency Connectivity Fund to expand the FCC's E-Rate program to help pay for Wi-Fi hotspots and wireless devices in students' homes. The FCC's E-Rate program provides 20%-90% discounted broadband internet to K-12 schools and libraries. Markey helped write the 1996 legislation that created the E-Rate program.
However, Pai argues the FCC is restricted from funding in-home connectivity because the law explicitly says E-Rate should support internet services for classrooms, the agency said in a statement.
Democratic FCC Commissioner Jessica Rosenworcel disagrees. "It's on the agency to just own up to that fundamental truth and use the law to help get students connected," she said in an interview.
The FCC launched an E-Rate pilot program in 2010 that supported off-campus wireless internet services and devices to help students, particularly those from low-income families, she said.
The E-Rate program, paid for by fees on consumers' landline and cellphone bills, doled out about $2.6 billion in funding in the current fiscal year that ends June 30. The agency could distribute another $1.5 billion in E-Rate funding, but it would likely have to hike consumers' phone bill fees.
Persistent Digital Divide
Access to internet is a challenge for both urban and rural students, but the absence of online connections is especially high in the homes of students of color. While 14% of children had no internet access at home in 2017, nearly 20% of black and Latino students lack home internet, according to a National Center for Education Statistics Survey. For Native American students, the number was 37% without regular internet.
Teachers like Racette—whose campus is made up of 96% black students and sits in one of Chicago's poorest ZIP codes—worry disparities in technology and internet could mean disadvantaged students fall behind academically while school buildings remain closed.
Rep. Nydia Velázquez (D-N.Y.) sees the gaps in internet connectivity clearly in her district, which includes parts of Brooklyn, Queens, and Lower Manhattan, including Chinatown.
"Not having this essential service means potentially falling behind academically and, possibly, missed opportunities later in life," she said in an emailed statement.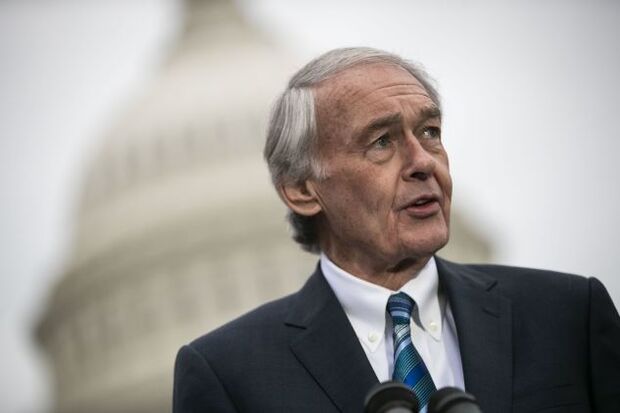 New Remote Learning Program
Some Republicans have been less enthusiastic about expanding E-Rate.
Pai said he'd support Congress authorizing FCC to spend money on a separate distance learning program that wouldn't be subject to the same bureaucratic requirements of the E-Rate program. He is discussing with Congress ways to fund a "Remote Learning Initiative" in the next stimulus package, an FCC spokeswoman said.
A House Energy and Commerce Committee Republican spokesperson stressed that Congress wants to keep students connected without "just throwing money at the problem and without putting existing programs that currently work for low-income Americans at risk."
"A concern we've expressed is that it's quicker to set up a parallel program similar to E-Rate with similar processes than it is to amend the E-Rate program," the spokesperson said.
Sen. Roger Wicker (R-Miss.), chairman of the Senate Commerce, Science and Transportation Committee, is considering all proposals to address the homework gap and other connectivity needs, a spokesperson told Bloomberg Government.
Telecom Attempting to Fill the Gap
In the absence of additional authorization or funding from Congress, telecommunication and wireless companies are providing Wi-Fi hotspots to connect students taking classes at home.
For example, T-Mobile has connected more than 500,000 students from more than 820 schools and school districts in the last month, the company said on April 15.
CTIA, the trade group representing the wireless industry, launched the Connecting Kids Initiative that aims to partner schools seeking hotspots with wireless companies. Nine companies representing 98% of the wireless carriers, including AT&T, T-Mobile and Verizon, are involved.
Rosenworcel praised the telecom outreach, but said the FCC and Congress need to step in.
"It's terrific, but I don't think relief should only come to those who know how to grovel to the right people in the right places," she said. "We need to be able to solve this problem at a national scale."
Chicago Public Schools are trying to get 100,000 laptops, Chromebooks, and other devices into the hands of students. Chicago teacher Racette said it would be encouraging to see more federal help.
"The sooner we can get them connected and back into learning with teachers in schools, the less of a disruption it's going to be when things reopen."
To contact the reporters on this story: Andrew Kreighbaum in Washington at akreighbaum@bgov.com; Rebecca Kern in Washington at rkern@bgov.com; Jon Reid in Washington at jreid@bloomberglaw.com
To contact the editors responsible for this story: Paul Hendrie at phendrie@bgov.com; Jerome Ashton at jashton@bloomberglaw.com; Cheryl Saenz at csaenz@bloombergtax.com
Stay informed with more news like this – from the largest team of reporters on Capitol Hill – subscribe to Bloomberg Government today. Learn more.