Lawmakers Reach Deal to Simplify College Aid Application (1)
Shorter FAFSA is a priority for retiring Sen. Alexander
Deal would also restore federal aid for students in prison
(Updates with lawmaker statement in fifth paragraph.)
Bloomberg Government subscribers get the stories like this first. Act now and gain unlimited access to everything you need to know. Learn more.
Low-income students would face less red tape in applying for federal college aid and prisoners pursuing degrees would have their financial assistance restored under a bipartisan deal in Congress.
The agreement will be included in a must-pass year-end spending deal, according to a House Education and Labor Committee aide. The deal also would provide billions in debt relief for historically Black colleges.
Simplifying the 100-plus question Free Application for Federal Student Aid has been a long-time priority of retiring Sen. Lamar Alexander (R-Tenn.), chairman of the Senate Health, Education, Labor, and Pensions Committee. A stalemate over passing a broader higher education law had blocked plans to trim the student-aid application.
Advocates for low-income students say simplifying the complex FAFSA has never been more urgent in part because applications for college aid have plummeted during the coronavirus pandemic. Enrollments for fall dropped as fewer students, particularly minorities and low-income learners, went straight to college from high school. Advocates aim to reverse that decline by making it easier for students to get financial aid.
"Reducing the FAFSA from 108 questions to 36 will remove the biggest barrier to helping more low-income students pursue higher education," Alexander said in a statement.
The deal hammered out in recent weeks between Alexander and Rep. Bobby Scott (D-Va.), the chairman of the House Education and Labor Committee, allows lawmakers to address several key items that likely would have been included in a reauthorization of the Higher Education Act (Public Law 110-315).
Top lawmakers on the Senate HELP Committee had hoped to reach a bipartisan agreement on higher education reauthorization this year for the first time in more than a decade, but the coronavirus pandemic derailed talks on a comprehensive deal. The agreement, slated to be included in an omnibus spending deal for fiscal 2021, would allow Congress to address some higher education issues now, while leaving unresolved debates over college costs, student borrower protections, and campus safety.
Under the agreement, 500,000 new recipients would qualify for Pell Grants and more than 1.5 million students would receive the maximum grant — which was $6,345 in the current academic year — according to a summary of the omnibus bill from House Speaker Nancy Pelosi (D-Calif.) and Senate Minority Leader Chuck Schumer (D-N.Y.).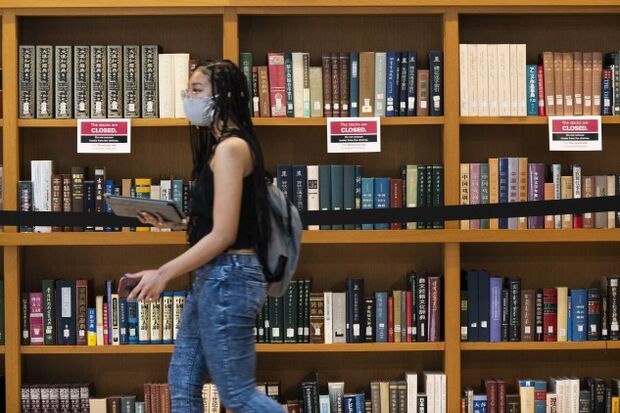 Low-Income Students
The FAFSA agreement would allow more students to have their eligibility for financial aid like Pell Grants, which help low-income families cover college costs, automatically calculated if they are recipients of means-tested federal programs like Medicaid or are non-tax filers. It would also reduce the questions students must answer by having the application use family income data already verified by the IRS.
Those changes would mean less work for low-income students to prove that they're poor enough to get help for college, advocates say.
The deal also extends the eligibility of undergraduate students to receive interest subsidies on federal student loans.
The need for simplifying the FAFSA has never been greater as applications among high school seniors are down 15% compared with the previous year, Justin Draeger, president and CEO of the National Association of Student Financial Aid Administrators, told top lawmakers this month.
Draeger said in a statement that lawmakers showed up for students during a time of crisis.
"Of course, passing last-minute bills of this magnitude is not our preferred way of tackling financial aid reform, and there are several provisions in this expansive bill that require closer scrutiny," he said of the deal. "But it has been 12 years since the last reauthorization of the Higher Education Act, and we should not — and cannot — wait any longer on bills that will have such an overwhelmingly positive impact on students.
College Enrollment Falls Among High School Grads Amid Pandemic
Pell Grants in Prisons
The agreement to provide federal Pell Grants to prisoners would overturn a quarter-century ban — a prohibition that lawmakers on both sides of the aisle now see as a relic of the "tough on crime" era.
Advocates of criminal justice and education, as well as business groups, have pushed to lift the ban since the Obama administration launched a federal experiment allowing a limited number of incarcerated students to receive federal aid in 2015. More than 50 House lawmakers co-sponsored legislation (H.R. 2168) to repeal the ban last year, and a Senate companion (S. 1074) won the support of key lawmakers in that chamber.
This month, the chief corrections officers in Tennessee and Washington state wrote that restoring Pell Grants would be a "win-win" for prisoners and the communities to which they will eventually return.
Debt Relief for Black Colleges
The deal would erase about $1.34 billion in historically Black college debt from a capital financing program. Democrats argued those debts put a crushing burden on under-resourced institutions struggling in the pandemic.
Rep. Alma Adams (D-N.C.) introduced legislation (H.R. 7380) earlier this year to cancel those loans. HBCUs have used the capital financing program to pay for or refinance construction of classrooms, libraries, campus labs, and dorms. Adams and other Black lawmakers told colleagues this summer that those loans should be converted to infrastructure grants because of the enormous pressure the Covid-19 pandemic has put on the bottom line of HBCUs.
To contact the reporter on this story: Andrew Kreighbaum in Washington at akreighbaum@bgov.com
To contact the editors responsible for this story: Sarah Babbage at sbabbage@bgov.com; Robin Meszoly at rmeszoly@bgov.com
Stay informed with more news like this – from the largest team of reporters on Capitol Hill – subscribe to Bloomberg Government today. Learn more.