GOP, Latinos Could Post Gains in New Colorado Districts Map (1)
Boebert's district would be more Republican
Colorado Supreme Court must review the map
(Updates the top of the story.)
Republicans have a shot at picking up a seat in Congress under a map approved by the Colorado Independent Congressional Redistricting Commission that also would increase the voice of Latino voters.
As it locked down the configuration of an eight-district map, up from the current seven districts, the commission late Tuesday agreed to divide up the state's population in a way that essentially makes three districts safe for Democrats and three safe for Republicans.
One appears to lean Democratic and one could be a tossup.
"This was a good map for incumbents—no one looks like they're in trouble," said Floyd Ciruli, political science professor at the University of Denver. "It's a lot better map for the Republicans than they thought they were going to get."
Freshman Lauren Boebert (R) is among the incumbents given friendly territory.
"She still has a five-point advantage," Ciruli said. "In 2020, she lost Pueblo just slightly to a Democrat, and Pueblo isn't the sure thing for Democrats it used to be."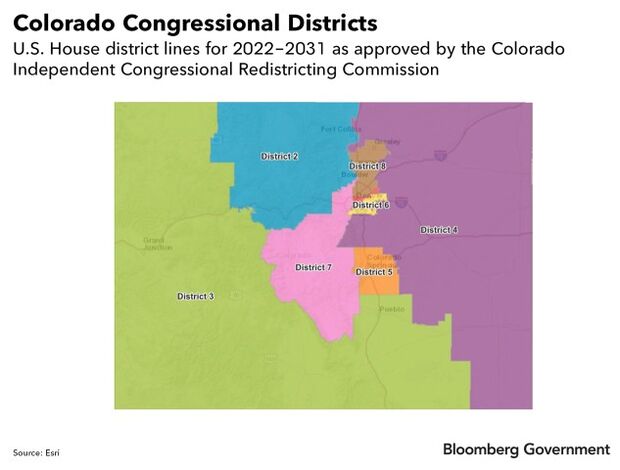 A new 8th Congressional District, considered a tossup, would stretch from north Denver through Democratic-leaning suburbs north and northeast of the city and include Greeley in Republican-heavy Weld County. It would be nearly 39% Latino.
There are 1.25 million Latinos in Colorado, and the 100-member General Assembly has 14 Latino lawmakers, the largest number in its history.
(Sign up for Ballots & Boundaries , our weekly check-in on redistricting and state election law.)
The new 8th District would provide an opportunity for Latino voters "to elect a member of their choice," tweeted Scott Martinez, a Democratic attorney.
The commission scrapped an early draft that would have drawn Boebert into the same district as Boulder Democrat Joe Neguse. Neguse's 2nd District was revised to include reliably Democrat communities northwest of Denver as well as ski towns such as Vail, Breckenridge, and Winter Park.
Perlmutter's District
Eight-term Rep. Ed Perlmutter(D) ended up with a revised 7th District with more rural areas than in his current district, though the constituency would still have a Democratic lean.
"Assume it's not a good Democratic year, he's a senior congressman facing an incredible amount of driving and travel," the professor said. "He's done well where he is known, but those people to the south and west will not be familiar to him."
Heavily Democratic Denver and Republican-dominated Colorado Springs would get their own districts—the 1st and the 5th, respectively.
The plan next goes to the Colorado Supreme Court, which has until Nov. 1 to issue a decision.
This is the first map drawn by the Colorado Independent Congressional Redistricting Commission, established by voters in 2018. Its counterpart is trying this week to meet its deadline for new state General Assembly districts.
To contact the reporter on this story: Tripp Baltz in Denver at abaltz@bloomberglaw.com
To contact the editors responsible for this story: Tina May at tmay@bloomberglaw.com; Meghashyam Mali at mmali@bloombergindustry.com; Katherine Rizzo at krizzo@bgov.com; Bennett Roth at broth@bgov.com