Labor Shortages in US Hamper Defense Manufacturing Efforts
US needs to balance American-made push with allied partnerships
Supply chain, workforce challenges constraining industrial base
Bloomberg Government subscribers get the stories like this first. Act now and gain unlimited access to everything you need to grow your opportunities. Learn more.
National security depends on the US working with allies to increase manufacturing capacity even as President Joe Biden used the State of the Union stage to push new made-in-America standards, defense industry participants testified to the House Armed Services Committee Wednesday.
The goal is to move away from supply chain reliance on China, and Biden's comments Tuesday night expanded on an earlier executive order to maximize federal procurement of goods, products, materials, and services made and offered in the US.
"It's great that we are moving chip production capacity to the US, but where is that workforce going to come from? Everybody's competing for workforce," Eric Fanning, president and CEO of the Aerospace Industries Association, said.
He cited the CHIPS and Science Act (Pub. Law 117-167) as an example of an investment of billions to ramp up US semiconductor and chip production while workforce capacity "can be a limiting factor," he told Bloomberg Government after his testimony to the panel.
Fanning testified that workforce is the "single most important issue" for industry because of the hurdles presented by security clearances, inflation, and an increasing number of compliance requirements.
He added that there's "no single silver bullet for this" and urged Congress to act.
Immigration could play a role in increasing the workforce pool to bleed into the defense industrial base needs, said David Norquist, president and CEO of the National Defense Industrial Association. The "cheat code the US has over the rest of the world is our ability to attract people from everywhere else and bring them into the country."
Shrinking Stockpiles, Contractor Base
Depletion of US stockpiles to support Ukraine's defense against the nearly yearlong Russian invasion means the US needs to look at consumption rates and inventory of munitions and artillery for high-end conflict. The Pentagon needs to have contracts ready to refill the necessary stockpiles as well as provide additional capacity, Norquist said.
Both the private sector and the government point to the shrinking defense industrial base as one reason for the lack of competition for defense services and supplies.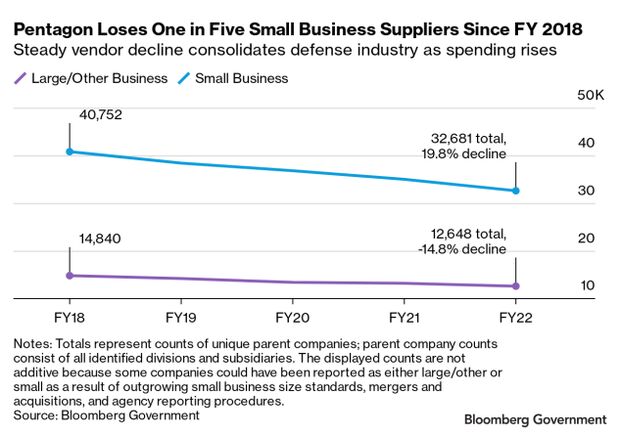 That concentration of the market has been in part due to the acquisition of small- and mid-sized companies by large defense contractors targeting innovative technology.
Earlier: House Panel to Ask Industry About Declining Pentagon Vendor Base
Some small businesses drop out of the defense market because it's complicated to work with the government. Companies have to manage fluctuating demand, increasing requirements, and the financial drive to diversify with commercial work.
No 'Easy Button'
In the 1990s, China was "where you went to make stuff" and became the "corporate easy button," said committee ranking member Adam Smith (D-Wash.).
"There's no way that the US can meet this challenge on its own," he said, adding that the US needs to both increase capacity and work with allied nations.
The hearing on the health of the defense industrial base followed the announcements of several bilateral partnerships including with Japan on dual-use technology, the Netherlands on semiconductors, and Israel on artificial intelligence. The Pentagon announced last week a bilateral partnership with Denmark on defense supplies and services.
Testimony from defense industry trade association leaders pointed to the lack of "demand signal" from government, or messages to vendors and manufacturers that particular goods are required.
To contact the reporter on this story: Patty Nieberg in Washington at pnieberg@bloombergindustry.com; Paul Murphy also contributed to this story
To contact the editors responsible for this story: Amanda H. Allen at aallen@bloombergindustry.com; Fawn Johnson at fjohnson@bloombergindustry.com
Stay informed with more news like this – the intel you need to win new federal business – subscribe to Bloomberg Government today. Learn more.