Key GOP Senate Recruit Seeks Job Overseeing His Largest Customer
Sheehy's Bridger has eight-digit federal agency contracts
Divestment, recusal could ease appearances of conflicts
Bloomberg Government subscribers get the stories like this first. Act now and gain unlimited access to everything you need to know. Learn more.
Candidate Tim Sheehy runs a company that gets most of its money from federal government contracts, presenting potential conflict-of-interest questions that US Senate hopefuls usually don't face.
Sheehy, the CEO of Bridger Aerospace, is going after the seat of three-term Sen. Jon Tester (D-Mont.) in a contest that will be key to deciding which party controls the Senate.
Montana, which former President Donald Trump carried by 16 points, is within the grasp of the right nominee. The race will be expensive and competitive as Republicans try to bounce back from the 2022 cycle, in which Republican Leader Mitch McConnell (Ky.) blamed low-quality candidates for the GOP's Senate losses.
GOP Seeks Senate Recruits Who Won't Squander 2024 Advantages
It'll be up to Sheehy to quell any concerns of voters who are hesitant to give him a role overseeing programs that fuel his family's livelihood.
"It's important that office holders and candidates are transparent about any potential conflicts of interest because that can help settle questions as to whether someone is acting on behalf of the public interest or acting on behalf of their own bottom line," said Stephen Spaulding, vice president of policy and external affairs at the nonpartisan watchdog Common Cause.
Sheehy spokesperson Katie Martin said Sheehy if elected would step down as CEO and leave Bridger's board to "fully comply with Senate ethics rules and standards of conduct."
Martin also touted Sheehy's business record. His "experience of running a technology manufacturing company, a cattle feeding operation and an aerial firefighting company, that prevents death and destruction caused by the threat of wildfires, can bring a unique perspective to Washington," she said.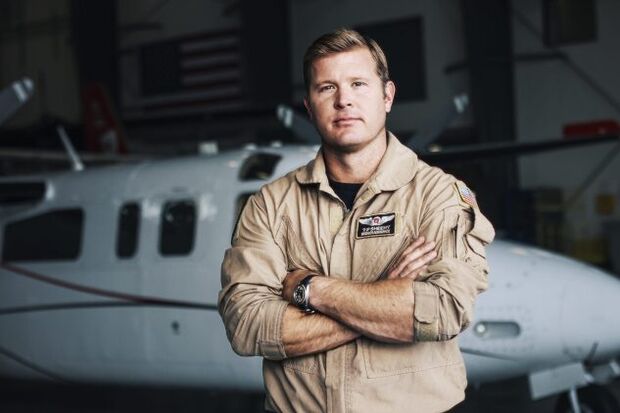 As he began campaigning, Sheehy presented himself as a successful outsider with transferable skills.
"Growing a small business from scratch has been an incredibly rewarding experience for us," Sheehy said on local radio show Voices of Montana. "And now we're hoping to take some of that common sense, 'get 'er done' mentality to the US Senate."
Biggest Client
The company that Sheehy co-founded has a fleet of water scooper aircraft that the Forest Service hires to skim lake surfaces and dump water onto fires. It's also a vendor to the Interior Department, providing aircraft and drones.
Bridger has brought in about $87.6 million in unclassified federal contract awards since its founding in 2014, according to Bloomberg Government data. In 2022, it pulled in nearly $50 million in federal business.
The contracts with US agencies have provided around three quarters of the company's revenue, Sheehy estimated in a March earnings call. Federal contracts accounted for 96% of the company's revenue in 2022, according to Securities and Exchange Commission filings.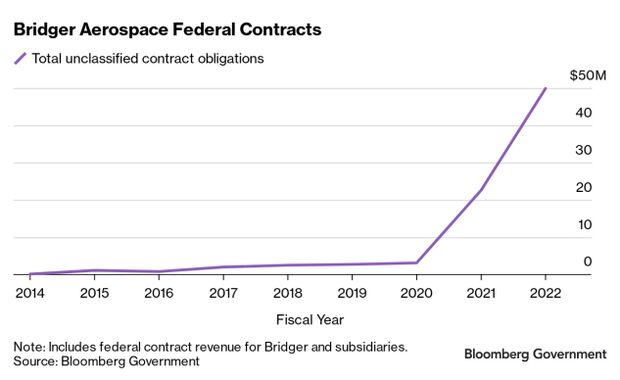 Sheehy directly or indirectly held more than 12 million shares in Bridger, according to a May disclosure with the SEC. They would be were worth over $66 million as of Thursday. Private equity behemoth Blackstone Inc. is the company's largest single stockholder.
Bridger said Sheehy would remain its chief executive officer while he runs for office. In mid-June he was given a new term on the board of directors ending in 2026.
He'll have to provide more information about his personal holdings in a public disclosure form required of candidates.
'Genuine Conflicts'
If he gets to the Senate, Sheehy will have to consider how to handle votes on matters including wildfire management requirements and funding for the Interior Department and Forest Service.
Among the ways he could shield himself from real or perceived conflicts of interest: divesting his interest in Bridger; stepping down from company's leadership; putting his assets in a blind trust; and recusing himself from voting on relevant legislation, according to Spaulding and Craig Holman, who lobbies on ethics rules for the consumer advocacy group Public Citizen.
"There are genuine conflicts of interest if he is receiving funds and government contracts," Holman said. "Those are the types of issues that not only the executive branch, but Congress also deals with."
Though it's unusual for a US Senate candidate to also be a government supplier, it happened just last year when Colorado Republicans nominated Joe O'Dea, the founder and CEO of Denver-based Concrete Express Inc., to run against Sen. Michael Bennet (D).
An O'Dea campaign spokeswoman told Colorado Newsline that if elected he'd either divest his assets or put them in a blind trust. Bennet (D) won, so that was a bridge the government contractor didn't have to cross.
Senators and their aides will often seek guidance from the Senate Ethics Committee and its nonpartisan staff in order to follow the chamber's ethics rules, which in part bar members from engaging in "any outside business or professional activity or employment for compensation which is inconsistent or in conflict with the conscientious performance of official duties."
Sheehy's company also has retained outside lobbyists with ties to the Senate.
Disclosure reports show that the company paid Crossroads Strategies $370,000 for lobbying from Sept. 1, 2021 to Dec. 1, 2022.
It was represented during that period by the firm's former Senate Appropriations Committee staffers. The company's now represented by Collective Strategies and Communications, whose clients include the United Aerial Firefighters Association, a new group whose membership includes Bridger.
Wildfire Credential
Sen. Steve Daines (R-Mont.), who's in charge of the Senate GOP's 2024 effort, has been praising Sheehy in what sounds like a stay-away message to Rep. Matt Rosendale (R) as he weighs another run.
"We need more men and women serving in Washington that are entrepreneurs, that built successful businesses, that created jobs, understand the challenges of building businesses and creating Montana jobs," Daines said of Sheehy earlier this month. "He understands the challenges facing the west, of forest management and the effects of catastrophic wildfires."
After Sheehy announced his candidacy, Rosendale — who hasn't said whether he'll run again for the Senate — responded with a barbed "Congratulations to Mitch McConnell and the party bosses on getting their chosen candidate."
McConnell Willing to Defy Trump on Senate Races After 2022 Flops
"Unfortunately for them, Montanans don't take orders from Washington," Rosendale tweeted. "I believe that Montanans are tired of business as usual and will reject the McConnell-Biden Establishment."
Tester won his third Senate term by defeating Rosendale in 2018.
Meanwhile, Sheehy has collected endorsements from Gov. Greg Gianforte (R-Mont.) and Sens. Tom Cotton (R-Ark.), Marsha Blackburn (R-Tenn.), and Markwayne Mullin (R-Okla.), and Democrats are waiting to find out whether that backing will help the opposition avoid a primary.
If Sheehy doesn't have to parry attacks from fellow Republicans, he'll have more time to prepare for the general election, where his company's reliance on federal contracts would be part of the campaign conversation.
"Tax dollars are paying for this political campaign," said Matt McKenna, a Montana-based Democratic strategist who previously worked for Tester. "I don't know how you show that you're not using company resources to run for the US Senate."
Eric Raile, a professor of political science at Montana State University who used to work at the US Office of Government Ethics, said he has not seen many indications that voters would pay much attention to concerns over possible conflicts tied to Sheehy's federal work.
"Someone they really trust would have to consistently point to it and say, 'it's a real problem," Raile added.
— With assistance from Kate Ackley.
To contact the reporters on this story: Zach C. Cohen in Washington at zcohen@bloombergindustry.com; Caleb Harshberger at charshberger@bloombergindustry.com
To contact the editors responsible for this story: George Cahlink at gcahlink@bloombergindustry.com; Katherine Rizzo at krizzo@bgov.com
Stay informed with more news like this – from the largest team of reporters on Capitol Hill – subscribe to Bloomberg Government today. Learn more.