Kentucky GOP Tweaks Lines to Back Up Barr: Ballots & Boundaries

Look for a final vote tomorrow in an unusual Saturday session as Kentucky Republicans fast-track a congressional redistricting bill that would shore up Rep. Andy Barr's vulnerable Lexington district and spare Democrats their Louisville stronghold.
While five-termer Barr (R) sailed to victory by 16 points in 2020, he won his 2018 contest over former Marine fighter pilot Amy McGrath (D) by a nail-biting 3 points.
The bill's (S.B. 3) new lines would help Barr by swapping out Franklin County—it contains Frankfort, the state's capital, where its voters nearly split 50/50 for Trump and Biden in 2020—and adding Garrard County, where Trump garnered nearly 78% of votes cast.
GOP state lawmakers said they were exercising political restraint because they didn't chop up the district of Rep. John Yarmuth (D), who is retiring.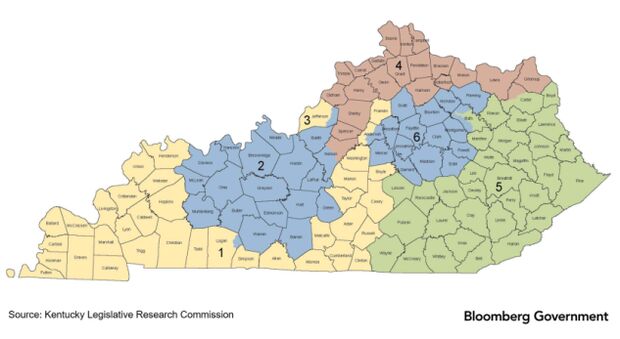 "They thought there was going to be a grand conspiracy to do something different, but there was not," Senate President Robert Stivers (R) said during debate on the bill. He said the map mostly preserves the lines as drawn by Democrats in the 1990s, which due to the state's changing political winds now yields a map giving Republicans an advantage in five of six districts. — Alex Ebert
ARIZONA: CYBER NINJAS SAID TO BE DISSOLVING
The company given a $150,000 contract by Arizona's state Senate to audit 2.1 million ballots may be kaput.
Jack Wilenchik, a lawyer representing Cyber Ninjas, told Newsweek that the company has laid off all employees, including its CEO, and is now insolvent. That revelation came last night, hours after a judge said the company would have to pay $50,000 a day until it complied with a public records request.
A day earlier, Maricopa County released a 93-page rebuttal of "faulty and inaccurate conclusions" ahead of Arizona's legislative session next week, where debate over voting-law changes is expected. — Brenna Goth
(Was this newsletter forwarded to you? It's free. SUBSCRIBE )
MISSISSIPPI: BIG DISTRICT
A draft congressional map (H.B. 384) adding four rural counties to Mississippi's only district with a Black representative is now before the state Senate. "We had to find 65,000 people to get into Congressional District 2," which had lost that number of people over the last decade, Speaker Pro Tempore Rep. Jason White (R) said on the House floor.
Mississippi's four U.S. House members—three Republicans and District 2's Bennie Thompson (D)— likely would keep their seats under this configuration, though Minority Caucus Leader Robert Johnson (D) said it would be nearly impossible to effectively represent a district that takes up over 40% of the state's geographic area. — Jennifer Kay
NEW HAMPSHIRE: GOP ADVANCES MAP
New Hampshire's Republican-controlled state legislature has advanced a congressional map that would make it harder for Rep. Chris Pappas (D) to win a third term.
The map (H.B. 52) would strip Pappas' 1st District of the Democratic strongholds of Dover, Durham, Portsmouth, and Somersworth, while adding Republican-friendly communities including Hudson, Pelham, and Salem.
The changes would covert the district from one Joe Biden won 52% to 46% in the 2020 election to one Donald Trump would have won 50% to 48%. The map now goes to the state Senate. — Greg Giroux
CONNECTICUT: MAP HEARING
Connecticut's Supreme Court on Monday will hear presentations from Democratic and Republican officeholders on what the state's next congressional map should look like.
The court has already said that lines should be altered "only to the extent reasonably required" to comply with population-equality and contiguity requirements and the Voting Rights Act. The northwestern 5th District of Rep. Jahana Hayes (D) would be slightly more Democratic-leaning under the Democratic map than under the Republican proposal.
Nathaniel Persily, a law professor the court appointed as a special master to assist with redistricting, will preside. Democrats hold all five districts in the strongly Democratic state. Persily will submit his preferred map to the court by Jan. 18. The court took over redistricting duties after the reapportionment commission couldn't agree on a new map. — Greg Giroux
MICHIGAN: POLITICIANS SUE
Michigan's new congressional and state legislative maps violate federal anti-discrimination law and discriminate against Black candidates, a group of Detroit politicians and residents allege in a complaint filed with the state Supreme Court.
They claim the lines, drawn by a 13-member independent commission, eliminate majority-minority Black districts and make it less likely that Black lawmakers will be sent to Lansing and Washington.
Commission members said they drew lines based on voting data showing Black and White voters in and around Detroit frequently vote together to select the Black voters' candidate of choice. That means majority-minority districts wouldn't be required, and drawing a majority-Black district might be a violation of federal law because it diminishes the broader ability of Black voters to select candidates in several districts in the Detroit metro area. — Alex Ebert
NORTH CAROLINA: RULING SOON
A three-judge panel has until Tuesday to issue a ruling on challenges to North Carolina's new congressional and state legislative maps.
Plaintiffs, including the North Carolina League of Conservation Voters and 28 individual voters, contested the Republican-drawn maps as partisan gerrymanders they allege undercut Black voting power. The state Supreme Court in December set the ruling deadline for the Wake County Superior Court in Raleigh and ordered the state's 2022 primary elections pushed back two months to May 17 to allow time for appeals and changing the maps, if necessary.— Chris Marr
WISCONSIN: ELECTION SUBPOENAS
Circuit judges in Dane County, Wis., take center stage next week in the ongoing saga of the Wisconsin Legislature's review of the 2020 presidential election.
Former Wisconsin Supreme Court Justice Michael Gableman is leading the review. He has issued subpoenas to two Wisconsin Elections Commission staff members, as well as the commission chairwoman.
Judge Valerie Bailey-Rihn said during a hearing this week that she would grant a request by American Oversight, a nonpartisan government watchdog, to order Assembly Speaker Robin Vos (R) to appear for a deposition. Vos hired Gableman to lead the review and is funding the effort with at least $675,000 in taxpayer money. — Stephen Joyce
Tally: 27 Maps Completed
Alabama | Arizona | Arkansas | California| Colorado |Georgia | Idaho | Illinois | Indiana | Iowa | Maine | Maryland| Massachusetts | Michigan | Montana | Nebraska | Nevada | New Jersey | New Mexico | North Carolina | Ohio | Oklahoma | Oregon | Texas | Utah | Virginia | West Virginia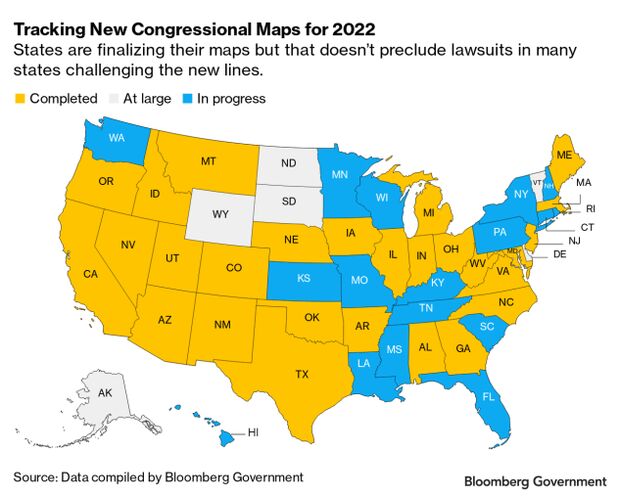 Caught Our Eye
Resources
Add Us to Your Inbox
Click HERE to sign up for Ballots & Boundaries, your check-in on redistricting and state voting laws.
With assistance from Kimberly Wayne
To contact the reporters on this story: Jennifer Kay in Miami at jkay@bloomberglaw.com; Chris Marr in Atlanta at cmarr@bloomberglaw.com; Alex Ebert in Columbus, Ohio at aebert@bloomberglaw.com; Brenna Goth in Phoenix at bgoth@bloomberglaw.com; Stephen Joyce in Chicago at sjoyce@bloomberglaw.com; Greg Giroux in Washington at ggiroux@bgov.com; Maya Earls in Washington at mearls@bloomberglaw.com
To contact the editors responsible for this story: Tina May at tmay@bloomberglaw.com; Katherine Rizzo at krizzo@bgov.com