Kentucky Congressional Map Enacted After GOP Overrides Governor
A congressional map designed to preserve a 5–1 Republican advantage in Kentucky's U.S. House delegation will become law after the GOP legislature Thursday easily overrode Gov. Andy Beshear's veto.
The map most notably boosts Rep. Andy Barr (R), whose central 6th District in and around Lexington will become more Republican-friendly in part by transferring the state capital of Frankfort to the western 1st District of Rep. James Comer (R).
Beshear (D) said in a Jan. 19 veto message that the map "reflects unconstitutional political gerrymandering" and someone driving 75 miles from Lexington to Louisville would cross five of the state's six districts. The Kentucky Democratic Party is challenging the map in state court.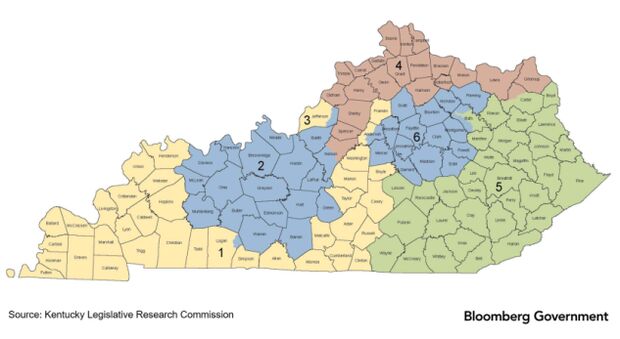 Republicans said their map was constitutional. They declined to dismantle the Democratic-leaning, Louisville-centered 3rd District of Rep. John Yarmuth (D), the Budget Committee Chair who isn't seeking re-election.
The west-central 2nd District of Rep. Brett Guthrie, the northern 4th District of Rep. Thomas Massie, and the eastern 5th District of Rep. Hal Rogers would continue to have strong Republican leanings.
The votes to override Beshear were 26–8 in the state Senate and 64-24 vote in the state House. It only takes a majority to override a Kentucky governor's veto.
(Subscribe to Ballots & Boundaries to follow how states revise political districts.)
To contact the reporter on this story: Greg Giroux in Washington at ggiroux@bgov.com
To contact the editors responsible for this story: Katherine Rizzo at krizzo@bgov.com; Tina May at tmay@bloomberglaw.com