'Just Off K Street' Lobbyist Sheds Instagram Alias and Day Job
Instagram star takes a break from lobbying
Previously anonymous poster to continue memes
Bloomberg Government subscribers get the stories like this first. Act now and gain unlimited access to everything you need to know. Learn more.
The lobbyist behind the popular Instagram account that memifies Washington's revolving door is exhausted and stepping away from the daily grind on Capitol Hill, but not before shedding her anonymity.
Katie McMichael, manager of government relations at Aurora Innovation, told Bloomberg Government she'll maintain her "Just Off K Street" Instagram presence, but she's taking a reprieve from government affairs to spend more time with her family after a chaotic few years in Washington.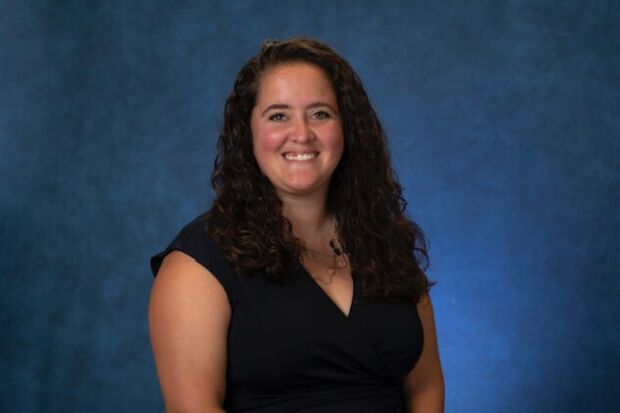 "We joke about being swamp monsters and how evil we are — and I post jokes about it all the time — but it's important to remember that it's easy to beat yourself up or get burnt out," McMichael said.
That chaos is apt to continue with Congress drawing lines over a debt limit standoff by summer — an issue that typifies McMichael's memification of Washington for a captivated Beltway audience of roughly 18,000 followers.
In a Jan. 21 post that borrows a clip from "It's Always Sunny in Philadelphia," the character Mac purposely crashes his car into a wall in a botched attempt to fake his own death. The caption: "Congress doing nothing about the debt ceiling and then acting surprised when it becomes a problem."
The post is one of nearly 1,500 that frequently lament the exhausting absurdity of Congress, told from the perspective of a bedraggled industry association lobbyist just trying to get through the day.
It turns out, the 34-year-old McMichael has been just as overwhelmed as the cats, cartoons, and "The Office" characters who occupy the page.
She started the account in late 2019 inspired by other parody accounts on Capitol Hill, such as the "Committee on Ways and Memes" and "The Congressional Scheduler." It gradually became one of the most-followed accounts in the genre, surprising McMichael, who said she didn't expect to garner a following beyond friends and family.
"I saw a lot of posts making fun of lobbyists and thought, 'I can make fun of myself much better than they can make fun of me,'" she said.
The breakneck pace of negotiations in Congress since the early days of the Covid-19 pandemic gave McMichael plenty of material. But it's also worn down plenty of lobbyists, some of whom have sent direct messages to the account commiserating, she said.
Lobbyist by Day, Memelord by Night
McMichael made a living the last few years by understanding the inner-workings of the government, especially on transportation and infrastructure policy. She's worked at Aurora Innovation — a self-driving vehicle company — since April 2022, following lobbying stints at American Trucking Associations, American Moving and Storage Association, and Aircraft Owners and Pilots Association.
By night, McMichael speaks the language of memes, sharing bite-sized bits of commentary on Washington that regularly garner hundreds of likes on Instagram. Majority staffers being relegated to the minority are depicted as a depressed-looking chihuahua wearing a wig. And a persistent lobbyist is compared to the viral "Let me tell you something!" guy.
It's been "a fun side hobby" to post memes over a glass of wine after work, McMichael said, adding she's never been interested in monetizing the page. In some cases, the account proved useful, like when she solicits responses from followers to questions facing lobbyists, getting tips on running small businesses, what skills to develop as a lobbyist, and how to transition out of the field.
Fans beware — she's also noticed when congressional staffers ignore her work emails but send her messages on Instagram, not realizing who's behind the account.
McMichael isn't interested in using the page to branch out beyond jokes. She's concerned by people's reliance on social media for news, a "growing problem" that makes it more difficult for Washington to focus on bipartisan points of agreement, she said.
That growing partisan divide — and the toll it takes on lobbyists — has exacerbated in recent years as Congress passes a limited number of huge bills, largely consisting of must-pass appropriations or defense authorization bills, and major reconciliation packages. Lately, lobbyists urging support for a popular bill can either get it attached to a major spending bill — a process embodied by progationist of "The Office" Michael Scott declaring, "I'm going to make this way harder than it needs to be" — or they can watch the measure fail.
"You either get it in approps or it's probably not happening," McMichael said.
She plans to do part-time nonprofit work while figuring out her next career steps, but will be happy to spend more time with her family. She'll keep the page running, so followers will see more posts — though they won't be tagged to congressional office buildings.
"How much longer do I want to be huddled in the Longworth cafeteria when I could be spending time with my son?" she said.
To contact the reporter on this story: Jack Fitzpatrick in Washington at jfitzpatrick@bgov.com
To contact the editors responsible for this story: Giuseppe Macri at gmacri@bgov.com; Angela Greiling Keane at agreilingkeane@bloombergindustry.com
Stay informed with more news like this – from the largest team of reporters on Capitol Hill – subscribe to Bloomberg Government today. Learn more.