Joe Biden's Big Night 'Exhilarates' Vulnerable House Democrats
House Democrats facing tough re-elections awoke Wednesday with renewed optimism after former Vice President Joe Biden surged ahead in the presidential primary.
Sen. Bernie Sanders (I-Vt.) still has a path to the nomination — only a third of delegates have been awarded, and critical states such as Michigan and Florida are voting later this month — but Biden's 10-state win Tuesday sparked confidence among the most endangered incumbent Democrats on Capitol Hill that the party standard-bearer will be more palatable to swing voters in their districts.
"Anybody in a competitive district is exhilarated by the huge win the vice president delivered last night," said Rep. Sean Patrick Maloney (D-N.Y.), who represents a district Trump won in 2016 and endorsed Biden in January.
Before voters in 14 states cast their ballots Tuesday, swing-district Democratic freshmen began distancing themselves from Sanders' progressive policies.
Many moderate Democrats are at odds with Sanders over his campaign's central platform, such as Medicaid-for-All and a fracking ban, and those facing competitive re-election races fretted after the first three nominating events gave the self-described democratic-socialist an early advantage.
"I was thrilled to see Biden's performance yesterday," said Rep. Mikie Sherrill (D-N.J.), who is on the Democratic Congressional Campaign Committee's list of the most vulnerable incumbents. Sherrill previously endorsed Sen. Cory Booker (D-N.J.), who dropped out of the race in January, and former New York City Mayor Michael Bloomberg.
Bloomberg, the majority owner of Bloomberg Government's parent company, also sought the Democratic presidential nomination. He endorsed Biden on Wednesday.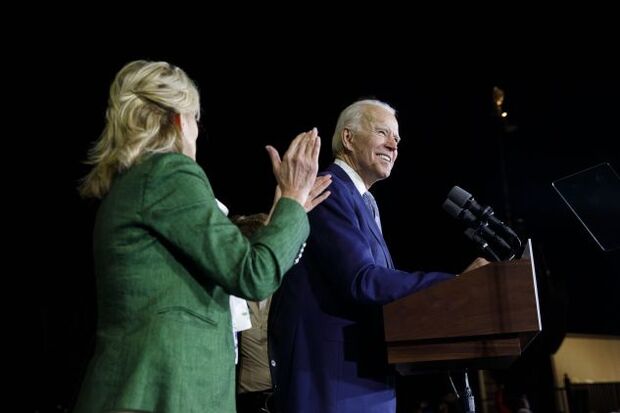 After a strong Tuesday for Biden and with the field now winnowed after a string of candidate exits, party insiders expect a rush of Democratic activists and leaders to come off the sidelines and back him, said John Lapp, a Democratic media consultant who has worked with House and Senate campaigns.
"It was a political omnivore's dilemma, where there were too many people, too many candidates," he said.
More than 60 lawmakers already support Biden, including four more who endorsed him Wednesday, according to a FiveThirtyEight tally.
Among them is Rep. Andy Kim, who like Sherrill is a New Jersey freshman in the DCCC's Frontline program. In a statement Wednesday, Kim called Biden "a true example of a public servant that earnestly fights for the people."
Narrowed Field
Several lawmakers who backed Bloomberg, who dropped out of the race Wednesday, said it was still too soon for them to make an endorsement, although many agreed it was good the field had been narrowed.
"It's time to start unifying behind the candidate who can present a vision to unify the country," said Rep. Ben McAdams (D-Utah), who backed Bloomberg. McAdams didn't say whom he would support. While Sanders won Utah on Tuesday, McAdams indicated he is much closer to Biden on policy.
"I want a president with whom I share more policy agreements and direction," he said. "And there's some pretty deep disagreements that I have with Bernie Sanders and the direction where he's at now."
Biden's rise won't halt moderate Democrats being linked to progressive policies by House Republicans' campaign arm, said Michael McAdams, a spokesman for the National Republican Congressional Committee.
"If you look at what's being talked about, Bernie Sanders' policies will be on the ballot whether he's on the ballot or not," McAdams said. He noted that a majority of House Democrats have signed on to legislation (H.R. 1384) supporting expanding Medicare to cover all Americans.
Democrats are skeptical the strategy will work with someone whose legislative record is as long and, compared with Sanders, as moderate as Biden's.
"The whole Republican socialist argument is kind of hysterical in nature," Lapp said. "They're obsessed with this game plan."
To contact the reporter on this story: Emily Wilkins in Washington at ewilkins@bgov.com
To contact the editors responsible for this story: Kyle Trygstad at ktrygstad@bgov.com; Bennett Roth at broth@bgov.com