Jan. 6 Revolt Compels Some Democrats to Reassess Bipartisan Ties
139 House Republicans opposed Biden's Electoral College votes
AOC leans toward opposing bills sponsored by those lawmakers
Bloomberg Government subscribers get the stories like this first. Act now and gain unlimited access to everything you need to know. Learn more.
One of the most routine and noncontroversial of all congressional votes — renaming a post office — became a point of partisan contention last week when a House Democrat briefly halted a usually unanimous move because the Republican sponsor voted against certifying the presidential election.
It was the latest display of the tension that's lingered in the Capitol since Jan. 6, when an insurrection by Donald Trump supporters was followed by 139 House Republicans supporting Trump's call to overturn the Electoral College result.
But while some in the party have vowed to stop working with those Republicans on legislation, moderate Democrats are reconciling their disgust, frustration, and disappointment with the need to work in a bipartisan manner — not only to get legislation passed, but also as part of a commitment they made to constituents in their swing districts.
Rep. Lou Correa (D-Calif.), who was in the House chamber when rioters attempted to break in and was harassed by Donald Trump supporters at a Washington-area airport several days later, said the false claims of widespread election fraud were a "major, major blow to our democracy."
"I take this stuff very personally," Correa said. "But at the same time, my bigger job is to represent my constituents and move ahead and defend this great country. That's why I will work with those individuals."
Several moderate Democrats who were interviewed said they aren't using the Electoral College vote as a litmus test. They're instead making case-by-case determinations on whether they will work with a Republican member.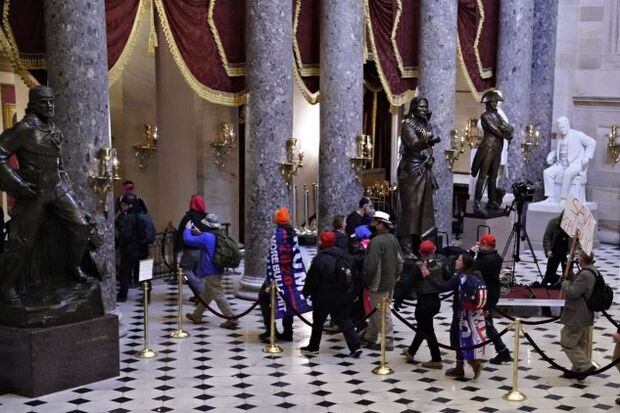 Rep. Chrissy Houlahan (D-Pa.) said she's deciding whether and how to work with colleagues she's "enormously disappointed in." She recognized some Republicans "took that vote because it was the politically expedient thing to do and not because they believed that this was the right thing to do."
"It's a real struggle," she said. "But I am very much committed to working bipartisanly."
Rep. Tom O'Halleran (D-Ariz.) agreed that some Republicans only voted against certifying the results because they "were put in a position that was untenable for them." But he draws the line at what he referred to as "ring leaders" of the movement.
"Until they have a sense of changing their direction, they're not going to be a choice of mine to go and sponsor a bill," he said.
Some lawmakers have already sponsored legislation with lawmakers who opposed certifying the results. Rep. Elaine Luria (D-Va.), chair of the Veterans' Affairs Subcommittee on Disability Assistance and Memorial Affairs, said cooperation was needed on larger issues.
"We've got to get stuff done," she said. "You can't pass the NDAA or get money to the VA without working together."
'Bridge Too Far'
The tentative willingness among some Democrats to work with the 139 Republicans contrasts with many of the progressives in their caucus. The usually ho-hum vote last week on renaming a post office (H.R. 208) became a referendum on how far Democrats would go to block those Republicans in the legislative process.
Rep. Sean Casten (D-Ill.) requested a roll call vote because the bill's sponsor, Rep. Trent Kelly(R-Miss.), voted against certifying the election. In a letter to fellow lawmakers, Casten said while working with members of the other party "is at the core of good public policy," that vote "was a bridge too far."
Although House Democratic leadership urged members to support naming the Tupelo post office after a Vietnam veteran and prisoner of war, 15 members voted against it. Among them were several members of the Progressive Caucus, including the chair, Pramila Jayapal (D-Wash.), and Rep. Alexandria Ocasio-Cortez (D-N.Y.)
"What do we do when a member of Congress doesn't even believe in the very veracity of the election that sent them here?" she said, adding that some members gathering signatures for various issue letters note they're not accepting them from those who opposed the result.
Ocasio-Cortez said she's leaning toward opposing all bills from those who voted against electoral vote certification, although she acknowledged it could be difficult for bills with a Democratic co-sponsor.
"What we really want to do is preserve that practice as much as is reasonable," she said.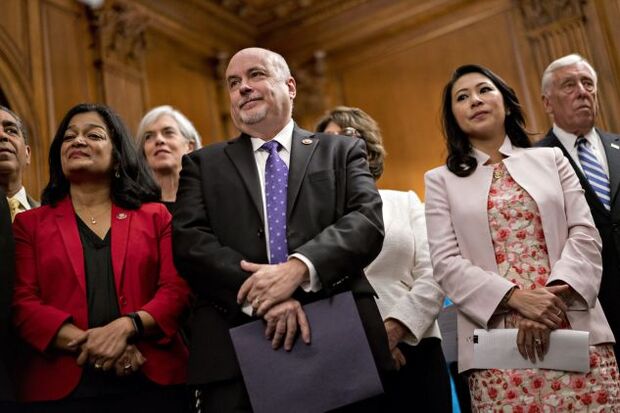 Getting Things Done
Rep. Stephanie Murphy (D-Fla.), chair of the moderate Blue Dog Coalition, said the group's paramount goal is to get legislation passed, even if that means going it alone without Republicans. But she acknowledged that if the ultimate goal is for a bill become law, in the evenly divided Senate it needs the support of at least 10 Republicans to overcome a filibuster.
Democrats are using a parliamentary procedure to ram through a coronavirus relief package, but that can't be used with all legislation, she noted.
"It's important this Congress to be pragmatic about how we get legislation across the finish line," she said.
Still, Murphy was hesitant to say whether she'd work with any of the Republicans who voted to overturn the election. On Jan. 6, she was trapped in a hallway in the Capitol's crypt where she could "hear the police officers getting crushed, getting gassed."
"I would be disingenuous if I did not acknowledge that I look at some of these members differently," she said.
Murphy is seeking other ways to work across the aisle. She called the 66 House Republicans who voted to certify the result "constructive partners that I'm looking forward for being able to work with."
Rep. Dean Phillips (D-Minn.) said he and other members of the Problem Solvers Caucus have held discussions on the Electoral College vote and response to the riot. He didn't rule out working with 139 Republicans, but said he asked his staff to intentionally seek out opportunities to work with the other 66.
"I'm spending more time identifying ways I can work with those who showed a lot of courage at a time when we needed it," he said.
To contact the reporter on this story: Emily Wilkins in Washington at ewilkins@bgov.com
To contact the editors responsible for this story: Kyle Trygstad at ktrygstad@bgov.com; Bennett Roth at broth@bgov.com
Stay informed with more news like this – from the largest team of reporters on Capitol Hill – subscribe to Bloomberg Government today. Learn more.