Is Cardin Next With Retire-or-Run Decision? Ballots & Boundaries
Bloomberg Government subscribers get the stories like this first. Act now and gain unlimited access to everything you need to know. Learn more.

Sen. Ben Cardin put himself on a loose timetable of February or March to decide whether to run for a third term. If the Maryland Democrat's sticking with that plan, an announcement could come any day.
Blue-stater Cardin may be under less pressure then, say, Sen. Joe Manchin (D-W.Va.), who at 75 is four years younger and his party's best hope of preventing a GOP flip.
"Joe Manchin is really the only one that I still see on the board that could be consequential, that would really change the shape of things, because if he does not run Democrats just don't have a bench there any longer in a state that used to be very reliably Democratic," Jessica Taylor, the Senate and governors editor for the Cook Political Report with Amy Walter, said in an interview.
Manchin's state backed Donald Trump by 39 percentage points in 2020, and there's a sky-high correlation between presidential and Senate election voting. Manchin has said he'll decide at the the end of the year. "We'll just have to see what the lay of the land is," he said.
Meanwhile, Politico reports that Gov. Jim Justice (R) "is dropping hints everywhere" about a potential run for that seat. — Greg Giroux

ALSO WORTH WATCHING: Sen. Kyrsten Sinema (Ariz.), 46, who became an independent last December but still aligns with Democrats, hasn't yet said if she'll seek re-election in 2024 against Democratic, Republican and possibly other opponents. (The Forward Party is trying to gather 50,000 signatures by the October deadline, per the Arizona Republic), and the No Labels Party already has standing.)
Once Wisconsin gets past its April 4 election, we'll be on alert for an announcement from Sen. Tammy Baldwin (D-Wis.), 61, who's likely to run. The watchlist also includes Sens. Tom Carper (D-Del.), 76; Bernie Sanders (I-Vt.), 81; and Bob Casey (D-Pa.), 62. Was it a clue or a diversion when Carper told us he's doing "what I need to so I can run for re-election and be successful"?
Casey, who has a history of winning more votes than other Democrats in his swing state, is on the mend from prostate cancer surgery. "I assume an incumbent is running until they say that they're not," Taylor said. "And someone like Casey has not really shown any indication that he would not run." — Greg Giroux and Zach C. Cohen
(Was this newsletter forwarded? It's free. SIGN UP for your own.)
Election '23
WISCONSIN: So Much Ad $$$
The return of an 1849 anti-abortion law has propelled so much interest in an open Wisconsin Supreme Court seat that there's been twice as much spent on advertising than in any judicial race in US history—and there's time to spend even more before the April 4 election.
So far, the grand total has topped $31 million — a record and maybe also a bargain.
"Senate races cost many tens of millions of dollars, the biggest ones cost 100s of millions of dollars," said Sam Wang of the Princeton Gerrymandering Project. Looking at the cost of influencing an important race in swing-state Wisconsin, he said, "what that means is that proportionally anybody's donation is going to mean more here than in a Senate race or other kinds of races." READ MORE — Alex Ebert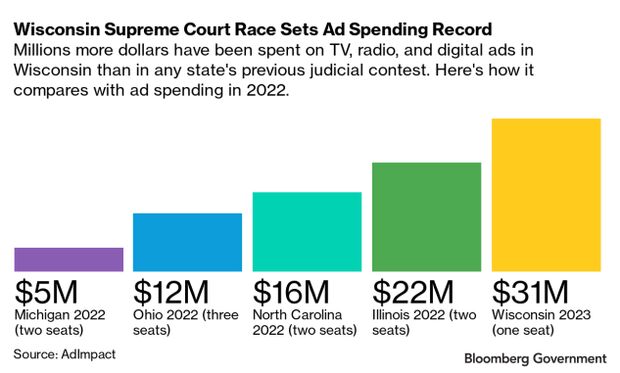 House '24
NRCC: Recruiting Focus
"Our plan is to go recruit strong candidates, just like we did the last two cycles, but then build really strong campaigns around them," Rep. Richard Hudson (N.C.), who heads the National Republican Congressional Committee, said in an interview. "You'll see the NRCC more involved in that, spending more resources on ground game, making sure we're turning out the vote."
READ MORE from this week's interview and check out our earlier conversation with Hudson's counterpart, Democratic Congressional Campaign Committee Chair Suzan DelBene (Wash.). — Emily Wilkins
CALIFORNIA: Rerun
A Democrat who lost twice to Rep. Ken Calvert (R-Calif.) is trying again. Tim Sheridan, a Lake Elsinore councilman in western Riverside County, will seek to unseat Calvert, whose most recent victory margin was 52%-48% after the 41st District was redrawn to be less Republican-leaning.
Digging behind the data: Calvert won a smaller share of the vote than the 2022 Republican nominees for governor and senator. — Greg Giroux
NEW YORK: Zeldin's Clout
Ex-Rep. Lee Zeldin, the 2022 Republican nominee for New York governor, is raising money for Rep. Mike Lawler, a giant-killer elected last year with Zeldin's top-of-the-ticket lift.
A fundraising e-mail from Zeldin's PAC Leadership America Needs said Lawler "is more than deserving" to receive one of the PAC's first endorsements because he unseated Democratic Congressional Campaign Committee Chair Sean Patrick Maloney. Zeldin carried the district by 3.4 points in 2022, helping Lawler edge Maloney by 0.6 points. It's a true swing seat that Joe Biden won by 10 percentage points in 2020. — Greg Giroux
RHODE ISLAND: Adoptive Americans
Three Democrats who want to succeed Rep. David Cicilline (D) were all born outside the US.
Lt. Gov. Sabina Matos, from the Dominican Republic, and state Sen. Sandra Cano, orginally from Colombia, have announced bids to seek the 1st District seat that Cicilline will vacate in June. State Rep. Nathan Biah, who was born in Liberia, filed paperwork with the FEC this week to prepare a bid.
Democrats Matos, Cano, and Biah will vie in what could be a huge primary—the key election in a Democratic-friendly district that includes Newport, Pawtucket, and part of Providence. Gov Dan McKee (D) will set the election schedule once Cicilline formally resigns June 1 to become head of the Rhode Island Foundation. — Greg Giroux
Running Elections
ON CAPITOL HILL: Pennsylvania
The House Administration Committee will focus next week on the 2022 election in Luzerne County, Pa. Tuesday's scheduled hearing will look at what happened at polling places that ran out of ballots early on Election Day. Punchbowl reported that the hearing probably won't include any Luzerne County officials because they're waiting for District Attorney Sam Sanguedolce to finish his probe.
SOUTH DAKOTA: No Drop Boxes
Ballot drop boxes have now been outlawed in South Dakota. Gov. Kristi Noem (R) signed 12 election bills into law, including the one on absentee boxes (H.B. 1165), a ban on ranked-choice voting (S.B. 55) and new voter residency requirements (S.B. 139). — Dakota News Now
MISSISSIPPI: Stick to Your Own Ballot
Mississippi will set tighter restrictions on who can gather other people's absentee ballots, under a law that's to take effect July 1. Gov. Tate Reeves (R) said the law will prevent "ballot harvesting," a pejorative term for dropping off completed ballots for other people. Family members and caregivers could still carry absentee ballots but others will risk up to a year in a county jail, a $3,000 fine or both. — Associated Press
ARIZONA: Case Continues
While declining to hear most of Republican Kari Lake's appeal as she challenges her defeat in last year's governor's race, the Arizona Supreme Court revived one of her claims. It focused on problems with ballot printers at some polling places in Maricopa County, home to more than 60% of the state's voters. That part was sent back to a trial court to consider. — AP
Ballot Questions
MISSISSIPPI: No Initiatives
Mississippi voters won't be regaining their ability to get proposals onto statewide ballots. The state Senate allowed a restoration measure to die without taking a vote. — Mississippi Today
OHIO: Raising the Bar
An interesting dynamic is playing out in Ohio's statehouse. As abortion-rights supporters collect signatures to try to get a question on the November ballot, some lawmakers want an August special election to consider requiring more votes to amend the constitution. — Columbus Dispatch (BGOV Subscribers can follow the legislation's progress HERE. )
Resources
Add Us to Your Inbox
SIGN UP for Ballots & Boundaries to keep up with congressional campaign trends, ballot initiatives, state voting laws, and redistricting.
(Editor's note: last week's newsletter referred to Wisconsin's April 4 as next week. It's next month.)
To contact the reporters on this story: Greg Giroux in Washington at ggiroux@bgov.com; Alex Ebert in Madison, Wisconsin at aebert@bloombergindustry.com; Emily Wilkins in Washington at ewilkins@bgov.com
To contact the editors responsible for this story: Katherine Rizzo at krizzo@bgov.com; Bennett Roth at broth@bgov.com
Stay informed with more news like this – from the largest team of reporters on Capitol Hill – subscribe to Bloomberg Government today. Learn more.