Iowa Initiative Could Prompt Gun Lawsuits: Ballots & Boundaries

Voters this fall are being asked to liberate gun-owners from restrictions in one state and to impose a firearms permit requirement in another state.
Though the US Supreme Court expanded the right to carry firearms back in June, the Iowa and Oregon ballot-issue campaigns have largely eluded the national political radar—perhaps because so many election-watchers shifted their focus following the overturning of Roe v Wade and the abortion initiative in Kansas.
"The Dobbs case and abortion completely crowded out what would have been the No. 1 issue, which was that the Supreme Court overturned a century-old law that a majority of states used to have—but all of that kind of got washed aside," said Susan Liebell, a political science professor at Saint Joseph's University in Philadelphia.
Iowa voters are being asked to add to the state Constitution the right to own and bear firearms. If approved, it also would mandate strict scrutiny of any gun restrictions. Just three states—Missouri, Louisiana, and Alabama—subject gun restrictions to extra examination, requiring the government to show any proposed regulation is narrowly tailored and necessary to meet a compelling state interest.
"We were trying to look into the future here a little bit when we were crafting the wording on this," Iowa Firearms Coalition Board Chair John McLaughlin said in a video promoting the initiative. "Let's say, five years or 10 years down the road if we have an unfriendly Supreme Court, the state can still go back to the strict scrutiny and say, hey, not here."
Iowa has a so-called "stand your ground" law and it ended eliminated concealed-carry permits and handgun background checks. Voter approval in November could open the door to challenges to other laws, such as one that bans gun possession for people convicted of misdemeanor domestic violence offenses.
"Would that law stand under this kind of strict scrutiny amendment that they are talking about? There's a very serious question there," Liebell said.
Oregon voters, meanwhile, will decide whether their state should require anyone purchasing a gun to obtain a permit, provide identification and fingerprints, and pass safety training and a criminal background check. The measure (Initiative 17) also would ban high-capacity magazines over 10 rounds.
Religious groups drove the effort to put the initiative on the November ballot. The National Rifle Association's Institute for Legislative Action opposes it and notes that similar magazine bans in California and New Jersey are being challenged in court.
(We'll get you up to speed on tax, minimum wage, abortion, cannabis, and other initiatives in upcoming editions of Ballots & Boundaries .)
ARIZONA: BALLOT MEASURES
Two citizen initiatives made it all the way through the process and will appear on Arizona ballots in November.
The proposed Voters' Right to Know Act would add new disclosure requirements for campaign media spending and the proposed Predatory Debt Collection Protection Act would cap medical debt interest rates and add to the assets protected from debt collectors.
The Arizona Supreme Court kept a third possible initiative off the ballot. Opponents successfully argued that a measure seeking to expand voting access wasn't backed by enough valid signatures. —Brenna Goth
Trend: Hand-Counting
KANSAS: REVOTE SUIT
The same Kansas activist who helped bankroll a partial recount of abortion initiative votes is suing to try to get a full hand-recount of primary election results "and a revote where necessary."
In his suit, Mark Gietzen contends there's an "undetected highly sophisticated vote-swapping virus" and it's to blame for a discrepancy described by a county clerk who told him the results transferred to a thumb drive were the opposite of those checked manually. "Until we have proven otherwise every election is suspicious until it's hand counted," he said in an interview.
Kansas Secretary of State Scott Schwab's response: "Mr. Gietzen's claims of a virus in Cherokee County are false, as is his claim that votes were flipped statewide."
"Our elections in Kansas are secure," his written statement said. "The winners and losers of the elections and constitutional amendment is indisputable." — Stephen Joyce
ARIZONA: HAND COUNT REJECTED
Arizona can keep using machines to count ballots after a federal judge dismissed a lawsuit by Republican candidates.
The plaintiffs, gubernatorial nominee Kari Lake and Secretary of State nominee Mark Finchem, didn't establish an injury concerning the use of voting machines and brought the suit too close to the midterm elections, the judge ruled. —Brenna Goth
NEVADA: REGULATORY HOW-TO
Nevada counties that want to count ballots entirely by hand in November will have to follow some new rules. The Secretary of State has approved regulations in response to local officials professing distrust in voting machines.
The new requirements detail how to prepare ballots and form tally teams, among other provisions. Voting access groups opposed the rules and said the state should ban hand counts over concerns that they will lead to delayed and inaccurate results. —Brenna Goth
Voting Law
MISSISSIPPI: JIM CROW
A provision of the Mississippi Constitution written in 1890 with the intention of stopping Black people from voting was upheld by the US Court of Appeals for the Fifth Circuit.
The law permanently disenfranchises people convicted of certain felonies that the White men who drafted the state's constitution said were more likely to be committed by Black people. "Any taint associated" with the law "has been cured" by changes made since 1950, dropping burglary from the list of felonies and adding murder and rape, the appeals court said.
Attorney Rob McDuff of the Mississippi Center for Justice says the advocates will take their case to the US Supreme Court. — Jennifer Kay
FLORIDA: FEDERAL APPEAL
The US Department of Justice says a federal appeals court should affirm a district court's ruling that three provisions of Florida's 2021 voting law violated the Voting Rights Act and the Constitution.
"To be sure, the court included an extensive discussion of Florida's history of discrimination, but it also carefully scrutinized the specific decisions of the Legislature that enacted SB 90, striking down only those provisions that targeted Black voters specifically, as opposed to Democrats generally," the DOJ said in an amicus brief filed with the US Court of Appeals for the 11th District.
The law remains in effect for the mid-term election cycle, pending the appeal. —Jennifer Kay
Razor's Edge Races
Another in a series spotlighting close congressional contests after redistricting changes.
Today: Kansas's 3rd District
Where Is It? East. Its population anchor is Johnson County, which includes some suburbs of Kansas City, Missouri.
Who Drew It? The Republican-controlled legislature enacted the map over Democratic Gov. Laura Kelly's veto.
2020 Presidential Vote: Joe Biden 51%, Donald Trump 47%
Demographics: 75% White, 10% Hispanic, 5% Black, 5% Asian
Cook Political Report Rating: Toss Up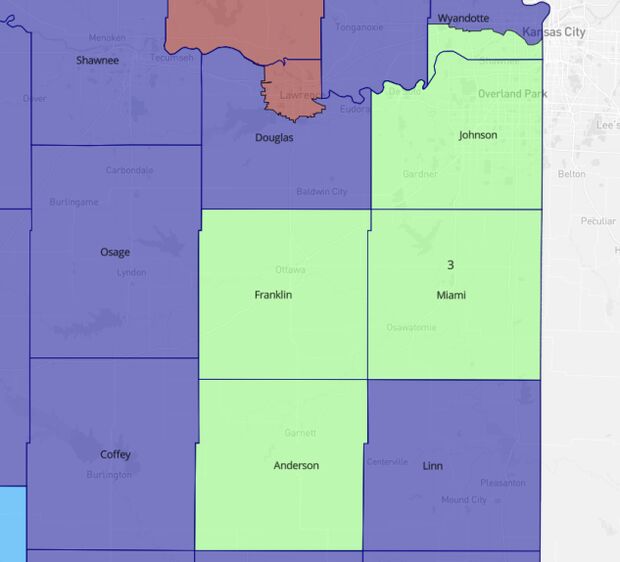 Nominees: Rep. Sharice Davids (D), Amanda Adkins (R)
What To Watch: Davids, who's seeking a third House term, and Adkins, who formerly headed the state Republican Party, are opponents for the second straight election. Republican cartographers aided Adkins by excising most of Wyandotte County, a heavily Democratic and minority-majority area in and around Kansas City, Kansas, and adding more rural and Republican-friendly precincts south of Johnson County. Even after redistricting, the 3rd is highly competitive: Biden's 2020 election margin shrank to 4.5 percentage points from 10.6 points in 2020, when Davids defeated Adkins by 10.1 points. The district on Aug. 2 resoundingly voted to preserve abortion rights in its state constitution, aligning with Davids's position and against Adkins's anti-abortion stance. A Davids TV ad tied Adkins to ex-Gov. Sam Brownback (R); an Adkins TV spot said Davids votes with Biden 100% of the time.
Next edition: Oregon's 5th District
Caught Our Eye
A CBS News poll projects that Republicans will gain a net of 12 US House seats. — CBS News
As the deadline nears for getting a Michigan abortion question on the ballot, attorneys say the potential impact on parental consent laws, late-term abortions and medical professionals who perform abortions is murky. — Bridge Michigan
Resources
Add Us to Your Inbox
SIGN UP for Ballots & Boundaries, your check-in on ballot initiatives, state voting laws, and redistricting.
To contact the reporters on this story: Jennifer Kay in Miami at jkay@bloomberglaw.com; Greg Giroux in Washington at ggiroux@bgov.com; Brenna Goth in Phoenix at bgoth@bloomberglaw.com; Stephen Joyce in Chicago at sjoyce@bloomberglaw.com
To contact the editor responsible for this story: Katherine Rizzo at krizzo@bgov.com