Democrat Drops Iowa Election Challenge After GOP Onslaught (1)
Miller-Meeks' 6-vote victory challenged by Democrat Rita Hart
House Republican leader Kevin McCarthy traveled to Iowa
(Update of first three paragraphs to note Hart dropping her challenge)
Democrat Rita Hartdropped her challenge of a close Iowa election Wednesday after Republicans escalated their complaints that a House investigation of the contest showed Democrats' inconsistency on election integrity.
"Despite our best efforts to have every vote counted, the reality is that the toxic campaign of political disinformation to attack this constitutional review of the closest congressional contest in 100 years has effectively silenced the voices of Iowans," Hart said in a statement.
Hart said she wished her opponent Rep. Mariannette Miller-Meeks (R-Iowa) well and thanked supporters but didn't specify her future plans beyond continuing to work "to make Iowa a better place for all."
GOP leaders had ramped up their criticism of the Committee on House Administration's decision to continue its probe of the election in Iowa's 2nd Congressional District, where Republican Miller-Meeks edged out Hart by six votes out of 400,000 cast. They argued Democrats were hypocritical for complaining about President Donald Trump's refusal to accept the outcome of the 2020 election while pursuing a challenge to a GOP House victory.
House Minority Leader Kevin McCarthy(R-Calif.) Wednesday highlighted the issue by appearing in Davenport, Iowa, with Miller-Meeks and Rep. Ashley Hinson (R-Iowa), who defeated one-term House Democrat Abby Finkenauer last year by just over 1% of the total vote.
The National Republican Congressional Committee, which had begun running radio ads on the issue, "will hold every vulnerable Democrat who supports this sham accountable," NRCC spokesman Mike Berg said in an email Tuesday. "Nancy Pelosi's hypocritical effort to overturn a certified election will doom her majority."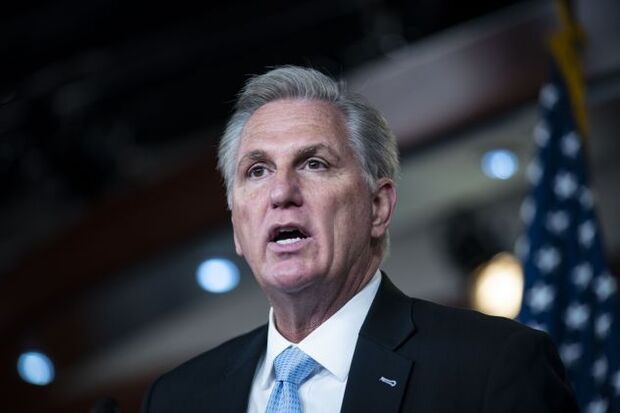 Keeping and winning competitive seats in Iowa and elsewhere will be key to House Republicans' effort to recapture the chamber. Republicans need a net gain of five seats to regain the majority.
"Thou shall not steal," said the NRCC's radio ad in Iowa that began running Monday. The ad targeted Rep. Cindy Axne, the only Democrat left in the state's congressional delegation.
The NRCC also targeted other Democrats seen as vulnerable by highlighting previous comments they made on Trump's efforts to overturn the presidential election. It's sent press releases to media outlets in these lawmakers' districts asking why they haven't spoken out about the Iowa election contest and noted that several vulnerable Democrats have expressed reservations about pursuing the contest.
Doing Its Duty
House Administration Committee Chair Zoe Lofgren (D-Calif.) insisted her panel was doing its duty under the Constitution to examine the Iowa contest, like scores of contested elections the House has considered before. "We are obligated under federal law to follow the process and the facts," she said in a statement last week.
The committee voted this month along party lines to refuse Miller-Meeks's bid to dismiss the contest, which was set to continue well into the summer or beyond, according to briefs filed by lawyers for both candidates this month
Hart had pointed to 22 specific, uncounted ballots she maintains would have made her the winner.
Four Senate Republicans also said companies who withheld support from lawmakers who objected to the certification of Joe Biden as president should also apply the same standards to any members who would vote to unseat Miller-Meeks.
The group, which included Minority Leader Mitch McConnell (Ky.) and Iowa senators Chuck Grassley and Joni Ernst, planned to send a letter to a number of companies, stating that they should weigh the Iowa election equally with Republican objections to counting presidential Electoral College votes when deciding which candidates to support and contribute to.
"There's no excuse why anyone who was outraged in January shouldn't be sounding the same alarms right now," McConnell said in a statement that explained the letter would be sent to companies that spoke out about certifying the presidential election.
Lofgren said the process used by Democrats in the Iowa contest was the same used to consider more than 100 contested congressional elections over the last 90 years. "Republicans know how this process works," she said.
Lofgren noted that she and McCarthy served on a task force to investigate the last substantive contested election before the House — a 2006 election in Florida resulting in a narrow victory by Rep. Vern Buchanan (R). That detailed probe, including examination of voting machines, produced an outcome the Republican leader said at the time should make the American public proud. "Why would he not wish for that same standard in Iowa's Second District?"  Lofgren asked.
READ MORE: Hart Withdraws Challenge of Her 6-vote Defeat in House Race
To contact the reporter on this story: Kenneth P. Doyle in Washington at kdoyle@bgov.com
To contact the editors responsible for this story: Bennett Roth at broth@bgov.com; Heather Rothman at hrothman@bgov.com