Involuntary Inmate Labor a 2022 Question : Ballots & Boundaries

Voters in five states will decide whether to toss out vestiges of America's slavery era.
In Alabama, citizens will decide whether to repeal constitutional language still allowing forms of slavery or involuntary servitude. The language was based on a loophole in the Thirteenth Amendment, which abolished slavery but still permitted involuntary servitude or forced labor as a criminal punishment.
A legislative Committee on the Recompilation of the Constitution identified language to be removed from three sections Alabama's 1901 constitution, including a prohibition on slavery "otherwise than for punishment of a crime, of which the party shall have been duly convicted." The committee noted initiatives to remove similar language in Colorado succeeded in 2018, and in Nebraska and Utah in 2020.
Tennessee voters will consider an amendment to remove such language this year.
"The exception to slavery as a form of punishment has not only contributed to the mass incarceration of Black and brown people, but how systems and society view these communities," Chris Melody Fields, executive director of the Ballot Initiative Strategy Center, said in a statement.
The amendments aiming to remove the exceptions from five state constitutions "build the pathway to new possibilities," she said.
A proposed constitutional amendment in Vermont would add a prohibition on "slavery and indentured servitude in any form" and remove language stating someone could be held as a servant, slave or apprentice "for the payment of debts, damages, fines, costs, or the like."
Oregon's Measure 112 would remove an exception for criminal servitude and add language authorizing a state court or probation or parole agency to order alternatives to incarceration as part of a post-conviction sentencing.
Louisiana voters will consider allowing an exception to remain. The question on the state's Nov. 8 ballot reads: "Do you support an amendment to prohibit the use of involuntary servitude except as it applies to the otherwise lawful administration of criminal justice?" — Jennifer Kay
Race and Redistricting
In today's oral arguments, new US Supreme Court Justice Ketanji Brown Jackson, the court's first Black female member, bristled at suggestions from a lawyer for Alabama that redistricting needed to be done in a race-neutral way. She argued that the framers of the post-Civil War amendments to the Constitution were focused on racial inequalities and understood they were authorizing Congress to address them.
Those framers "were in fact trying to ensure that people who had been discriminated against — the freedmen during the Reconstruction period — were actually brought equal to everyone else in the society," Jackson said. The Voting Rights Act, she said, "by its text is doing that same thing."
The case could give lawmakers more leeway to draw maps without considering the impact on racial minorities. It's likely to affect pending litigation over congressional maps in Texas, Louisiana and Georgia, as well as similar fights over state and local voting lines. READ MORE from Bloomberg's Greg Stohr
(Was this newsletter forwarded? It's free! GET YOUR OWN )
PENNSYLVANIA: CHALLENGE REJECTED
The US Supreme Court turned away a former congressman's challenge to a map charting Pennsylvania's districts in the U.S. House of Representatives.
Lawyers for Gov. Tom Wolf (D) had urged the justices to reject the petition, saying Republican Ryan Costello failed to raise his arguments at the state court level and lacked legal standing to pursue the case. — (Reuters)
Razor's Edge Races
The latest in our series spotlighting close congressional contests after redistricting changes.
Today: Ohio's 1st District
Where Is It? Southwest. The district takes in most of Hamilton County, including all of Cincinnati, and all of Warren County northeast of the city.
Who Drew It? Ohio Redistricting Commission
2020 Presidential Vote: Joe Biden 53%, Donald Trump 45%
Demographics: 65% White, 21% Black, 4% Asian, 4% Hispanic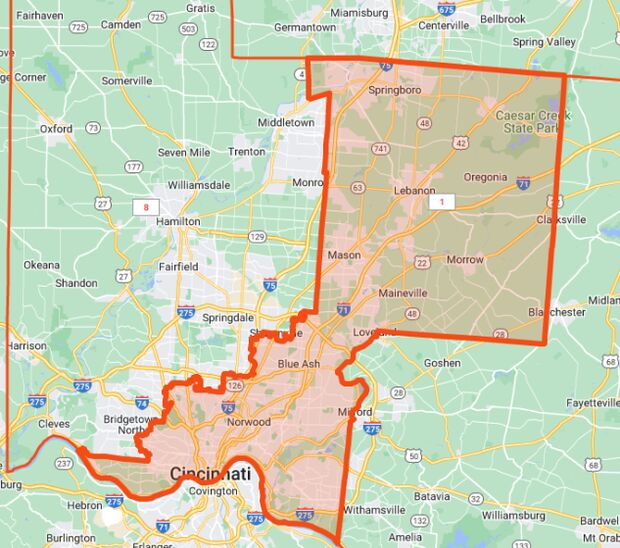 Cook Political Report Rating: Toss-Up
Nominees: Rep. Steve Chabot (R), Greg Landsman (D)
What to Watch: Chabot, who's been in the House for all but two years since 1995, became more politically vulnerable after the remap put all of Cincinnati in the 1st District. Chabot is now seeking re-election in a constituency Biden would have won by 8 percentage points, compared with Trump's 3-point win in the 2020 version of a district that re-elected Chabot by 7 points. Landsman, a Cincinnati councilman for almost five years, has attacked Chabot for his anti-abortion stance and for voting against certifying Pennsylvania's 2020 presidential election result favoring Biden. Chabot has promoted his work on the Paycheck Protection Program as the former top Republican on the Small Business Committee, and linked Landsman to Speaker Nancy Pelosi (D-Calif.). In the past few months, Chabot broke with most Republicans in voting for a gun safety package (Public Law 117-159) and for the CHIPS and Science Act that boosted semiconductor manufacturing (Public Law 117-167).
Next edition: Pennsylvania's 7th
Caught Our Eye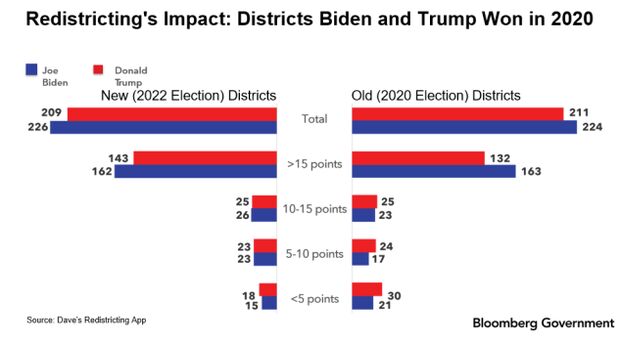 Resources
Add Us to Your Inbox
SIGN UP for Ballots & Boundaries, your check-in on ballot initiatives, state voting laws, and redistricting.