Infrastructure Drives Political Messaging for Recessed Lawmakers
Senators plan events to highlight local projects in measure
Republicans also pan big spending in budget blueprint
Sen. Mark Kelly had barely returned home this week from a marathon legislative session when he was out on the road touting the massive infrastructure package passed by the Senate.
The Arizona Democrat scheduled an event Thursday with Tucson Mayor Regina Romero at the maintenance yard for the transit agency's Sun Link street car to highlight goodies in the bill including funding for public transit, expanding the local interstate and money to modernize land ports of entry in southern Arizona.
The $1.2 trillion package still faces obstacles before it reaches the president's desk, but lawmakers are wasting no time trying to gain political mileage from the vast measure that includes everything from highway and mass transit funding to money for electric cars and expanded broadband.
Hammering home that message is particularly important for lawmakers such as Kelly, who faces re-election in 2022 in a highly competitive state and whose seat is vital to Democrats retaining the majority. Congressional leaders understand that they need to reinforce their messaging on infrastructure before it's crowded out by other issues, such as the spread of the coronavirus delta variant.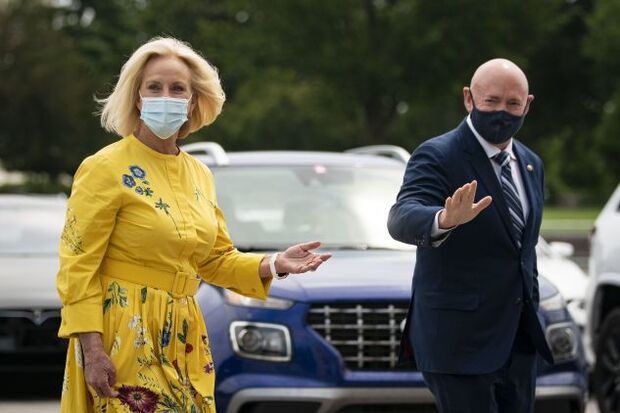 ( Sign up for Ballots & Boundaries, a weekly check-in as states change voting laws and revise political districts.)
Kelly is talking up his role in crafting the landmark bill (H.R. 3684) as he gets ready to hit the campaign trail again this month. The senator, who won a two-year term in a special election, is reminding voters he was part of the bipartisan group of negotiators on the infrastructure bill led by fellow Arizona Sen. Kyrsten Sinema(D) and Sen. Rob Portman (R-Ohio). He also stressed his support for the measure in his maiden floor speech this month as Cindy McCain, the wife of the late Sen. John McCain (R-Ariz.), looked on in the chamber.
Other senators are using the same playbook. Sen. Raphael Warnock 's (D-Ga.) office Thursday issued press release to plug a provision the senator secured to increase funding caps for a federal transportation grant program. Warnock, who is also up for re-election in 2022 after winning a special election last year, sponsored language to help create a new interstate connecting Georgia to Texas and provide better access to key military installations in the state.
Georgia stands to get "billions of dollars in funding to improve highways, bridges and public transportation," said Warnock, who was tapped by Majority Leader Chuck Schumer (D-N.Y.) to preside over the chamber when it passed the legislation with bipartisan support Wednesday.
Sen. Catherine Cortez Masto (D-Nev.), who is seeking a second term, emphasized the package's $8.3 billion for western water infrastructure and $3.4 billion in provisions she helped develop for wild fire prevention. Passage of the package came amid increased concern over declining water levels at Lake Mead, a threat to Nevada's annual water allocation.
"I worked to make sure that Nevada and the western states have the tools that they need to address the drought and wildfires caused by the extreme weather," Cortez Masto said on the Senate floor as she described several priorities she got into the bill.
'Connect the Dots'
The effectiveness of Democrats' messaging will help determine whether they retain the majority next year, said Wendy Schiller, a political science professor at Brown University.
"The key for Democrats is to connect the dots for voters on what that spending does for them individually," she said in an interview. "If they fail to do that, the GOP will do well next November."
Democrats aren't alone in making plans to talk up their wins as they return home. Many Republicans, including Minority Leader Mitch McConnell, also support the measure, which the chamber passed on a 69-30 vote. For McConnell, that means a slug of special funds to replace the crumbling Spence Bridge that connects his home state of Kentucky with Ohio.
Sen. Lisa Murkowski (R- Alaska), a Donald Trump critic who faces a primary opponent endorsed by the former president, has also seized on the bill as a political asset as she seeks a fourth term. One of the 10 core negotiators on the bill, Murkowski outlined on the floor how her work ensures the state billions of dollars for ports, ferries, bridges, and more. The senator said it guarantees the remote state at least $100 million for broadband development and that she helped insert separate energy legislation that will address cybersecurity of the electric grid.
On the other end of the spectrum, Ron Johnson (R-Wis.), one of the most vulnerable senators, told reporters he's more concerned about the budgetary effect of the Democrats' spending "spree" than infrastructure projects. Democrats promised to remind Wisconsin voters of Johnson's opposition.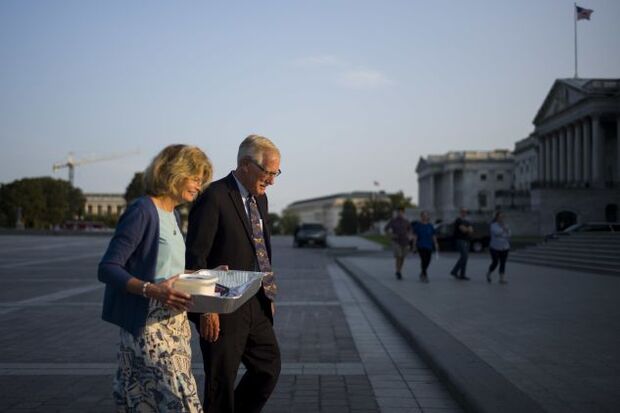 Republican Ammunition
The spirit of bipartisanship doesn't extend to Democrats' $3.5 trillion budget blueprint (S. Con. Res 14), including its outline for a tax cut for families, free community college, and paid family and medical leave. The resolution, which the Senate passed on a party-line vote, will be followed by committee action implementing the plans this fall.
Democrats said they plan to use the August recess to promote both the infrastructure and budget bills. Schumer this week circulated messaging materials developed with the White House and urged lawmakers to schedule media appearances and events to play up both bills while at home. "It is critical that we go on offense during the recess to explain to the American people how our budget will lower costs and cut taxes for American families," he said in a Dear Colleague to lawmakers.
Republicans intent on taking back the chamber in 2022 said they've now got the ammunition with the budget blueprint to argue Democrats' high spending will throw the economy into recession.
McConnell said Democrats may have gotten some GOP support for the infrastructure bill but won't get it for the "totally partisan reckless spending" called for in the budget plan. He said on the Senate floor that Republicans will make sure Democrats "own it."
Republicans are coordinating their messages with conservative groups such as Heritage Action, which is kicking off a Save Our Paychecks National Tour attacking Democrats' economic policies.
The party is emphasizing the message that Biden's $1.9 trillion pandemic rescue package (Public Law 117-2) drove up debt and threatened to increase inflation and send the economy into a free fall. "Democrats' spending is causing inflation, and look all around the country: Gas prices are up a buck, food prices are up, car prices are up, home prices are up," Sen. Rick Scott(R-Fla.), chairman of the National Republican Senatorial Committee, told reporters.
Legislation with high price tags is "less controversial" than it once was, said Frances Lee, a political science professor at Princeton University, in an interview. But she said the message on these infrastructure and budget bills — on either side — could risk being drowned out by the bleak news about the virus.
"News about the pandemic is national news that tends to drive out more local stories, and so there's just limited bandwidth for what people are able to follow," she said.
To contact the reporter on this story: Nancy Ognanovich in Washington at nognanov@bgov.com
To contact the editors responsible for this story: Bennett Roth at broth@bgov.com; Kyle Trygstad at ktrygstad@bloombergindustry.com