Infrastructure Deal Shirks Big Spending on Cut-Off Neighborhoods
Bill would offer $1 billion to reconnect neighborhoods
A missed opportunity to go big on equity, advocates say
Bloomberg Government subscribers get the stories like this first. Act now and gain unlimited access to everything you need to know. Learn more.
A new program to reconnect communities split by highways would get $1 billion in the Senate infrastructure bill, just 5% of what the Biden administration initially proposed, and well below the cost of major projects.
Advocates were disappointed with the cuts, especially given the administration's pledge to ensure equitable transportation policy. But some said the program's inclusion was a small step in the right direction if it is followed by more funding, and policies to address the way communities of color have been disproportionately harmed by infrastructure in decades past.
"Like so much in this bill, this is a glass a third full," said Bianca Oden, a senior congressional strategist at the Natural Resources Defense Council. "This is not even close to what we really need."
Federal highway construction has displaced more than 475,000 households, often communities of color, according to estimates from the Transportation Department.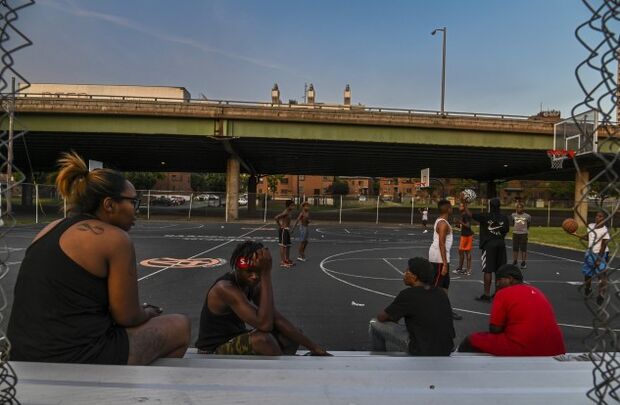 The bill's $1 billion falls short of the cost to tear down notorious highways, such as Interstate 81 in Syracuse, which would cost about $2.2 billion to dismantle, said Ben Crowther, program manager for the Highways to Boulevards initiative at Congress for the New Urbanism, a nonprofit that advocates for walkable neighborhoods.
"That gives you a sense of the scale," Crowther said. "The amount of money that's set aside isn't really sufficient for the task."
Despite the decrease in proposed funds, the Biden administration called the program a win. Transportation Secretary Pete Buttigieg touted it as "the first-ever dedicated program to reconnect communities divided by past transportation projects" last week, and the White House highlighted the program Tuesday in a release about equity in the bill.
"Part of coming to an agreement is compromise," White House Press Secretary Jen Psaki said Tuesday. "But we also believe that project funding for other projects that's a part of this package could be used to address the division of communities."
Senate Bid to Speed Infrastructure Runs Into Virus Hurdle
'Highway to Nowhere'
Earlier iterations of the program have been proposed in previous legislation. In April, Maryland's two senators and Sen. Tom Carper (D-Del.) introduced a bill (S. 1202) that would authorize $15 billion over five years to remove or retrofit highway overpasses. The Maryland senators pointed to their home state—where a planned highway uprooted homes and divided Baltimore—as an example of what this program could fund.
"For decades, the Highway to Nowhere has divided West Baltimore," Sen. Chris Van Hollen (D-Md.) said in a statement last week, referring to canceled Interstate 170. "To create opportunity and build stronger cities, we must right this wrong and remove harmful infrastructure that separates our communities."
Van Hollen will push to make sure the initial funds go to the Baltimore project while also working to boost future spending for the program through his role on the Appropriations Committee, a spokesperson said.
But the smaller program won't be able to fund all the studies and projects advocates say are needed.
The White House's $20 billion proposal "was almost like a glove that fit everything that we thought was going to be necessary to propel a project like this forward," said Keith Baker, executive director of the nonprofit ReConnect Rondo, which is advocating building a land bridge where Interstate 94 in Minnesota divided a Black neighborhood. He called the whittled-down number "a bit disappointing."
Aside from the money, Crowther said it was a "big red flag" that the Senate bill doesn't include anti-displacement protections to make sure people currently living by highways are able to remain and benefit from the highway's removal. Such protections were included in previous bills, such as S. 1202.
Effort to Fix Highways That Divided Neighbors Hits GOP Roadblock
Building More Highways
Advocates also criticized the infrastructure bill's billions of dollars in new funding for roads, bridges, and other major projects.
Crowther said there aren't substantial guardrails in place to prioritize repairing highways, over expanding or building new ones. "There is very much a real potential that this exacerbates the existing problem," he said.
Beth Osborne, director of advocacy group Transportation for America, said it doesn't make sense "to look at bridging or connecting across infrastructure or taking down infrastructure, when you're spending 550 times as much on projects that could create greater division."
Osborne said she looks for equity in the overall context of what the bill would fund, such as whether the legislation would significantly change outcomes for those who can't afford to drive.
"I don't see how this bill changes that calculation at all," Osborne said. "It's hard to point to where they will move the needle in improving equitable access to opportunity."
Male, White Transportation Staff Complicate Biden Equity Pledge
Two-Track Hurdles
The administration is pursuing a two-track path, with the bipartisan infrastructure bill and a separate $3.5 trillion wide-ranging package to be passed through budget reconciliation, with only a simple majority. Some advocates say Democrats could use the second set of legislation to include additional funding for the program to reconnect communities.
"We fought hard to get as much funding as possible towards reconnecting communities in the bipartisan infrastructure package," Carper, the sponsor of S. 1202, said. "We also need to seize the opportunity in the upcoming reconciliation bill to do more when it comes to investing in equity and advancing environmental justice."
Even if the Senate passes the infrastructure bill in the coming days, there are hurdles ahead in the House as some Democrats have said they will vote against the measure without a reconciliation package. Rep. Peter DeFazio (D-Ore.) is pushing for a conference to merge his surface transportation bill with the Senate one. The House-passed highway bill included a $3 billion program to reconnect communities divided by highways.
GOP lawmakers in the House are also preparing to oppose equity provisions in the infrastructure bill.
Rep. Jim Banks (R-Ind.), chairman of the Republican Study Committee, circulated a memo Aug. 2 that critiques how the bill uses the term equity 64 times, and tries to fix "'racism' in highways."
With assistance from Courtney Rozen
To contact the reporter on this story: Lillianna Byington in Washington at lbyington@bloombergindustry.com
To contact the editors responsible for this story: Sarah Babbage at sbabbage@bgov.com; Anna Yukhananov at ayukhananov@bloombergindustry.com
Stay informed with more news like this – from the largest team of reporters on Capitol Hill – subscribe to Bloomberg Government today. Learn more.