Infrastructure Bill a 'Necessity' Trump Says, Offers No Details
Infrastructure legislation is not just an option, it's a necessity, President Donald Trumpsaid Tuesday, without offering any details on how to pay for a public works package.
"Both parties should be able to unite for a great rebuilding of America's crumbling infrastructure," Trump said in his State of the Union speech at the U.S. Capitol.
"I know that Congress is eager to pass an infrastructure bill—and I am eager to work with you on legislation to deliver new and important infrastructure investment, including investments in the cutting edge industries of the future," Trump said.
But the president's call for unity was challenged by Democrats, who faulted the president for calling for an infrastructure plan without explaining how to finance it.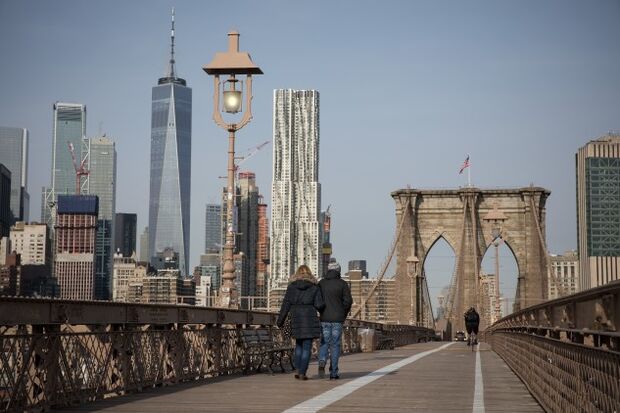 House Democrats have made an infrastructure package with federal pay-fors one of their top priorities this Congress, but it is the Republican-controlled Senate that needs to be swayed to support any user fee increases. Trump's backing is seen as the key to the Senate by House Transportation and Infrastructure Chairman Peter DeFazio (D-Ore.), the panel's ranking member Rep. Sam Graves (R-Mo.), and industry leaders.
"Any serious infrastructure proposal must provide sustainable, long-term Federal funding so we can make these necessary investments, create millions of living-wage American jobs, increase economic growth, and decrease congestion and emissions," DeFazio said in a statement immediately after Trump's speech.
"I will work to build bipartisan agreement around legislation, but I can't do it alone. This will require massive effort from the White House, stakeholders, and supporters in Congress to get something real across the finish line," he said.
Fuel Tax Eyed
An infrastructure package's chance of passing this Congress does not hang on whether the president talked about how to pay for investments in roads and bridges in the speech, several Republicans said.
"I would think if we could do anything major on a bipartisan basis this year, it would be infrastructure," Sen. Roy Blunt (R-Mo.) said in an interview before the speech. "What the president says in terms of how to do it probably won't matter as much as his willingness to be encouraging to get it done."
About the $1.5 trillion proposal last year, Graves said he doesn't believe Congress can reach that level of infrastructure funding. It's helpful that the president didn't put any figures on a bill this time, he said.
"You start putting dollar figures out there and it just makes it that much harder to achieve," Graves said.
The federal motor fuels tax is the primary revenue source for the Highway Trust Fund, which supports most federal spending on roads, bridges, and transit. Congress hasn't increased the gasoline or diesel tax since 1993 and the current revenue alone isn't sufficient to meet current funding needs.
Some Republicans are more inclined to support a switch to a mileage-based user fee, such as vehicle miles traveled, because drivers of electric vehicles don't pay the gas tax, but do use the roads. Many Democratic transportation leaders voice support for a vehicle miles traveled system, but say it would make sense to ease into it rather than abruptly shift away from the gas tax.
Industry Reacts
Transportation industry groups chimed in to support the vague call for infrastructure legislation, calling on Congress to do the work to fund a bill.
"With the Administration's support a transportation bill can be that rare opportunity to bring members of Congress together from both sides of the aisle," Jim Tymon, executive director American Association of State Highway and Transportation Officials, said in a statement.
To contact the reporter on this story: Shaun Courtney in Washington at scourtney@bgov.com
To contact the editors responsible for this story: Paul Hendrie at phendrie@bgov.com; Jonathan Nicholson at jnicholson@bgov.com