Infrastructure Bank Back in Play as Idea in Search of Its Time
Financing concept has been proposed for decades
Critics see bias toward new construction over maintenance
Bloomberg Government subscribers get the stories like this first. Act now and gain unlimited access to everything you need to know. Learn more.
Senate Democrats and Republicans trying to turn President Joe Biden's signature infrastructure plan into legislation are looking to a new bank to help pay for roads, bridges, and transit.
The idea, endorsed in a framework last week from a group of about 20 senators, has been floated for decades as an alternative to raising the gasoline tax or other infrastructure funding mechanisms. Democratic Sen. Mark Warner (Va.), who has been advocating for a $20 billion infrastructure bank, called it "a personal part of the package."
Proponents have argued that a federal infrastructure bank would allow more private funding to pay for the nation's transportation network. But demand for privately funded infrastructure in the U.S. has been limited beyond toll roads, and when there has been interest, some projects have been plagued by overoptimistic forecasts that burned investors. Critics also warn that politics could seep into the lending process.
Biden Sees Flaws in Latest Infrastructure Proposal: Advisers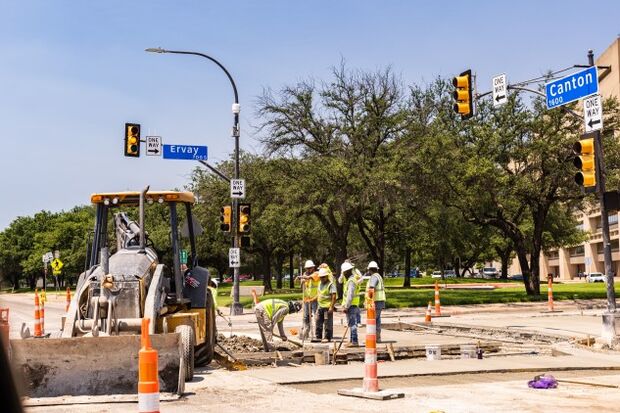 An infrastructure bank could be initially seeded with money from the federal government. The bank would lend to projects that would eventually pay the funds back plus interest — such as through revenue generated by bridge tolls or rider fees. The public lending could offer low-interest loans for significant portions of projects, making private investment in infrastructure more attractive, proponents say, and allowing plans to move forward without significantly increasing taxes or the deficit.
Warner, along with other senators including Republican Roy Blunt (Mo.), introduced legislation earlier this year (S.1499) on this issue.
"We are the only industrial country in the world that doesn't have this tool," Warner said in a virtual talk last week. "This kind of tool, in terms of leveraging private capital with a federal backstop, is smart policy."
Despite the concept's bipartisan backing in recent years, it hasn't gotten off the ground and not all analysts agree with Warner's smart policy characterization.
"As we shift decision making on infrastructure more to Washington rather than at the state, local level, I think, ultimately, you'll get decisions that are not as good," said Robert Krol, a professor of economics at California State University. "They'll be biased towards building over maintenance and projects that are not worthwhile will get built."
BGOV OnPoint: Lawmakers Advance Bills to Renew Highway Programs
Past Hurdles
Recent presidents — including Barack Obama and Donald Trump — floated the concept of an infrastructure bank without success.
More recently, as Democrats have turned to corporate tax increase proposals to pay for infrastructure, more Republicans have come on board for a national infrastructure bank. Sen. Rob Portman (R-Ohio) called it an "interesting" and "bipartisan" idea last week.
The White House didn't respond to a request for comment on whether Biden supports the concept.
But critics say there is already money available to borrow. Charles Marohn, president of advocacy group Strong Towns, warned the bank could become an "off books" granting agency. "It's not their capacity to get money, it's their capacity to pay it back," Marohn said.
The idea also has critics in Congress. Sen. Bernie Sanders (I-Vt.) said on NBC's "Meet the Press" Sunday that he wouldn't support the "privatization of infrastructure."
The private sector has also been hesitant to spend on large infrastructure projects for the risk associated with them, as projects can face delays and changes in costs. A proposed passenger train from Southern California to Las Vegas recently failed to attract enough investors for a bond sale even after it was downsized.
A Global Infrastructure Hub report last year found that worldwide private investment in infrastructure has steadily declined over the last decade.
Bad Bridges Stoke Safety Fears as Infrastructure Talks Flounder
Other Efforts
Congress in 1995 established a state infrastructure bank pilot program, allowing states to offer a range of loans and credit assistance to public and private sponsors, according to the Federal Highway Administration. The use is "not widespread" today, according to Joseph Kile, director of microeconomic analysis at the Congressional Budget Office.
Of the 33 states that have state infrastructure banks, only about a dozen have actively used them, Kile said in May testimony. The banks don't receive designated federal grants but states can use some federal formula funding for them, according to CBO.
From 2007 to 2016, average yearly financing for highway infrastructure from state banks was $200 million, or about 1% of the amount of new financing by states and localities that the federal government subsidized, according to CBO. Krol said the government could give more money to state-level banks, but creating a national bank would be "redundant."
"I really don't see a lot of value in it," Krol said.
Some proponents, like Alphecca Muttardy, a macroeconomist with the Coalition for a National Infrastructure Bank, want to see a massive $5 trillion bank that would lend only to infrastructure projects and would be large enough to cover the entire infrastructure financing gap in the federal budget. The coalition supports a House bill (H.R. 3339) that would create a national infrastructure bank, which was introduced by Rep. Danny Davis (D-Ill.).
"You have to have it big enough to cover everything," she said. "By having it big enough to cover everything, then all of these hinterland areas would be able to get their fair share of the financing. Right now, the pie is too small."
To contact the reporter on this story: Lillianna Byington in Washington at lbyington@bloombergindustry.com
To contact the editors responsible for this story: Sarah Babbage at sbabbage@bgov.com; Bernie Kohn at bkohn@bloomberglaw.com
Stay informed with more news like this – from the largest team of reporters on Capitol Hill – subscribe to Bloomberg Government today. Learn more.