Inflation Strains Value of Biden's Signature Infrastructure Law
States face higher building costs than first anticipated
Pricey materials, labor shortage, supply chain hurt projects
Bloomberg Government subscribers get the stories like this first. Act now and gain unlimited access to everything you need to know. Learn more.
The government can buy fewer roads, bridges, and tunnels today than it could seven months ago when President Joe Biden signed the $1 trillion infrastructure law.
Historic inflation and labor shortages now threaten to hamstring one of the administration's signature successes, which lawmakers were hoping to tout in reelection campaigns.
States across the country are seeing project bids come in as much as 30% above their original expectations, as contractors complain about supply problems, spiking material costs, and a dearth of workers. The law (Public Law 117-58) sends billions to be spent on surface transportation each year over the next five years, limiting the ability of officials to wait out the worst of the economic tumult.
"In all likelihood, the number of projects that we're going to put out this calendar year will be reduced," Mike Keiser, acting deputy secretary for highway administration at the Pennsylvania Department of Transportation, said.
Biden officials have acknowledged the strain on projects, but are banking on the legislation's multiyear funding, hoping inflation will tamp down while projects still move forward. The pressures have already led to some changes at the federal level, including delayed Buy America requirements, a push to build up the workforce, and benchmarking to ensure that high bids are a result of cost pressures and not profit-taking.
Democrats' Infrastructure Message Clouded by Inflation Worries
"As long as there is a financial crunch on supply stuff and on inflation stuff, it's going to affect everything that we're doing in the $1.2 trillion at some point in time," White House infrastructure czar Mitch Landrieu said in an interview with Bloomberg reporters and editors. "Over the long haul, we think that will ease itself."
Construction input prices jumped 21% from a year ago, according to an analysis by the Associated Builders and Contractors of US Bureau of Labor Statistics producer price index data released last week. Iron and steel prices are up 103% from 2020, while concrete is up 17% from two years ago.
"It's a very awkward moment in American economic history in which to invest in infrastructure, because input prices are so high and because there are not enough skilled construction workers," ABC Chief Economist Anirban Basu said. "When the inflation genie is let out of the bottle, it is very difficult to put back into the bottle."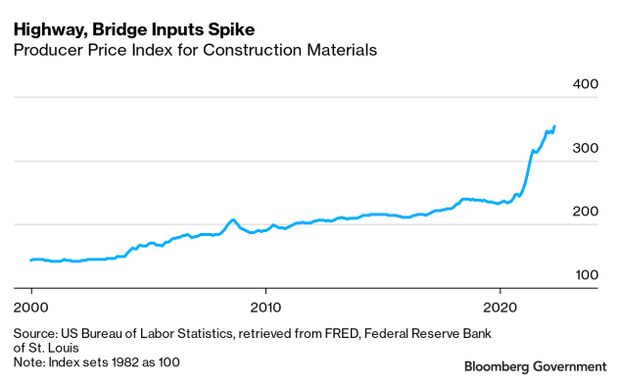 'Perfect Storm'
Road and bridge projects and budgets are often mapped out in advance, with departments drawing up cost estimates ahead of bids. With increased costs across the board, state transportation departments are seeing bids come in for projects 10% to 30% higher than they planned.
Brad Wieferich, chief operations officer at Michigan Department of Transportation, called it a "perfect storm." He said they are weathering the impact of Covid-19, its effect on labor, and the struggle to get materials. Contractors have to factor in a lot more risk into their bids with the lack of certainty on materials and procurement, he said.
"Our bridges seem to be taking more of the brunt of it right now," Wieferich said, with bids closer to 30% greater than estimates, and 10% on other projects.
Contractors are raising their bid prices to match with the double-digit increases in costs for materials, an analysis from the Associated General Contractors of America released last week found.
Pennsylvania's Keiser, who is seeing 15% higher bids than estimates set last year, said energy is also driving up the cost of heavy construction. The national average price for a gallon hit records this month for regular unleaded gas at $5.01, and diesel at $5.81 a gallon, according to AAA.
"Think about what impact that has on pickup trucks and dump trucks and dozers and everything else if we're building new road or repairing," Sen. Shelley Moore Capito (R-W.Va.), top Republican on the Senate committee that oversees highways, said of gas prices. "You're not going to be able to do as much."
Some estimates are rising significantly: a transit project to expand rail in Austin, Texas saw costs almost double to $10.3 billion in a recent estimate, according to a memo from David Couch, the program officer for Project Connect, the city's transit system expansion. The increase, attributed to several factors including inflation, was revealed shortly after Transportation Secretary Pete Buttigieg came to the city and lauded the project.
The Biden administration is also working with states to prevent fraud and abuse. "There are some instances where bids would expect to come in 20 or 30% higher, come in 200% higher, and that's not a function of inflation or cost pressures," Ryan Berni, a senior adviser on infrastructure implementation, said.
Buying Time
Duane Milligan, director of the construction division at the Texas Department of Transportation, advised engineers and district directors to consider substituting materials and delaying projects if there is difficulty getting materials, according to an April memo obtained by Bloomberg Government.
"Due to recent circumstances affected by world events, there has been significant volatility in the market for various construction materials," Milligan wrote. "We have also seen significant increases (over 100% in some cases) in some material prices."
ABC's Basu has also suggested policymakers put some projects on hold in hopes of receiving lower bids in the future. But for some, it isn't the optimal time to wait.
"Elected officials love to cut ribbon," Basu said. "In much of America we are facing elections, and so as a result of that, many elected officials don't want to delay these public construction projects."
"One benefit we have going for us is that this is a long term vision that includes projects to begin construction almost right away, and things that are further in the out years," Buttigieg said.
Kari Karst, president of BX Civil & Construction, said contractors like her are seeing increased lead times for materials and having a hard time finding workers — creating a "devastating" situation for many construction companies. She told lawmakers that flexibility and removing regulatory hurdles, such as streamlining environmental and permitting review, could help as they deal with the mounting issues.
Capito also said the federal government could do more to smooth permitting under an expedited process enacted as part of the infrastructure law.
The current conditions have forced change already. The Transportation Department recently decided to stall a requirement that construction materials bought with federal dollars from the infrastructure law be made in the US after companies raised concerns about prices and sourcing.
Associated General Contractors of America CEO Stephen Sandherr said then that it made "no sense to place unrealistic limitations on firms' ability to source key materials at a time when prices for those products are skyrocketing and supplies are limited."
The initial pause on so-called Buy America requirements was for 180 days, but industry is already calling for a longer delay.
'Buy America' Rule Delayed as Construction Industry Cites Costs
Beyond delaying projects, scrutinizing bids, and relaxing regulations, lawmakers say it's important to make sure every dollar from the $1 trillion law is spent wisely.
Rep. Sam Graves (Mo.) called work by the House panel that oversees transportation, where he's the top Republican, "more critical than ever" as the infrastructure dollars go out.
"A massive amount of money is going to be spent in the coming years with record levels of inflation, ongoing supply chain delays, and other issues – those infrastructure dollars simply aren't going to be able to go as far as they would have before this crisis," Graves said.
To contact the reporter on this story: Lillianna Byington in Washington at lbyington@bloombergindustry.com
To contact the editors responsible for this story: Sarah Babbage at sbabbage@bgov.com; Gregory Henderson at ghenderson@bloombergindustry.com; Robin Meszoly at rmeszoly@bgov.com
Stay informed with more news like this – from the largest team of reporters on Capitol Hill – subscribe to Bloomberg Government today. Learn more.