Industries Fight for More Relief in New Bill, Tweaks to Last One
Bloomberg Government subscribers get the stories like this first. Act now and gain unlimited access to everything you need to know. Learn more.
Lobbyists are waging battle for clients on multiple fronts, juggling a need to push for technical fixes to the recent $2.2 trillion coronavirus relief law while also advocating for future help.
"In general, I think people are trying to do the Texas two-step," said Stewart Verdery, founder of Monument Advocacy.
"You're trying to work the existing bill and maximize your chances for success," he said. "At the same time, you're going back to the Hill, saying that either the rules aren't set up exactly the way up we want them, or there's not enough to go around, or my industry has been particularly hard hit and we deserve some special consideration."
Congress has already passed three phases of economic stimulus and health care-related relief, with the latest installment (Public Law 116-136) establishing monetary assistance to individuals and states, public health funding, and new loan and grant programs.
Conversations among policy influencers began almost immediately after President Donald Trump signed the legislation on what would be needed next, particularly for highly impacted industries such as travel, hospitality and health care. Speaker Nancy Pelosi (D-Calif.) told House Democrats on a call Monday that the next round would cost at least $1 trillion and be focused on replenishing the prior stimulus. Meanwhile, the relief measures most recently enacted have already encountered speed bumps.
"We're really working hard to engage the Treasury, the Small Business Association, the White House and others to make sure we get the regs right," Tori Barnes, the top lobbyist at the US Travel Association, said in a telephone interview, referring to new loan regulations. "Some of that will influence where our priorities are for phase four."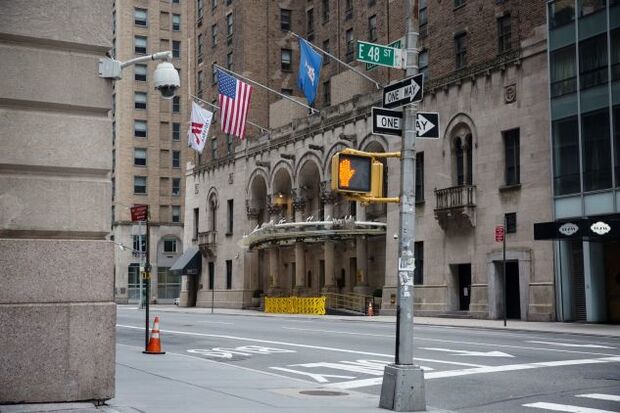 Top Priorities
Barnes, who speaks regularly with members of Congress and the White House, said expanding access to the Small Business Administration's Paycheck Protection Program set up by the most recent law, is one of the group's top priorities. The loan program is intended to help employers, generally with less than 500 employees, keep their workers on the payroll. Convention and visitor bureaus or destination marketing organizations, which are classified as 501(c)6s, are not covered by the program.
Lobbyists and executives at many industry groups said the application requirements for the $349 billion program, which were released April 2, are either too restrictive, too confusing, unclear, or conflict with definitions set up by other federal programs. They also said it's not going to be enough.
In addition to the travel industry, others — including casinos, construction companies, and venture capital and private equity firms — have complained they aren't being included in the loan programs.
Read More: Top Chefs Seek More Federal Relief for 'Mom and Pop' Restaurants
The National Venture Capital Association and more than 100 supporting groups wrote to administration officials to express concern that startups or small businesses with equity investors would be "forced to potentially count employees from unrelated companies as their own employees – pushing startups over the 500-employee threshold that is used to determine eligibility for the loan program."
The Associated General Contractors of America is also working with the administration on issues in the loan program and advocating for fixes in subsequent legislation, saying that the new guidance is unclear and appears to undermine what Congress intended.
For example, the new SBA rule sets forth guidelines for calculating the 500 employees differently than a new paid leave requirement enacted in an earlier relief bill, said Jimmy Christianson, the group's vice president of government relations.
"It's not apples to apples and it's making a lot of people confused. And add on top of that, you seem to have a disagreement between Treasury and SBA as to what Congress intended in the CARES Act in terms of eligibility is really adding a fuel to the fire of confusion that we're already seeing with the lenders," said Christianson, adding that they'll be seeking more money in the program, which is "first come, first served."
Casinos, meanwhile, are excluded from participating in the program entirely.
Bill Miller, who leads the American Gaming Association, said in a statement that the SBA relied on "antiquated, discriminatory regulations that ignore today's economic reality and the congressional intent behind the CARES Act" when modeling the loan program.
"Unless amended, these initial guidelines will irreparably harm one-third of the U.S. casino industry and the hundreds of thousands of Americans that rely on gaming businesses for their livelihood," he said.
The SBA did not respond to an email requesting comment about concerns with the program.
'You Have a Virus Issue'
Pelosi said in a letter to House lawmakers over the weekend that she hopes to bring the phase four stimulus for a vote "later this month." Lobbyists attempting to influence what comes next said they are dealing with a moving target.
"We have folks getting dozens of calls a day, just running from one thing to another," said Kevin O'Neill, the chair of Arnold & Porter's legislative practice. "Everything is about the virus. It's not that you have a tax issue or you have a health care issue — you have a virus issue. And there are policy areas or issues related to it, but it all boils down to the pandemic response."
Read More:Left-Behind Industries Clamor for Billions in Next Stimulus Bill
Pelosi's remarks Monday that the next phase will double down on the previous one is an indication that industries who'd hoped for help in other areas — such as actions on trade, including temporarily suspending tariffs — could come up empty in the near term.
"So far in the first three bills, there are some people who didn't get help, but didn't get told, 'No, we won't help you ever,'" O'Neill said. "They're heading closer to a date in time where if you decide not to help someone in bill four, you may be making a triage decision about their future."
To contact the reporter on this story: Megan R. Wilson in Washington at mwilson@bgov.com
To contact the editors responsible for this story: Kyle Trygstad at ktrygstad@bgov.com; Heather Rothman at hrothman@bgov.com
Stay informed with more news like this – from the largest team of reporters on Capitol Hill – subscribe to Bloomberg Government today. Learn more.