Incumbent Heartburn Follows Redistricting: Ballots & Boundaries

Maryland Democrats are close to enacting a congressional map that targets the state's lone House Republican but doesn't ensure his defeat.
Rep. Andy Harris(R) would have to introduce himself to potential constituents on the other side of Chesapeake Bay because Democratic precincts in Anne Arundel County would become part of the Eastern Shore-focused 1st District.
Watch for Gov. Larry Hogan (R) to veto the changes that he described on Twitter as "an insult to Marylanders and an affront to our democracy." The 97–42 vote in the House and 32–15 vote in the Senate to pass the map shows that majority Democrats ought to easily muster the three-fifths majority to override.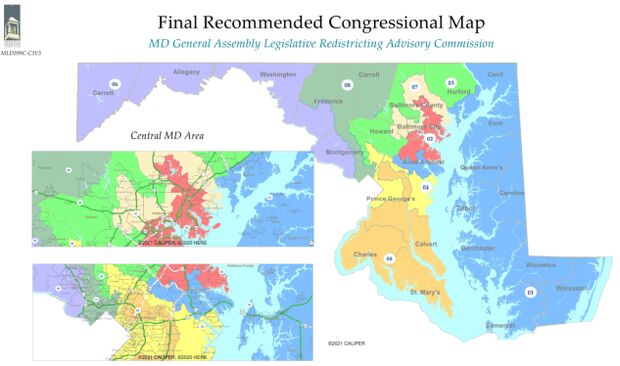 Democrats resisted a more aggressive gerrymander that could have made Harris' 1st District clearly Democratic-leaning. On the new map, President Joe Biden carried the 1st by 49%–48%, while his vote share in the seven Democratic-held districts range from 58% in the 2nd District of Dutch Ruppersberger to 83% in the 4th District of Anthony Brown.
Democrats rejected an alternative map drawn by an independent commission Hogan created. The governor's preferred map would have given Republicans the edge in two of Maryland's eight districts. — Greg Giroux
(Was this newsletter forwarded to you? Get your own. It's free. SUBSCRIBE )
VIRGINIA: STRANDING SPANBERGER
A draft congressional map in Virginia would give Democrats an edge in six of the 11 districts while drawing an incumbent out of her district.
"In a very good Republican year, Republicans could win a majority of the seats in Virginia's delegation. Generally, however, we would expect to see a 6–5 Democratic edge in Virginia's delegation," Bernard Grofman and Sean Trende wrote in a memorandum to the Virginia Supreme Court, which assumed responsibility for redistricting after a new commission failed to agree on a map.
The swingiest district would be the 2nd District in Virginia Beach and other territory in southeastern Virginia now represented by two-term Democrat Elaine Luria. The northern Virginia-based 10th District of Rep. Jennifer Wexton (D) would become less strongly Democratic but would still favor her re-election.
Rep. Abigail Spanberger (D) would be drawn out of her politically competitive area near Richmond. Her easiest-to-win option may end up being the Democratic-friendly 7th District closer to Washington. (Members of Congress aren't required to live in their districts, though almost all of them do.) — Greg Giroux
NEVADA: NEWLY VULNERABLE
After redistricting made the district of Rep. Dina Titus more competitive, the Democratic Congressional Campaign Committee decided the race needs to be on the radar of national donors. Titus is now on the DCCC's list of "Frontline" members in need of added assistance in 2022.
Fellow Democrats who controlled redistricting revised Titus' 1st District to shore up the more politically vulnerable Reps. Susie Lee and Steven Horsford in other Las Vegas-area districts. They, too, are on the Frontline list and could face close races in 2022. — Greg Giroux
PENNSYLVANIA: 'CITIZEN MAP'
Majority Republicans in the Pennsylvania House are singing an unconventional tune.
Their preliminary plan to redraw the state's congressional districts was submitted through a public online portal by Amanda Holt, a redistricting advocate and piano teacher who successfully sued to overturn state legislative maps in 2011, according to The Philadelphia Inquirer.
Holt's map was drawn without political influence, complied with constitutionally mandated criteria, and matched priorities raised by residents during public hearings, Rep. Seth Grove (R), chairman of the House State Government Committee, said in a statement. His committee will vote Monday on the map. — Jennifer Kay
NORTH CAROLINA: PRIMARIES DELAYED
North Carolina's 2022 primaries are delayed for two months while courts consider legal challenges to new congressional and state legislative district maps.
Groups including the North Carolina NAACP and Common Cause are arguing that the new maps are unconstitutional gerrymanders. The GOP-majority state legislature drew a congressional map that's likely to increase the party's advantage as the state gains a 14th U.S. House seat.
The state Supreme Court ordered the primaries pushed back to May 17 (from March 8) and ordered trial courts to reach an initial ruling by Jan. 11, allowing time for appeals afterward. — Chris Marr
MICHIGAN: SECRECY GOES TO COURT
When Michiganders voted in 2018 to create an independent redistricting commission the petition organizers promised transparency in contrast to the "smoked-filled rooms" where the legislature drew lines.
Turns out commissions can be smoky, too.
Several media outlets are suing. They want the Michigan Supreme Court to force disclosure of Voting Rights Act memos discussed with attorneys in a closed session. The commission members claim they have attorney-client privilege. — Alex Ebert
OHIO: AKRON CONGRESSWOMAN?
One Ohio Democrat may have found a reason to like the GOP-drawn congressional map giving Republicans a bigger edge.
State House Minority Leader Emelia Sykes (D) is stepping down from leadership at the end of 2021, feeding speculation that she'll try to head for Washington in the new 13th District that includes her hometown of Akron. Sykes so far has said only that she's not leaving politics.
The map's being challenged in both federal court and the Ohio Supreme Court, as opponents try to show it violates state gerrymandering rules and discriminates against Black voters. — Alex Ebert
BGOV Webinar
Stay in the know or get caught up as Bloomberg Government walks through what has happened with congressional district line-drawing and what's left to do. Special guest: Wendy Underhill, National Conference of State Legislatures director for elections and redistricting. Sign up HERE for Tuesday's webinar.
Tally: 19 States Finished
Alabama | Arkansas | Colorado | Idaho | Illinois | Indiana | Iowa | Maine | Massachusetts | Montana | Nebraska | Nevada | North Carolina | Ohio | Oklahoma | Oregon | Texas | Utah | West Virginia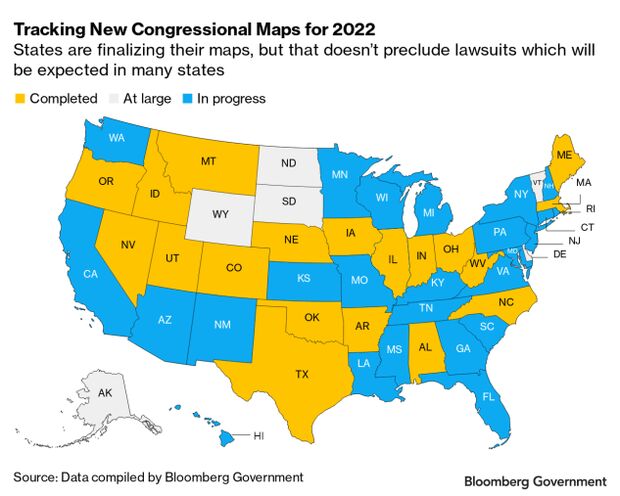 Caught Our Eye
Resources
Add Us to Your Inbox
Click HERE to sign up for Ballots & Boundaries, your check-in on redistricting and state voting laws.
With assistance from Kimberly Wayne
To contact the reporters on this story: Alex Ebert in Columbus, Ohio at aebert@bloomberglaw.com; Greg Giroux in Washington at ggiroux@bgov.com; Jennifer Kay in Miami at jkay@bloomberglaw.com; Chris Marr in Atlanta at cmarr@bloomberglaw.com
To contact the editors responsible for this story: Tina May at tmay@bloomberglaw.com; Katherine Rizzo at krizzo@bgov.com