Incumbent Defeats Heighten Concerns for Embattled Blue Dogs
Schrader lost primary to progressive challenger McLeod-Skinner
Blue Dog members faced tough primaries elsewhere
The loss of a pair of centrist Democrats in recent primaries is raising concerns among fellow fiscal conservatives about their role in the caucus and the party's ability to compete politically if it continues to move left.
Rep. Kurt Schrader in Oregon and Rep. Carolyn Bourdeaux in Georgia lost by significant margins over the past week to opponents backed by progressive organizations, in what's the latest sign of trouble for the Blue Dog Coalition.
With more potential primary losses, some retiring, and some drawn into tougher districts, the group that considers its members critical to Democrats holding a House majority is at risk of losing even more clout in a party that may transition to the minority after the midterms.
If more moderate Democrats lose in primaries, it could also make it more difficult for Democrats to win their swing districts with more liberal nominees, as in Oregon, said Rep. Jim Costa (D-Calif.).
"We should be sensitive to maintaining our majority," Costa said. "And I think some of the folks who have been here four years or less don't take that into consideration."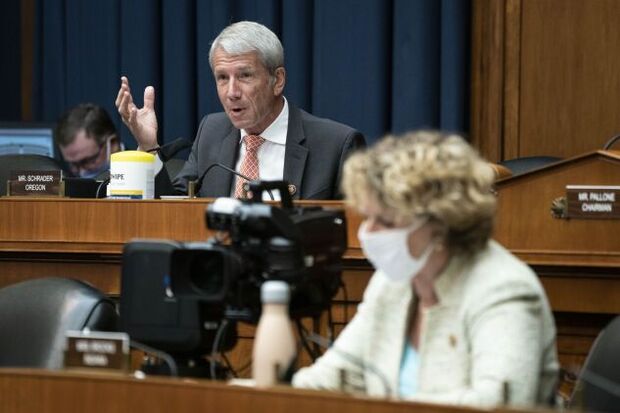 Blue Dogs also faced challenges in a couple of runoffs in Texas on Tuesday where that dynamic was at play: Rep. Henry Cuellar (D-Texas) is slightly ahead of progressive-backed Jessica Cisneros,though a recount is likely. The race between Blue Dog PAC-backed Ruben Ramirez and Michelle Vallejo, who was endorsed by the Congressional Progressive Caucus, is too close to call. Both races are rated highly competitive by the Cook Political Report with Amy Walter.
"It's hard to imagine we can hold on to 218 without holding seats like Kurt Schrader's," said Rep. Brad Schneider (D-Ill.).
Bourdeaux, a Blue Dog member, lost to Rep. Lucy McBath (D-Ga.). Schrader's May 17 primary wasn't called until this week because of a delay in vote counting.
Moving Left
Blue Dog co-chair Stephanie Murphy (D-Fla.) said it's become harder for moderate voices in the party to break through the perception in the electorate that Democrats have moved further to the left.
"The louder a small handful of people in the Democratic Party become, and the more beholden Democratic leadership becomes to that small handful of people, the more difficult it is to carry forward the set of policies and messaging that actually appeals to a broader swath of the American people," Murphy said.
Members of the Congressional Progressive Caucus said their candidates can be as competitive as moderates in swing districts. Rep. Mark Takano noted that fellow California Democrat, Rep. Katie Porter, flipped her Orange County district in 2018 and has held it while being a vocal supporter of progressive priorities.
Rep. David Cicilline (D-R.I.) said the difference between progressive and moderate Democrats means less now that the Republican Party has become "the party of chaos and corruption."
"That contrast is the same contrast whether it's a progressive Democrat or a more centrist," he said. "The alternative is a Republican Party you cannot entrust with your health care, with our economy or with our democracy."
Bloc to Watch
Blue Dog members are optimistic their message of fiscal constraint and bipartisanship will be useful in a year in which inflation is a top issue and historical precedent favors Republicans.
But several coalition members face competitive races in November. That includes Co-Chair Tom O'Halleran, whose Arizona district Cook rates as "likely Republican".
Murphy is one of a few not seeking re-election. Rep. Jim Cooper (Tenn.) is also retiring, and Rep. Charlie Crist (Fla.) is leaving his seat to run for governor.
There is potential for the group to gain members in new seats. In addition to Ramirez, the coalition's PAC has endorsed Adam Gray and Rudy Salas, both in California.
Even if the group's membership shrinks, it would still be a bloc to watch next year if Republicans have a slim majority, said Andy LaVigne, the coalition's executive director.
"There are going to be a lot of issues where a potential Republican speaker would need some Democrats to work with," he said. "I still see us as being folks in the middle, a component part of getting things done."
To contact the reporter on this story: Emily Wilkins in Washington at ewilkins@bgov.com
To contact the editors responsible for this story: Kyle Trygstad at ktrygstad@bloombergindustry.com; Bennett Roth at broth@bgov.com