Hyperloop, NYC Maglev Train Line Up for Infrastructure Money
Novel transportation projects eligible for federal aid
Blazing fast travel times will come with high price tags
Bloomberg Government subscribers get the stories like this first. Act now and gain unlimited access to everything you need to know. Learn more.
Futuristic transportation modes promising to cut travel times between major cities down to minutes may be a step closer to reality under the recently enacted infrastructure law.
Companies backing a magnetic levitation train that would offer one-hour rides between New York City and Washington, D.C., as well as a hyperloop connecting Cleveland, Chicago, and Pittsburgh, plan to seek funding from the $1.2 trillion law.
"Building our hyperloop system in the U.S. just got a lot easier," said Andrés de León, CEO of Hyperloop Transportation Technologies.
The infrastructure law (Public Law 117-58) makes maglev and hyperloop technology eligible for several programs. Although it will be up to government agencies to allocate those funds, innovative technology executives are optimistic the administration will support them as climate-friendly forms of transportation.
Maglev technology uses magnets to elevate trains and propel them forward at a high speed, while hyperloop whisks passengers in capsules through low-pressure tubes. Several companies are planning projects that use these high-speed technologies, including Virgin Hyperloop and Elon Musk's Boring Co.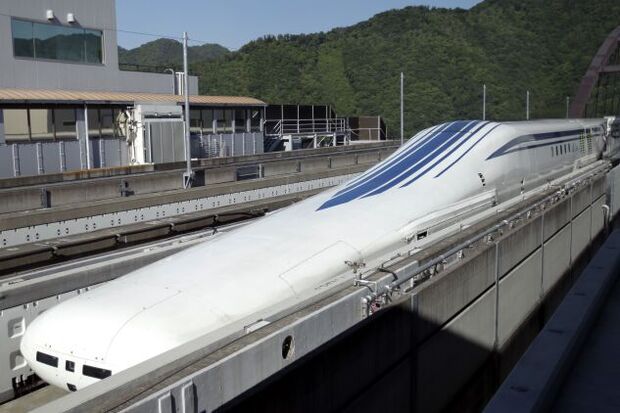 The technologies may also be eligible for funding under Democrats' social spending and tax legislation (H.R. 5376), including through a $3 billion loan program that would be open to hyperloops. The House passed the bill last week, and it awaits consideration in the Senate.
'Viable Option Today'
The infrastructure law gives "innovative rail projects" the ability to apply for grants from the Consolidated Rail Infrastructure and Safety Improvements program, while making hyperloop eligible for loans from an Energy Department advanced vehicle program. Maglev and hyperloop projects can also benefit from grants for intermodal connections that would help them plug into the existing transportation grid.
"Mentioning it by name sends a signal that look, we wanted that to be included," said Wayne Rogers, chairman and CEO of the Northeast Maglev LLC.
HyperloopTT's de León called the infrastructure law "a very important step" that levels the playing field and allows hyperloop to compete with any other mode of transportation. Congress' recognition shows that hyperloop is "a viable option today, not in the future, not in some years, but today, our technology is ready," he said.
The Federal Railroad Administration finished a preliminary review in January of the initial Baltimore to Washington, D.C., portion of the Northeast Maglev project. Rogers said the FRA is reviewing comments to determine next steps, but they hope for the environmental impact statement to be issued in 2022, while they work on permitting.
HyperloopTT has discussed several potential developments around the U.S., but its Great Lakes Hyperloop project, which would connect Chicago, Cleveland, and Pittsburgh with roughly half-hour travel times, is furthest along. The company finalized the feasibility study for the project and is moving to the environmental study, de León said.
Federal funds could help finance activities such as feasibility studies, pre-construction activities, and even project construction, de León said.
High-Speed Rail Chiefs Seek 'Generation-Skipping' Tech Support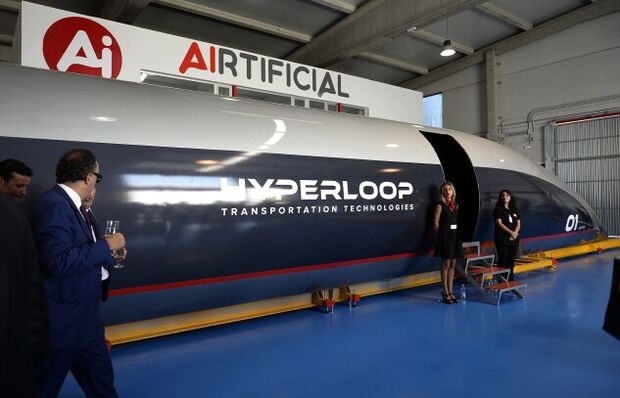 High Price Tags
Biden administration officials have talked about diversifying transportation systems and finding more climate-friendly options. The Transportation Department has started to fund more high-speed rail, such as a line in California that lost its federal funding during the Trump administration.
The California project has faced criticism from lawmakers about rising costs and years-long planning and construction delays — challenges that could also face emerging transportation technologies, which are largely privately financed.
The Great Lakes Hyperloop's capital costs are estimated to total $25.4 billion. Early estimates have pegged the cost of the Baltimore-Washington portion of the Maglev project at more than $10 billion.
Maglev's Rogers said federal funding could make the eventual ticket prices lower by reducing the overall cost of the project.
Transit, High-Speed Rail Get $20 Billion in Democratic Bill
Some worry the project could take away funds from other forms of transportation. Two local Maryland delegates, Democrats Nicole Williams and Jared Solomon, wrote earlier this year that the Baltimore-Washington maglev project could "have an adverse impact on the investments and improvement of public transit" that currently serves the area.
Hyperloop Backers
Lawmakers have been supportive of several companies developing hyperloop technology.
Rep. Tim Ryan (D-Ohio), who has supported the Great Lakes Project, said the infrastructure law would "cement the future of hyperloop travel."
"This groundbreaking technology will be revolutionary to Ohio and the entire country — opening the door for more job opportunities, higher economic growth in our cities, less time in traffic, more chances to see loved ones, and so much more," Ryan said in a statement.
How Virgin Hyperloop Will Move People at Over 600 MPH
Meanwhile, Virgin Hyperloop announced it would locate its certification center and test track in West Virginia last year, a move praised by the state's two senators, Joe Manchin (D) and Shelley Moore Capito (R), who played roles in negotiating and writing parts of the law. Capito said then that it would "support the future of transportation." Manchin particularly pushed for the company to locate in West Virginia.
Virgin Hyperloop said it's unlikely the company would apply for funding from the infrastructure law directly, but would be hired by a public entity or state that applies for the funds for a project and that there are a few working on this.
"We are thankful for the support from Congress and the Biden administration for hyperloop technology, which can help in ushering in a new transportation era and create a greener future," Dennis Reinhold, general counsel at Virgin Hyperloop, said in an email.
To contact the reporter on this story: Lillianna Byington in Washington at lbyington@bloombergindustry.com
To contact the editors responsible for this story: Sarah Babbage at sbabbage@bgov.com; Robin Meszoly at rmeszoly@bgov.com
Stay informed with more news like this – from the largest team of reporters on Capitol Hill – subscribe to Bloomberg Government today. Learn more.