Hunt for Psychedelic Mushrooms Faces DEA Hurdle to Right to Try
Patient tests Right to Try law's power to dictate care
Researchers closely watching challenge to DEA's authority
Bloomberg Government subscribers get the stories like this first. Act now and gain unlimited access to everything you need to know. Learn more.
Erinn Baldeschwiler is facing death and trying to focus on the things she can control. She wants that list to include the care she receives.
Listen to the narrated article, read by Alex Ruoff.
Baldeschwiler is looking into new treatments for the metastatic breast cancer she's been battling, the cancer doctors have said will take her life. For the past year she's been pushing the Drug Enforcement Administration to decide if she can get access to psilocybin, the hallucinogen found in psychedelic mushrooms, to help ease her depression and anxiety.
"I can't control the cancer in my body," Baldeschwiler, 50, said, but "there are things I can control. To be able to make decisions about my treatment and my care is just incredibly important."
Baldeschwiler is one of two terminally ill patients seeking access to psilocybin under Right to Try, a federal law and an array of state laws meant to grant people facing death access to experimental drugs outside of a clinical trial.
Her case is being closely watched by supporters of Right to Try and the research community because it has long-reaching implications for end-of-life care and the role of the DEA. The case also showcases the difficulties people face in managing care in their final years, when some seek as normal a life as possible.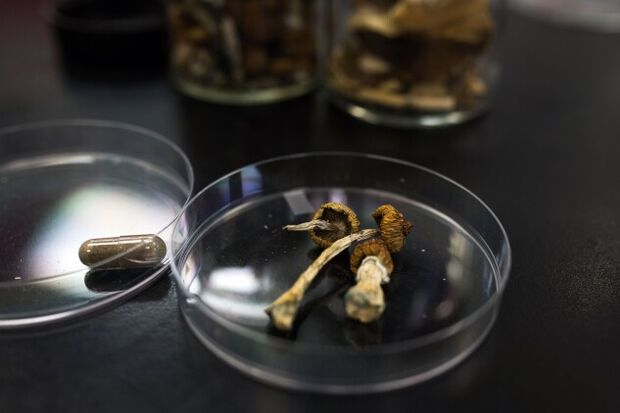 Baldeschwiler and her allies have gathered support from both left-leaning and libertarian groups, as well as lawmakers on both sides of the aisle—all pushing to give people more control over their care at the end of their lives.
"There's a fundamental question being asked here about DEA's authority and Right to Try," said Jayashree Mitra, a former neuropharmaceutical researcher at Yale University who now works as an attorney in the legal cannabis and psychedelics field. "Does Right to Try apply to anything the patient needs without judgment, or is there some requirement that the product you're seeking is going to alleviate your condition?"
Can of Worms
When she was diagnosed with breast cancer, Baldeschwiler, of North Bend, Wash., said she wasn't interested in chemotherapy. A doctor told her, statistically, with stage four breast cancer she would likely die in the next few years. She didn't want to spend those years suffering, she said.
Baldeschwiler said she began immunotherapy, meant to use the body's own immune system to fight the disease. The cancer shrank, until it didn't. She started looking for new options and eventually went to the Seattle-based Advanced Integrative Medical Science Institute PLLC, which advertises a combination of conventional and nontraditional therapies for patients with chronic and serious illnesses.
There, Sunil Aggarwal, a palliative care doctor, suggested psilocybin to treat her anxiety and depression related to her terminal diagnosis. Because psilocybin is a Schedule I drug—the most stringently controlled US substance category because they're deemed addictive and without medical uses—doctors can't prescribe it legally.
Aggarwal teamed with a group of attorneys to petition the DEA to get access to psilocybin for Baldeschwiler under Right to Try. They asked Massachusetts-based Organix Inc. to supply them with psilocybin if the agency permits it. The pharmaceutical company already supplies the drug for research.
Earlier: DEA Advice Letter on Right to Try Hallucinogen Not Reviewable
The federal law was seen as the fastest and clearest way to get the drug to Baldeschwiler, said Kathryn Tucker, an attorney at Emerge Law Group who is part of the case. They reached out to the DEA for guidance on how to get the drug legally, and were denied, she said.
The DEA declined to comment for this story.
The agency responded to the request by saying Right to Try doesn't permit an exemption to the Controlled Substances Act, which restricts access to some drugs. The DEA said the law does permit access to Schedule I drugs for researchers, and Aggarwal could apply for permission to do research.
Allowing access to a Schedule I drug under Right to Try could open a can of worms for the DEA, said Mitra, who previously did research licensed by the DEA. For instance, would they permit Baldeschwiler to buy only the synthetic psilocybin being tested to treat depression—or some broader array of products?, Mitra asked. Could she import them from other countries where the substance is legal?
"There's this cascade of questions that the DEA would need to address," Mitra said.
No Answers
AIMS took the DEA to court. The US Court of Appeals for the Ninth Circuit denied the appeal, ruling in February that the agency's decision wasn't final, but was rather seen as "guidance." The court also noted that Congress hasn't made an exception to the Controlled Substances Act for legal use of psilocybin.
Tucker said the court's decision left the issue at a "crossroads," and urged the DEA to issue a final decision on whether it can give someone who is dying access to an experimental drug that's already banned for use.
The agency has remained silent since the court dismissed the appeal.
Groups that back Right to Try have come out in support of the effort to get the DEA to allow access to Schedule I drugs via the law.
The law was intended to ensure the Food and Drug Administration allows the terminally ill to try yet-to-be-approved drugs, and it should apply to the DEA too, Christina Sandefur, executive vice president of the Goldwater Institute, said. The libertarian think tank has pushed dozens of states to pass Right to Try laws and supported the passage of the federal one.
The law was meant to give those with few options the opportunity to try drugs that have shown some promise but have yet to go through the lengthy approval process, she said.
"The purpose of Right to Try is to put these decisions back where they belong – with the patient and the patient's doctor," Sandefur said.
Lobbying Congress
In January, a bipartisan group that included Reps. Earl Blumenauer (D-Ore.) and Andy Biggs (R-Ariz.)—two members who represent opposite sides of the ideological spectrum in Congress on most issues—wrote to the DEA with concerns the agency was "obstructing access to psilocybin for therapeutic use consistent with the letter and intent Right to Try (RTT) laws."
"Urgent action is needed to ensure that people currently suffering terminal illness can elect treatment involving psilocybin," they wrote.
An aide for Biggs said the DEA didn't respond to their office.
Baldeschwiler earlier this month took her effort to Washington, D.C., where she and others protested in front of the DEA's headquarters and met with the staff of her home-state senator, Patty Murray (D-Wash.), chair of the Health, Education, Labor, and Pensions Committee.
A Murray aide who asked not to be named in order to speak freely said the senator has been in touch with the DEA, but declined to say whether the agency has promised any action.
Meanwhile, Baldeschwiler said, she's exploring other treatment options she hopes could fight her cancer while negotiating with her health insurance plan over coverage of these options, as well as payment of previous treatments. She said she might try to crowd-source funding for these treatments, if she can, and do some writing.
"I didn't think it would be such a tough battle at the beginning, but not I'm not surprised," Baldeschwiler said. "I committed. I'm in it for the fight now. If I die, which is likely, that will just add fuel to the fire."
To contact the reporter on this story: Alex Ruoff in Washington at aruoff@bgov.com
To contact the editors responsible for this story: Anna Yukhananov at ayukhananov@bloombergindustry.com; Robin Meszoly at rmeszoly@bgov.com
Stay informed with more news like this – from the largest team of reporters on Capitol Hill – subscribe to Bloomberg Government today. Learn more.