How Vendors Can Work Better With GovCon Reporters: Joyce Bosc
Boscobel Marketing Communications developed a new survey of government contracting journalists to learn best practices for companies looking for media coverage of their issues. Joyce Bosc walks through the main findings.
Bloomberg Government subscribers get the stories like this first. Act now and gain unlimited access to everything you need to grow your opportunities. Learn more.
One mark of success for government contractors is securing favorable media coverage for their company. It requires a blend of skills, knowledge, and tactics to share company news in a way that a journalist will be inclined to write about it.
Government contractors must adopt a service oriented mindset suited to the market in which they operate. It's their responsibility to be responsive and support the GovCon and business reporters who cover industry news.
To find out what GovCon reporters really want from government contractors, Boscobel Marketing Communications launched the industry's first survey on GovCon journalism this year. The State of GovCon Journalism Survey 2023 explored GovCon reporters' opinions, priorities, and insights on industry public relations tools, practices, and trends.
According to those reporters, here are six best practices for government contractors.
ONE: Mind the Beat
The biggest pet peeve of GovCon reporters is receiving pitches that are irrelevant to their beat. While many journalists (44%) write two to three articles weekly, a full 22% write eight to 10 stories every week. They are busy. They are focused. They are experts in the beats they cover, whether they are tracking specific programs and agencies or watching a range of contract vehicles and market developments.
If your company news isn't tied to a reporter's beat, don't bother pitching them. Not only will you not get the coverage you seek, but you may also damage relationships that could help your company when a future story is better aligned.
Before reaching out to a reporter, do your homework.
Check the news beat. For most online articles, you can click on reporters' names at the top or bottom to read their biographies and see other stories they've written.
Read reporters' recent articles to get a sense of what they look for in a news story as well as their expertise on the capabilities your company offers.
Follow targeted reporters on social media if they're actively posting about market news or developments.
Learn what works. If you get feedback from a reporter on a pitch, use that information to improve your next one.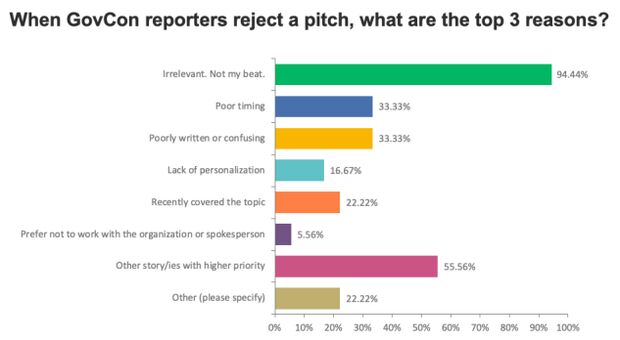 TWO: Choose the Right Story
Be sure your news is newsworthy. Too often, government contractors will reach out to reporters with "soft" news solely to support a company marketing campaign or an upcoming trade show. Instead, choose a "hard" news development such as a significant contract award, partnership, merger or acquisition, first-to-market product, or service release or executive hire.
Once you're sure that your news is compelling, put yourself in the reporters' shoes—and those of their readers. Use your (short, clear, relevant) pitch to convey:
The news
How the news is tied to other events in the GovCon market
A valuable news "hook" that's relevant to the reporters' readers
You'll want each reporter to read your pitch and immediately start to translate the news into a story that their readers will care about.
THREE: Get the Timing Right
Timing matters. As one reporter reminded us in the survey, "My job keeps me extremely busy. When you pitch something, you're adding to my workload. It needs to be so interesting and so relevant that it beats the other assignments I'm already working on."
Most reporters receive two to four pitches daily, but others receive 15 or more in a typical day! For pitches and press releases, GovCon reporters prefer these timing guidelines:
Day of the week: Most reporters (59%) agree that Monday is now the best day to receive pitches and press releases, followed by Tuesday and Wednesday.
Time of day: GovCon reporters prefer to receive pitches and press releases in the morning, between 9 a.m. and 12 p.m. (44%), or early morning, between 5 a.m. and 9 a.m. (39%).
Timing: For news timed to a specific event, such as a large industry conference or trade show, be aware that reporters are flooded with pitches during the conference, with limited ability to review them all. Instead, send your pitch before or after the event.
FOUR: Make Your Website Reporter-Friendly
GovCon reporters do their own research before writing their stories, and their top source (used by 89%) is the company website. Be sure yours is built to help reporters rapidly get the information they need, with:
An easy-to-find press room, where you place all your press releases and media hits. Ideally, the page will be clearly visible and only one click away from the home page.
Media contact information. This should NOT be a generic email address (such as PR@company.com). Instead, provide an individual's name, email address, and phone number, so reporters can get to a knowledgeable resource when they need it, fast. This may be someone inside your organization or a named representative at your PR firm.
Downloadable images. Provide high-quality company logos, executive photos, product shots, and custom diagrams or other images that will help reporters tell your story.
Fact sheets. Downloadable fact sheets about your company, products, and services can be helpful background references.
A clear "About Us." This simple paragraph gives reporters instant access to the correct spelling of your company name, your headquarters location, the kinds of customers you serve, and the products and services you provide.
Resist the urge to put your downloadable resources behind a form that reporters need to fill out before getting to the asset. They won't. And you risk missing out on a story if they move on and find a more accommodating company website.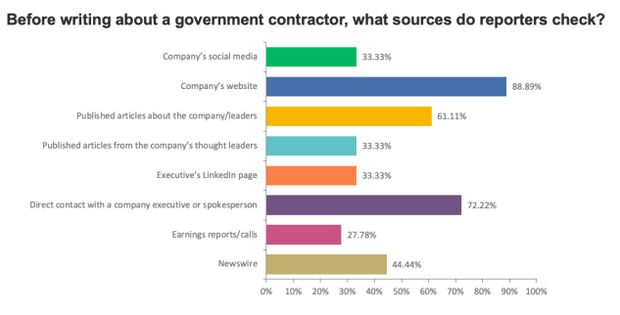 FIVE: Prep Your Executives
Next to relevant pitches, GovCon reporters want access to executive leaders and other company spokespersons who are adept at providing accurate and timely information. Responsiveness is critical. They want to connect when the story is unfolding, not days later.
Be sure your executives are available—and prepared—to speak to the press.
Secure an agreement that executives will engage with the press quickly, when requested. Be sure your spokespersons are trained to speak to the press, so they can confidently and succinctly engage in interviews. Block executive calendars for media interviews if you have breaking news such as a merger or acquisition announcement. Ideally, you will staff the call—providing introductions to open the call and ensuring follow-up once the interview is complete.
SIX: Keep Up with LinkedIn
LinkedIn is the preferred social platform for GovCon reporters, with half planning to spend more time on it this year than last.
Periodically, check your company's LinkedIn profile, to ensure:
The company description is up to date.
You're posting regularly, to share company news—both "hard" news that's announced with a press release and "soft" news such as industry awards, smaller contract wins or non-C-level leadership additions.
The posts convey a unique company perspective on industry thought leadership and developments.
GovCon reporters want to work with government contractors, to get great background information as well as breaking news. Armed with the right information, initiative to learn about the industry and practice, a service-minded government contractor can develop best practice skills to thrive in the GovCon market.
Subscribers can find related content at Bloomberg Government .
Author Information
Since founding Boscobel in 1978, Joyce has provided a full range of communications services for Government agencies, Government Contractors, high-tech B2B firms, state and local governments, and utility companies. Her extensive experience includes nationally prominent company and product launches (including AOL, GE and QinetiQ), PR, thought leadership, government marketing and Pre-RFP marketing for AI, cybersecurity, Mission Assurance, DevSecOps and aerospace and defense contractors.
Write for us: Email IndustryVoices@bloombergindustry.com
Stay informed with more news like this – the intel you need to win new federal business – subscribe to Bloomberg Government today. Learn more.