How Leidos Developed Presence, Position: Eileen Cassidy Rivera
Eileen Cassidy Rivera sits down with Melissa Dueñas, Senior Vice President and Chief Communications and Marketing Officer at Leidos, the Reston, Va.-based Fortune 500 science and technology company that earned the coveted Number One spot on Washington Technology's list of the top government contractors in 2021.
Bloomberg Government subscribers get the stories like this first. Act now and gain unlimited access to everything you need to grow your opportunities. Learn more.
Melissa Dueñas served in the U.S. Air Force for 10 years prior to joining SAIC in 2006. She guided the company's communications during the historic split in 2013, when the newly formed Leidos emerged as the solutions-focused IT company specializing in technology for the national security, health, and engineering sectors.
Through out-of-the-box creative thinking, visionary leadership, and bold marketing strategies, Melissa catapulted the company's brand to make Leidos a household name in the booming government services market.
Let's talk about how Leidos became the renowned brand you've helped build. How have you guided the company's branding decisions and investments?
Having studied organizational change, I knew it would be a massive undertaking to build a new brand. Change is hard, especially with an employee-owned company like SAIC was—one with deep roots, a strong culture, and a vast alumni network.
The first challenge was to come up with a new name for what would remain. At the time, the company had hundreds of locations in 40 countries, 43,000 employees, and business in four major markets. We needed a name that would resonate in different cultures and wouldn't be a bad word in another language!
With help from outside branding agencies, we had over 2,500 name ideas to choose from. The name Leidos, which is clipped from the word "kaleidoscope," emerged as the best choice to express the company's ability to bring together diverse perspectives to unlock new insight.
From there we built the brand, brick by brick. We mapped every single touch point using a lens that I refer to as "Maslow's Hierarchy of Branding." We started with the basic needs, like a new website, a new visual identity, a new flag in the lobby, a new logo on the wall, and of course new business cards.
From there, everything began to flow. Building the new Leidos website was a massive undertaking. We built it from scratch. We also had to develop a new social media presence and attract new followers. All along, our goal was to not just create a new brand, but to be deliberate and different. My goal is always greatness, not task completion.
How did you land on the iconic purple color for the Leidos brand?
Ha! Now that's a story. We first mapped out the competitors' brands and colors on a spectrum and did an audit. Purple emerged as the best choice and actually represents the color of the joint services.
When we introduced the new brand and logo in purple, it was not well received. I remember getting an email from an employee who took a Dr. Seuss poem to express his dislike of both the new name and color: "I do not like Leidos. I do not like purple."
I still have that email. For more than a year, we kept at it. I wore purple to work every day. Eventually, it caught on. Now, our employees proudly wear purple as a badge of honor.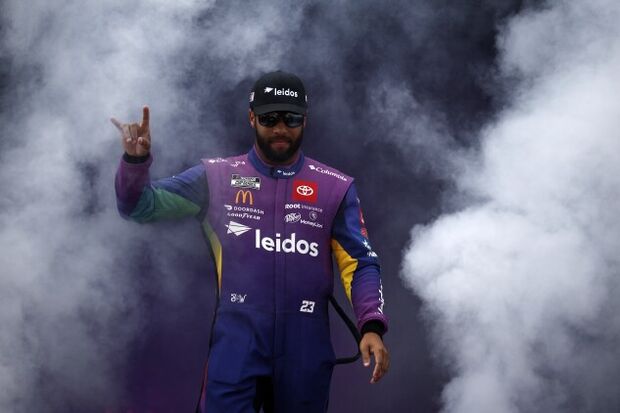 No matter where you look, you see Leidos, from airports to the DC United soccer team to NASCAR. It's apparent you've made some bold moves to get the Leidos brand in front of a lot of eyeballs. How did you choose these branding opportunities?
With a lot of data and research, I'm proud of the big swings we've taken over the years to build the Leidos brand. I remember when we first became Leidos, people would stop me in the lobby and say, "No one knows who we are. What are you going to do about it?"
I knew we would not make progress with small muscle movements. We needed to take bold and creative approaches to develop and deepen awareness with our customers and employees as well as on Capitol Hill. We started to think about the best way to kill 25 birds with one stone.
That's when we started to talk to sports teams. Soccer is played in nearly every country where Leidos operates and does business. We did the research and presented the opportunity to our leadership to become the presenting jersey sponsor of DC United, the Washington, D.C.-based Major League Soccer team.
The data spoke for itself. In 2014, Leidos became the lead partner with DC United. Overnight, Leidos was emblazoned on jerseys across Dick's Sporting Goods and Sports Authority stores. In fact, we gained added exposure through FIFA, the international governing body of association football, through an Xbox and PlayStation video game they sponsored. That meant video games with soccer players wearing Leidos branded jerseys in homes across the world.
Every day, more than 100,000 children who play soccer and other youth sports go home with Leidos on their jerseys in major metropolitan areas like San Diego, Huntsville, Ala., and across the DMV [national capital region]. It's been very successful and a good example of going for the jugular.
As for airports, well, it's true. The Leidos brand is in every airport—19,622 to be exact—in the United States. Employees and customers often remark when they come back from a trip, "I saw the Leidos ad at the airport."
What they're referring to are the passenger screeners, which are actually Leidos equipment. We thought to ourselves, 'When you look at an iPhone and you flip it over, you see the iconic Apple logo. Since those passenger screeners are Leidos equipment, they should have the Leidos brand, too."
Branding our products has been a huge catalyst to help build the Leidos brand internationally, especially on social media. People love to take selfies with the Leidos logo in the background.
Looking back, what marketing strategy are you most proud of?
One of my favorites will always be the Leidos Scoop ice cream truck. When Leidos acquired Lockheed Martin's Information Systems & Global Solutions business in 2016, we were looking for a creative way to welcome our new employees across the country.
We thought of an idea that could make it easy and fun to engage employees. Who doesn't like ice cream? We went to eBay and found a 1969 Good Humor ice cream truck. It needed to be totally rebuilt and renovated, so I found a body shop in Sterling, VA—Hard Core Hot Rods—that retrofitted it into a good-as-new Good Humor ice cream truck. It's purple and beautiful. (Coincidentally, 1969 is the year SAIC was founded.)
It's booked every day and it even has its own social media handle: #LeidosScoop. It also has a sign "Watch for Contractors."
I hope it continues to attract more creative people to our growing team. At Leidos, anything is popsicle.
What were some of your biggest influences while you were growing up?
My earliest influences came from growing up in Hawaii on the island of Oahu. As one of the few White people in my high school, I learned to appreciate diversity and the value of people from other backgrounds. I was an avid reader, which helped me become a strong writer and turned me into a communicator.
After graduating from high school early, I served in the U.S. Air Force for eight years on active duty and two years in the reserve, joining SAIC's media relations team in 2006, right before the SAIC IPO.
Did you choose the path to become a marketing and communications leader or did the path choose you?
For sure, the path to being a marketing and communications leader chose me. Growing up in Hawaii, I was surrounded by beauty, color, nature, and light, which had a profound impact on how I look at the world. Looking back at my childhood, I am so happy I was educated in such a diverse community, which helped me believe I could do anything. Today, the work I do plays to my strengths as a communicator and a connector and allows me to be creative and innovative which I really enjoy.
Can you share some of the leaders you've worked with and who have influenced your approach to leading marketing and communications and helped you earn a seat at the table?
I've been privileged to work with so many remarkable leaders—too many to name them all! Both at SAIC and Leidos and during my time in the Air Force, I worked for General John P. Jumper, whose first day at the Pentagon as the 17th Chief of Staff of the U.S. Air Force was on September 11, 2001. General Jumper led SAIC from 2012-2014 through the spin-off which created the companies you now know as SAIC and Leidos.
I was fortunate to also work with Doug Wagoner, who was program manager for the split of the company. He went on to become President and CEO of Logistics Management Institute (LMI).
I also am grateful for having worked alongside Stu Shea, who was Chief Operating Officer at Leidos during the big change and now serves as Chairman, President, and Chief Executive Officer of Peraton.
For the past eight years, it's been great to work under [Leidos CEO] Roger Krone, who is an amazing leader and has been immensely supportive and encourages creativity.
Subscribers can find related content at Bloomberg Government .
About Melissa Dueñas
For the past 16 years, Melissa has worked with four out of the five SAIC and Leidos CEOs, presently with Chairman and CEO Roger Krone. Today, Melissa and her team lead marketing, communications, brand, creative, media relations, events, corporate social responsibility, Environmental, Social and Governance (ESG), as well as charitable giving and the Leidos Relief Foundation, a 501(C)(3) organization aimed at assisting fellow employees during times of hardship.
About the Author
Eileen Cassidy Rivera's Bloomberg Government column, Presence. Position. Power., features behind-the-scenes conversations with chief marketing and communications officers at leading government contractors to learn how they develop strategies to cut through the noise, establish a commanding presence, and position their companies for growth and power in the fiercely competitive federal government contracting industry.
Eileen is also an award-winning strategic communications and marketing executive. She is currently the vice president of public relations for a leading government services company. Her new book, Confessions of a MarCom Pro: My Journey to Redefine the Role of a Marketing and Communications Leader and Earn a Seat at the Table, will be published in 2023.
Write for us: Email IndustryVoices@bloombergindustry.com
Stay informed with more news like this – the intel you need to win new federal business – subscribe to Bloomberg Government today. Learn more.