How Elections Next Week Make a Difference: Ballots & Boundaries
Bloomberg Government subscribers get the stories like this first. Act now and gain unlimited access to everything you need to know. Learn more.

One of Tuesday's elections will change state history and the other will generate a lot to watch in the weeks to come.
First, Wisconsin.
A nominally non-partisan primary will whittle down the field to two candidates who'll compete to become the dominant figure in a wide range of public policy decisions, including abortion.
Whoever becomes the new Supreme Court justice will wield power because the rest of the justices disagree with each other so consistently — data compiled by Bloomberg shows that fully half of the seven-member court's opinions last year broke 4-3.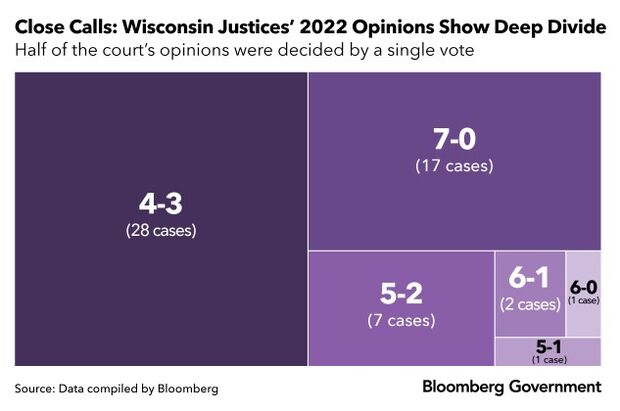 It will make a big difference whether the court starts to side more with the Republican-dominated Legislature or with Gov. Tony Evers (D). And remember that Wisconsin is a presidential swing state. Any cases that question voting laws, voting procedures, or even Electoral College votes could make a difference to the national outcome in 2024.
On to Virginia.
The design of the 4th Congressional District makes state Sen. Jennifer McClellan (D) a special election shoo-in.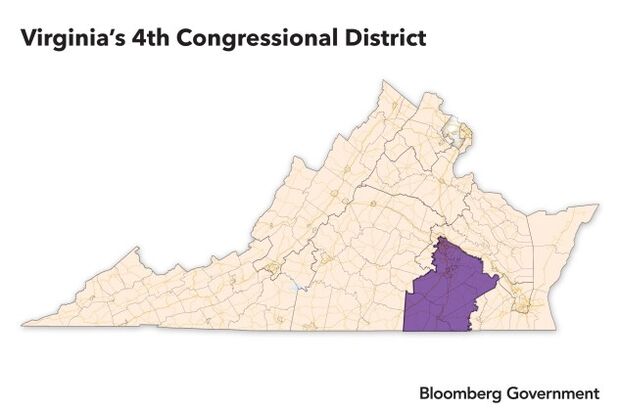 If her campaign performs as anticipated, Virginia will send a Black woman to the US House for the first time.
McClellan is opposed by Leon Benjamin (R), a pastor and Navy veteran who pulled 35% when he ran for the same seat in November. The winner, then-Rep. Don McEachin (D), died three weeks after the election.
Read more from Alex Ebert and Greg Giroux:

CALIFORNIA: Clear Intentions
A new super PAC backing California Rep. Barbara Lee's all-but-declared 2024 Senate campaign will help her compete with two cash-rich colleagues also seeking to succeed Sen. Dianne Feinstein (D).
She Speaks For Me, which takes its name from a 2020 documentary about Lee, may attract funding from some wealthy California progressive donors who see eye-to-eye with Lee on overhauling criminal justice policies.
Lee (D) could use the outside help. The March 2024 "Top 2″ primary is barely a year away, and she started the year with just $52,000 in her campaign account while announced candidates/fellow Reps. Adam Schiff (D) and Katie Porter (D) had $20.9 million and $7.4 million, respectively.
Lee filed a statement of candidacy with the FEC Feb. 15 and is planning a formal announcement later in February, which is Black History Month. "The Congresswoman will have more to say about this before the end of the month," Lee campaign spokeswoman Katie Merrill said in an email. — Greg Giroux
(Was this newsletter forwarded? It's free. SIGN UP for your own subscription.)
MICHIGAN: Watch This Space
What used to be the "Dixon for Governor" website now opens with a "coming soon" page.
Asked in a podcast interview about her interest in the Senate seat opening up when Democrat Debbie Stabenow retires, defeated Michigan gubernatorial candidate Tudor Dixon (R) had this response: "I've said before, people ask me, 'Are you going to run for office again? And I always say, I mean, maybe it's like pregnancy and you forget and then you do it again. So there's a chance." (Hat tip: Hotline)

As incumbent senators ponder run-or-retire decisions for 2024, comments catching our ear this week are from Sens. Tammy Baldwin (D-Wis.), Mitt Romney (R-Utah), and Tom Carper (D-Del.). In hallway interviews, some of them sounded like they know where they're headed.
"I am planning an announcement later in the spring, and working very hard," said Baldwin, 61.
Romney, 75, said he's planning an announcement "probably late April, May" but as late as "early summer."
"I'm doing what I have to do to be able to run, which is raising money, staffing, and making sure that if I proceed that I'm able to do so successfully and that I'll win," Romney said. "I expect to win. I've got resources and record, and the people of Utah respect people of integrity, and I think I've got a fair measure on that front."
Carper, 76, said he's doing "what I need to so I can run for re-election and be successful," and said he's planning to declare his intention "sometime this year."
"Campaigns are way too long," Carper said, "and I've always been one who puts off the final decision until fairly late into the game." He launched his 2018 campaign, which featured an insurgent progressive challenger, in July 2017.
Also of note: The stay-tuned approach of Sen. Bernie Sanders (I-Vt.), 81, who told the New York Times those curious about his re-election intention should "keep wondering." — Zach C. Cohen
US House '24
COLORADO: Reboot
The candidate who lost by a smaller margin than any other US House hopeful in 2022 is back already for 2024.
Rep. Lauren Boebert (R-Colo.) defeated Democrat Adam Frisch by less than two-tenths of a percentage point in November. This week, Frisch launched his second try at the seat, saying the early start provides "more time to, you know, talk about pro-Adam, not just anti-her."
It doesn't hurt to get a head start on fundraising, either. His campaign said Frisch raised over $500,000 this week, more than double what he raised in his entire first seven weeks as a candidate in 2022.
One of the rematch wildcards will be each party's turnout in a presidential election year, when voters who don't engage in midyear races tend to surface. — Zach C. Cohen
Election Law
GEORGIA: Zucker Bucks
A conservative legal foundation is challenging DeKalb County, Georgia's creative accounting that allowed officials to receive a private donation for election administration despite a state ban on so-called "Zucker Bucks."
The state Board of Elections complaint contends it was illegal for DeKalb county's finance department to apply for a $2 million private grant and then transfer the funds to election officials who are barred from receiving the grant directly—a process a board member acknowledged in a public meeting.
The money came from the Center for Tech and Civic Life, a group that received more than $300 million in donations from Mark Zuckerberg and his wife Priscilla Chan leading up to the 2020 election. The group has provided grants mostly to large cities and counties to help defray costs of election administration. — Alex Ebert
After Redistricting
Ballotpedia is out today with an analysis highlighting congressional contests where the votes of minor-party and unaffiliated candidates may have been especially influential.
One US Senate race is on the list: Nevada. That's where Sen. Catherine Cortez Masto (D) defeated Adam Laxalt (R) by 7,928 votes. Independent candidate Barry Lindemann received 8,075 votes.
Among US House races, according to the report: Two candidates received more votes than the margin of victory in the open race for Michigan's 10th Congressional District. John James (R) defeated Carl Marlinga (D) by 1,600 votes—0.5% of the total votes cast. Andrea Kirby (Working Class) received 1.8% of the vote, and Mike Saliba (L) received 1.1%.
Also highlighted: the Colorado contest that Democrat Yadira Caraveo won by 1,632 votes after a Libertarian was the choice of 9,280 voters, and the Montana race that Republican Ryan Zinke won by 7,837 votes after a Libertarian drew 9,593 votes.
Resources
Add Us to Your Inbox
SIGN UP for Ballots & Boundaries to keep up with congressional campaign trends, ballot initiatives, state voting laws, and the aftermath of redistricting.
To contact the reporters on this story: Greg Giroux in Washington at ggiroux@bgov.com; Zach C. Cohen in Washington at zcohen@bloombergindustry.com; Alex Ebert in Madison, Wisconsin at aebert@bloomberglaw.com
To contact the editors responsible for this story: Katherine Rizzo at krizzo@bgov.com; Michaela Ross at mross@bgov.com
Stay informed with more news like this – from the largest team of reporters on Capitol Hill – subscribe to Bloomberg Government today. Learn more.