How and Why You Should Market Well Before the RFP: Joyce Bosc
Bloomberg Government subscribers get the stories like this first. Act now and gain unlimited access to everything you need to grow your opportunities. Learn more.
For a government contractor, there's nothing more satisfying than receiving the award of a "must-win" multi-year federal or defense contract. Such wins always require total teamwork excellence. What's not so obvious is that the teamwork may start 18 to 24 months before the agency issues its Request for Proposal.
Here's how (and why) to build a business case for your pre-RFP marketing campaign.
Identify Pre-RFP Marketing Goals
The term "pre-RFP marketing" is often mistaken as a synonym for account-based marketing (ABM), but it's really a niche subset. Popular in business-to-business circles, ABM is a marketing approach designed to build awareness of a vendor within a targeted organization or account.
Pre-RFP marketing is more tailored than that. The goal is to reach decision-makers of a specific contract so they:
become aware of your company
form a positive impression of the company, and
believe your team has the expert capability to deliver the solutions needed in the targeted contract.
Be sure your team agrees with the goals of pre-RFP marketing. Honestly assess where you stand on achieving your goal of making the right impression so priorities are aligned from the start.
Establish Your Teams
Teams are essential to government contracting marketing. There are Big "T" Teams and small "t" teams. Big "T" Teams combine the right companies and experts to market, bid, and deliver on government contracts. Your Team may include a large contractor along with one or more smaller companies that have the expertise and/or set-aside credentials that bring strength to the combined entity.
When writing Team agreements for a targeted contract, be specific about co-marketing activities such as co-branded press releases, white papers, and trade shows. Identify where funding will come from to cover the combined marketing effort. A small business may be able to lead some of the marketing activities if it has the financial support of a larger partner.
Small "t" teams are colleagues from within your company and supporting specialists. For pre-RFP marketing, you'll want a team of business development, marketing/public relations, and proposal professionals to position the company for the win. Companies that are serious about collaboration and marketing may pay for pre-RFP marketing activities out of the "Bids and Proposals" budget to ensure resources are available for this effort.
As you build your teams, target the specific people and titles you want to reach and start to identify key marketing assets you'll need. Commit budget and other resources to support your pre-RFP marketing campaign.
Create Your Strategy, Plan
With your Teaming partners, identify decisionmakers and influencers involved in that contract as well as the locations they may need your product or service—military bases, proving grounds, etc. Set up monthly Team meetings to learn what partners are hearing in the market, stay aligned on priorities, and keep abreast of your competition.
Facilitate regular planning sessions with your small "t" teams—business development, capture, marketing/PR, and proposal writers. Discover what pre-RFP marketing expertise you have in-house and where you may need third-party support to fill in the gaps. As a group, discuss RFP criteria, requirements, qualifications, differentiators, and proof points—from across your company and the broader Team involved in the opportunity.
Early on, evaluate competitive press coverage, social media messaging, and opportunity announcements to inform your plan. Start creating relevant case studies and past performance summaries immediately with subject matter experts (who could be later recruited by competitors). Stay agile to adjust to changing RFP timelines, agency developments, and market conditions.
An early and informed start can provide a significant advantage to your team. It also establishes invaluable communication habits for the campaign.
'Win Themes'
Be sure your "win themes" and messages are clear and distinct so you stand out from competitors and create opportunities for media and market interest.
For each targeted contract, create RFP-specific messaging for press, web, social media, and in-person encounters. Identify people who know about your marketing assets that will help position the company's expertise in the eyes of decisionmakers.
Map marketing activities to your win themes. Plan the creation, publication, promotion, and distribution of your white papers, case studies, and social media communications around those themes that differentiate you.
Which reporters are covering your contract? Who is writing about the capabilities and requirements in the contract? Identify educational stories for proactive media outreach. Write and place bylined articles to help inform the market.
Marketing, Media Buzz
There's no exact timeline for government contracting, which can take one to three years from the time a Request for Information is released until an award is made and implementation begins. If you haven't finalized your team by the time your company decides to respond to the RFI, do it then. Use the RFI to confirm requirements and finalize key messages.
Then, start creating a buzz to elevate awareness, create positive impressions, and cultivate a preference for your company, its experts, and key solutions. To reach your target audience, your pre-RFP marketing tactics may include: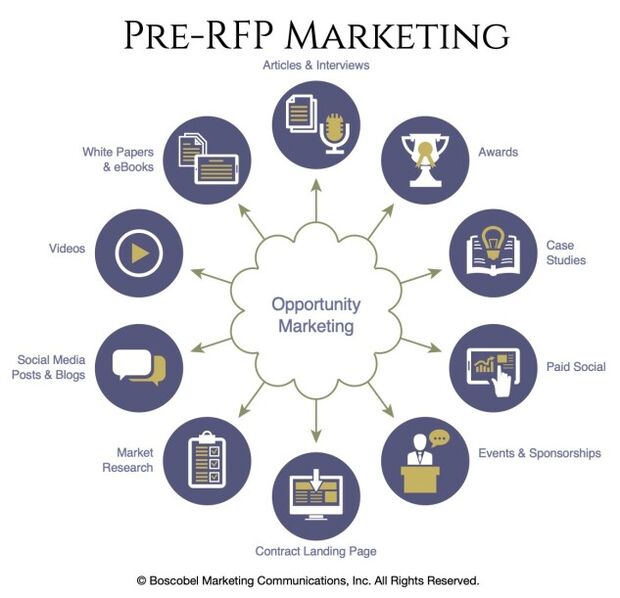 RFP microsite or landing page to highlight team strengths, qualifications, and win themes.
Bylined articles and industry blogs to educate the market about your team's knowledge and perspective.
Trade show and conference plan with exhibits, banners, teaming information, and solution materials.
Speaking engagements to share your team's past performance or fresh ideas. Or attend speaking sessions of targeted decisionmakers where you can ask questions to make your team more memorable, highlight your interest, and showcase your engagement.
Advertising—LinkedIn advertising can reach precise decisionmakers and influencers. Especially if the contract is outside of the Washington DC metro area, local market advertising through billboards, radio, print, and paid social media ads can be affordable and effective.
Industry awards can get your company recognized for growth, innovation, quality, culture, or other attributes that support the strengths you're emphasizing in your win themes.
Organic social media allows you to weigh in on market developments, trends, highlight company, and contract milestones. You can engage with the media or follow key stakeholders on the contract to make you more visible in the marketplace.
As you move through your campaign, evaluate and document what works and what doesn't in a procedure manual. When you win, or even if you don't, you'll have a best practices document for the next time, before the team disperses or refocuses on the next contract win. Consider it a company asset.
It takes a lot of research, collaboration, and discipline to do pre-RFP marketing well. The business case for pre-RFP marketing is that it gives small- and mid-sized contractors a chance to level the playing field against the larger primes. With the right teams and marketing, you can gain name recognition, earn positive reactions and, finally become the expert solution provider that government buyers are confident and proud to work with.
Subscribers can find related content at Bloomberg Government .
Author Information
Since founding Boscobel in 1978, Joyce has provided a full range of communications services for Government agencies, Government Contractors, high-tech B2B firms, state and local governments, and utility companies. Her extensive experience includes nationally prominent company and product launches (including AOL, GE and QinetiQ), PR, thought leadership, government marketing and Pre-RFP marketing for AI, cybersecurity, Mission Assurance, DevSecOps and aerospace and defense contractors.
Write for us: Email IndustryVoices@bloombergindustry.com
Stay informed with more news like this – the intel you need to win new federal business – subscribe to Bloomberg Government today. Learn more.