House Unveils Biden Plan Text; Progressives Wary of Vote Timing
Bloomberg Government subscribers get the stories like this first. Act now and gain unlimited access to everything you need to know. Learn more.
President Joe Biden unveiled a framework for his tax and social spending plan the White House said totaled $1.75 trillion in an effort to push lawmakers toward a deal he said could make or break their political futures. But House progressives maintained they wouldn't vote for the bipartisan infrastructure package before they are assured the larger spending bill could pass the Senate.
Here's what Bloomberg Government is tracking so far today.
Progressives Push Back on Pelosi's Infrastructure Vote Plan
House progressives today dug in on their threat to oppose a $550 billion infrastructure bill if Speaker Nancy Pelosi (D-Calif.) brings it to a vote before they see legislative text of a separate, $1.75 trillion tax and spending package and are assured it could pass the Senate.
By mid-afternoon, the House had posted a 1,684-page bill containing much of President Joe Biden's social-spending plan, a hopeful sign that that measure could move quickly. But key Senate holdouts Joe Manchin (D-W.Va.) and Kyrsten Sinema (D-Ariz.) had not yet endorsed the legislation.
"If you think I'm going to talk to you about something, on anything—we're working in good faith, how is that?" Manchin told reporters this afternoon.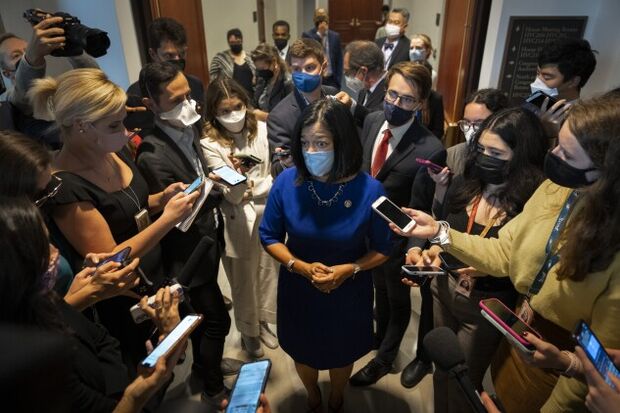 Pelosi, during a press conference this afternoon, did not respond to repeated questions about the timing of the vote on the infrastructure bill.
Congressional Progressive Caucus Chair Pramila Jayapal (D-Wash.) earlier said members of her group "enthusiastically endorsed" the contours of Biden's economic agenda unveiled today. But progressives, she said, want to vote on both bills when the larger measure is ready. "We are also committed to staying through the weekend" to finalize the legislation encompassing Biden's tax and social-spending agenda, she said.
Vote Plan: Pelosi's leadership team had alerted members that a vote on the infrastructure bill may occur sometime today, following Biden's briefing to Democrats on a framework for the social-spending plan, according to a Democratic aide familiar with the matter who spoke on condition of anonymity because the plan isn't yet public.
But Jayapal, following a meeting between her caucus and Pelosi, made clear there are "too many 'no' votes" for the bipartisan infrastructure framework, also known as BIF, to pass today.
House Transportation and Infrastructure Chairman Peter DeFazio (D-Ore.) is among those leading the effort to convince members to vote for the bill. He sent a "Dear Colleague" letter this morning to Democrats that Pelosi's office helped to circulate. The infrastructure legislation includes funding for the highway trust fund. That's now subject to a temporary extension that expires Oct. 31.
In it, DeFazio said that another short-term extension of highway funding — such as the current one that expires at the end of the month — is "highly disruptive to transportation project planning and delivery" by departments, and local governments. Read more from Billy House, Erik Wasson and Jarrell Dillard.
Biden Warns Democrats Political Futures Hinge on Deal: Biden told House Democrats in a private meeting today that his presidency and their political fortunes depend on passage of his multitrillion-dollar economic agenda.
"I don't think it's hyperbole to say that the House and Senate majorities and my presidency will be determined by what happens in the next week," Biden told the lawmakers at the Capitol, according to two people in the room and a third person familiar with the remark.
The framework that the White House released today won widespread praise from Democrats, even as some complained about personal priorities that were left out. The president traveled to the Capitol to urge the Democrats to break a deadlock over the pair of bills that comprise his economic agenda, the plan known as Build Back Better, and the Senate-passed public works measure with $550 billion in new spending.
The White House wants the president to have a legislative accomplishment in hand in advance of both international summits in Rome and Glasgow, Scotland, this weekend and gubernatorial elections in New Jersey and Virginia on Nov. 2. Biden assured the House lawmakers that the framework the White House released today would win the votes of all 50 Senate Democrats. But several of them declined to commit to it. Read more from Josh Wingrove, Billy House and Jennifer Jacobs.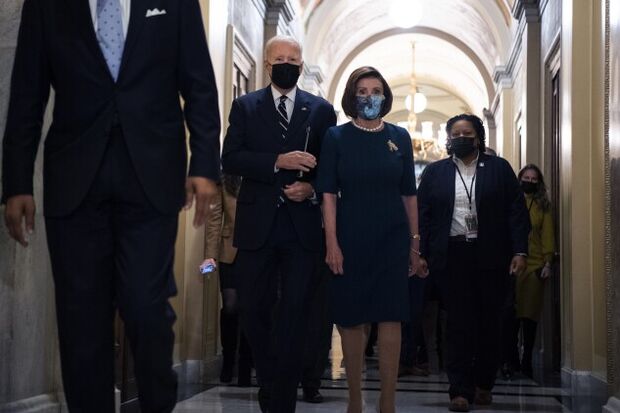 More on the House Draft Bill:
Revamped Biden Tax Plan: As telegraphed in Democratic lawmakers' negotiations in recent days, the White House's outline notably excludes increases in the corporate income-tax rate and the top marginal income-tax rate—leaving the bulk of former President Donald Trump's 2017 reductions intact. Also missing is Biden's plan to end a benefit that allows assets to be passed to heirs without taxing their capital gains. Changes could still be made as congressional Democrats wrangle the final legislative text. Senate Finance Chair Ron Wyden (D-Ore.) said he's pressing on with his proposal for a new annual levy on the appreciation of billionaires' wealth.
Biden's $555 Billion in Climate Funds: Biden's $1.75 trillion tax and spending framework calls for $555 billion to boost renewable power, electric vehicles and resilience to global warming. If congressional Democrats go along, the plan would represent an historic investment in fighting global warming that Biden can tout to world leaders at the high-stakes United Nations climate summit opening Sunday. The framework also is set to provide Biden fresh evidence the U.S. can deliver on its Paris Agreement pledge to at least halve greenhouse gas emissions from 2005 levels by the end of the decade. Read what's in the plan from Ari Natter and Jennifer A. Dlouhy.
Drug Price Negotiation Dropped in Proposal: The White House is asking Democrats to move forward with a sweeping domestic spending package that drops two of its major, and contentious, health policy goals: empowering the government to lower drug prices and adding dental benefits to Medicare. Key Democrats responded by saying the issue remains live, acknowledging the party has yet to reach consensus.
"We're still trying to get drug pricing included in the bill," Frank Pallone (D-N.J.), chair of the House Energy and Commerce Committee, told reporters. Sen. Wyden also said drug pricing remains "an active issue." The framework does call for saving the government $145 billion by repealing a Trump-era regulation that would have limited drug rebates. That regulation was never put in place. Read more from Alex Ruoff and Courtney Rozen.
Democrats Vow to Press Ahead on Immigration Plan: Democrats plan to allocate $100 billion to immigration as part of their tax and social spending bill even if a Senate rules official rejects their latest effort to protect undocumented people, Sen. Tim Kaine (D-Va.) said. The White House's framework sets aside $100 billion for immigration-related measures and it stipulates that inclusion is contingent on approval by the Senate parliamentarian.
The parliamentarian will soon review a proposal to provide work authorization and deportation protections for some undocumented immigrants. Some type of immigration measure will move forward no matter what, Kaine said. Read more from Ellen M. Gilmer.
Mandatory Retirement Proposal Axed: A landmark proposal that would have created the first U.S. workplace retirement savings mandate has been cut from the tax-and-spend package lawmakers are crafting, according to sources familiar with the negotiations. The proposal was absent from the pared-down reconciliation agreement the White House announced. Paid family and medical leave legislation also was eliminated. Provisions that would have required most U.S. businesses to offer a basic savings plan and capped wealthy individual retirement accounts were poised to bolster markets with trillions in retirement assets and create an additional 62 million savers. Read more from Austin Ramsey.
Labor Law Fines for Current Violations Kept: The White House is moving forward with a proposal to fine employers for existing violations of labor laws, while dropping penalties for new labor violations, sources familiar with the negotiations said. The latest labor penalty proposal was included in the White House's framework. The House Democrats' original proposal would have attached financial penalties to newly defined violations of the National Labor Relations Act, like "captive audience" meetings to discourage workers from joining union organizing efforts. Two sources briefed on the negotiations said those penalties will be cut from the package because they were deemed unlikely to pass muster with the Senate parliamentarian. Read more from Paige Smith and Ben Penn.
Tax Pros Push for Clarity from Congress: Businesses need reassurance that they won't be penalized for claiming a Covid-19 relief credit for keeping employees on payroll while Congress' plans to sunset the program early remain in flux, the American Institute of CPAs wrote in a letter to lawmakers. The Senate-passed bipartisan infrastructure package (H.R. 3684) would terminate the employee retention credit as of Oct. 1, three months before its scheduled expiration. That early sunset date has passed and the legislation is still tied up in the House, creating confusion for taxpayers and their financial advisers, the letter said, Genevieve Douglas reports.
Happening on the Hill
Senate Confirms New Chief for DOJ's National Security Division: The Senate voted 53-45 to confirm Matthew Olsen to head the Justice Department's national security division, a key post that oversees some of the most sensitive investigations and prosecutions related to espionage, counter intelligence and hacking, Chris Strohm reports.
Ninth Circuit Nominee Advances: The Senate Judiciary Committee advanced Judge Lucy Koh's nomination to the largest U.S. federal appeals court, as the Democratic-led Senate continues a push this week to confirm judicial nominees. The committee today voted 13-9 in favor of Koh's nomination to the U.S. Court of Appeals for the Ninth Circuit. Koh, who is currently a U.S. District Judge in the Northern District of California, received support from all of the committee's Democrats and two Republicans: Ranking member Chuck Grassley (R-Iowa) and Sen. Lindsey Graham (R-S.C.). Read more from Madison Alder.
Big Oil Pressed to Quit Trade Group in Climate-Science Grilling: Executives from Exxon, Chevron, Shell and BP were urged by U.S. lawmakers to abandon the leading oil-industry trade group and cut off funds to any groups sowing doubts about climate science. During a congressional hearing today, Rep. Ro Khanna (D-Calif.) pressed executives to quit the American Petroleum Institute, which he said actively opposed government subsidies for electric vehicles.
The demand came amid a House Oversight and Reform Committee hearing during which executives were quizzed about what they knew about the causes of global warming and when, and whether they worked to undermine climate-protection efforts. Read more from Kevin Crowley and David Wethe.
Simpler Rules for Small Banks' Benefit Mulled: The Consumer Financial Protection Bureau is considering simplifying rulemaking to allow smaller financial companies with limited compliance budgets to better understand new regulations, agency Chief Rohit Chopra said. Current rulemaking at the CFPB and other federal agencies disproportionately benefits global banks and other large firms, Chopra told the Senate Banking Committee on today. Some of those companies have enormous compliance departments that are larger than the CFPB, he said. Read more from Evan Weinberger.
SEC Wants Burr's In-Law to Testify in Trading Probe: The Securities and Exchange Commission wants to force Sen. Richard Burr's (R-N.C.) brother-in-law to testify about their sock sales just before the beginning of the coronavirus pandemic, according to court records. Gerald Fauth has "waged a relentless battle" to avoid complying with a subpoena issued to him in May of 2020, the SEC said in court filings. "The Commission is investigating possible insider trading by Fauth's brother-in-law, Senator Richard M. Burr, and respondent's own sales of stock in the minutes after speaking with Senator Burr on the day the senator sold the vast majority of his own portfolio." Read more from Christian Berthelsen.
Greene Bought Trump-Linked SPAC: Rep. Marjorie Taylor Greene (R-Ga.), one of Donald Trump's most vocal supporters, bought as much as $50,000 worth of shares in a blank-check company tied to the former president during a frenzied day of trading for the firm last week. After skyrocketing on Friday, shares in Digital World Acquisition, a special-purpose acquisition company, or SPAC, have since fallen about 22% this week. Read more from Francesca Maglione and Claire Ballentine.
Toomey Bill Would Block SEC From Broker Payment Ban: Sen. Pat Toomey (R-Pa.), the top Republican on the Senate Banking Committee, introduced legislation that would bar the Securities and Exchange Commission from banning payment for order flow—the payments brokers receive from market makers for the right to execute customers' stock orders—and prevent the Financial Industry Regulatory Authority and stock exchanges from issuing any rules that prohibit the payments to brokers, Akayla Gardner reports.
House GOP Calls for Yellen to Testify on IMF: House Republicans want Treasury Secretary Janet Yellen to testify on the Biden administration's decision to refrain from calling for the removal of the International Monetary Fund chief following an ethics investigation and scandal. In a second letter to Yellen, they asked a list of questions pertaining to the probe and the fund's issuance of $650 billion of new reserves to help countries through the pandemic, seeking a response by Nov. 15. Read more from Eric Martin.
Facebook, YouTube to Face Senate Hearing on Extremism: Senate Homeland Security Chairman Gary Peters (D-Mich.) said he plans to invite Facebook, YouTube, Twitter and TikTok executives to testify about the spread of extremist content on their platforms. Peters plans to hold a hearing in the near future, he said in an interview. The committee held a hearing today with experts discussing how social-media algorithms amplify harmful content that can drive engagement, ad revenue, Rebecca Kern reports.
Romney Features Sinema in His Halloween Cosplay: Sen. Mitt Romney (R-Utah) posted a video of himself dressed as Ted Lasso, from the hit AppleTV+ show of the same name, delivering homemade cookies to the Sinema, who was dressed as the character Rebecca Welton. In the show, Lasso does this daily for his boss. Read more from Lindsey Rupp.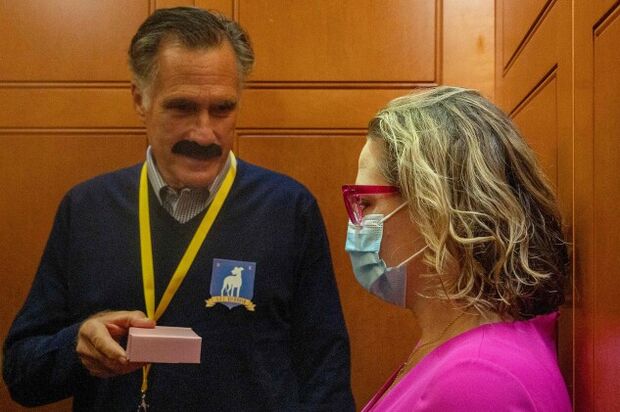 Around the Administration
Biden, California to Partner on Supply Chain: Gov. Gavin Newsom (D) and the U.S. Transportation Department announced a partnership to help facilitate projects and financing opportunities for infrastructure improvements in California. The DOT said the deal will allow California to expedite work on a network of projects — including ports, rail and warehouse storage— throughout the state and the U.S., including around San Pedro Bay and the Inland Empire, Megan Howard reports.
DOJ Deputy Vows Corporate Crime Crackdown: The Justice Department plans to pursue more individuals involved in white-collar crime, as prosecutors look to roll back the Trump administration's lighter-touch approach to oversight. "Accountability starts with the individuals responsible for criminal conduct," Deputy Attorney General Lisa Monaco said in a speech today to an American Bar Association forum. The changes will encourage more cases against senior executives, who have traditionally been pursued less vigorously than their employees. Read more from Chris Strohm.
Tip Rule Issued by Labor Department: The Department of Labor reinstated a longstanding policy, revoked late in the Trump administration, requiring restaurants and other businesses to pay tipped workers a higher minimum wage when they're performing work that doesn't directly generate gratuities. A final rule published today says that when tipped employees spend at least 20% of their workweek on duties that support their occupation but don't directly produce tips, they'll be entitled to the full minimum wage of $7.25 an hour for that work, instead of the the pay floor of $2.13. Read more from Ben Penn.
HHS Moves to Undo Trump's Retrospective Review: The Health and Human Services Department today moved to withdraw or repeal a last-minute Trump administration rule that would have caused health regulations to expire if they weren't reviewed every 10 years. The HHS released a proposal that would do away with the rule, (RIN 0991-AC24), which was published in the Federal Register on Jan. 19, one day before Biden took office. Under the rule, the HHS would have had five years to assess regulations that are more than 10 years old. Read more from Shira Stein.
Minority, Veteran-Owned Businesses Aid Boosted: The Small Business Administration launched a $100 million program today to help underserved communities improve access to financial help, including loans and grants. The Community Navigator Pilot Program will provide funding to 51 organizations that will work with over 400 local groups to help small businesses, including those owned by veterans, women, and those from rural communities and communities of color, get financial assistance and access to capital. Read more from Ayanna Alexander.
U.S. Sanctions Lebanese Parliament Member, Others: The U.S. Treasury Department is sanctioning two Lebanese businessmen and a member of the country's parliament who officials say have undermined the rule of law in the nation. "Jihad al-Arab, Dany Khoury and Jamil Sayyed have each personally profited from the pervasive corruption and cronyism in Lebanon, enriching themselves at the expense of the Lebanese people and state institutions," the department said in a statement. Read more from Daniel Flatley and Ben Bartenstein.
Biden-Xi Thaw Quietly Takes Hold Even as Taiwan Tensions Flare: Recent headlines make it seem as if the nuclear-armed powers of China and the U.S. are hurtling toward conflict. More and more analysts warn that China's President Xi Jinping is preparing for war sometime in the next few years to seize an island that Beijing has threatened to overrun ever since the Communist Party took power in 1949. But underneath the surface, signs are increasing that the U.S. and China are starting to climb out of the diplomatic spiral that began with Donald Trump's steel tariffs in March 2018. Read more from Iain Marlow.
What Else to Know
U.S. Posts Weakest Growth of Pandemic Recovery: U.S. economic growth slowed more than expected in the third quarter to the softest pace of the pandemic recovery period as snarled supply chains and a surge in Covid-19 cases throttled spending and investment. Gross domestic product expanded at a 2% annualized rate following a 6.7% pace in the second quarter, the Commerce Department's preliminary estimate showed. Read more Reade Pickert.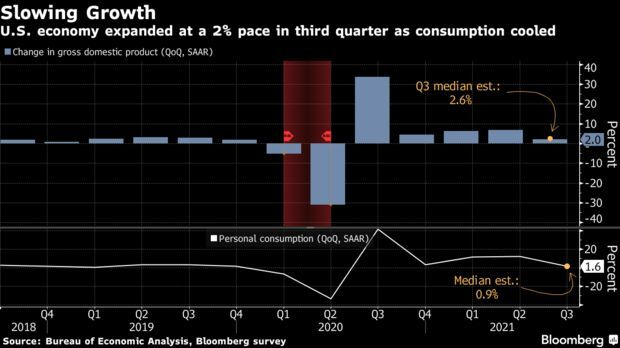 Florida Sues Biden Over Contractor Vaccine Mandate: Florida sued the Biden administration over vaccine mandates for federal contractors, the latest in a wave of Republican pushback against the president's orders to fight the pandemic. In a federal lawsuit filed today in Tampa, the state called vaccination requirements for government contractors a "radical intrusion on the personal autonomy of American workers." It alleges that the administration issued the mandate based on a law that doesn't give it such power. Read more from Jonathan Levin.
Berkshire Pipeline Was Behind a Large Methane Spew in the U.S.: A pipeline operator owned by Warren Buffett's Berkshire Hathaway Energy spewed a powerful plume of greenhouse gas in Oklahoma last week in one of the worst emission releases seen in the U.S. this year. Northern Natural Gas estimates it released about 21.8 million cubic feet of natural gas over approximately three hours while fixing a leak in its pipeline that stretches across the U.S. Read more from Josh Saul and Gerson Freitas Jr.
To contact the reporter on this story: Michaela Ross in Washington at mross@bgov.com
To contact the editors responsible for this story: Brandon Lee at blee@bgov.com; Zachary Sherwood at zsherwood@bgov.com; Giuseppe Macri at gmacri@bgov.com
Stay informed with more news like this – from the largest team of reporters on Capitol Hill – subscribe to Bloomberg Government today. Learn more.